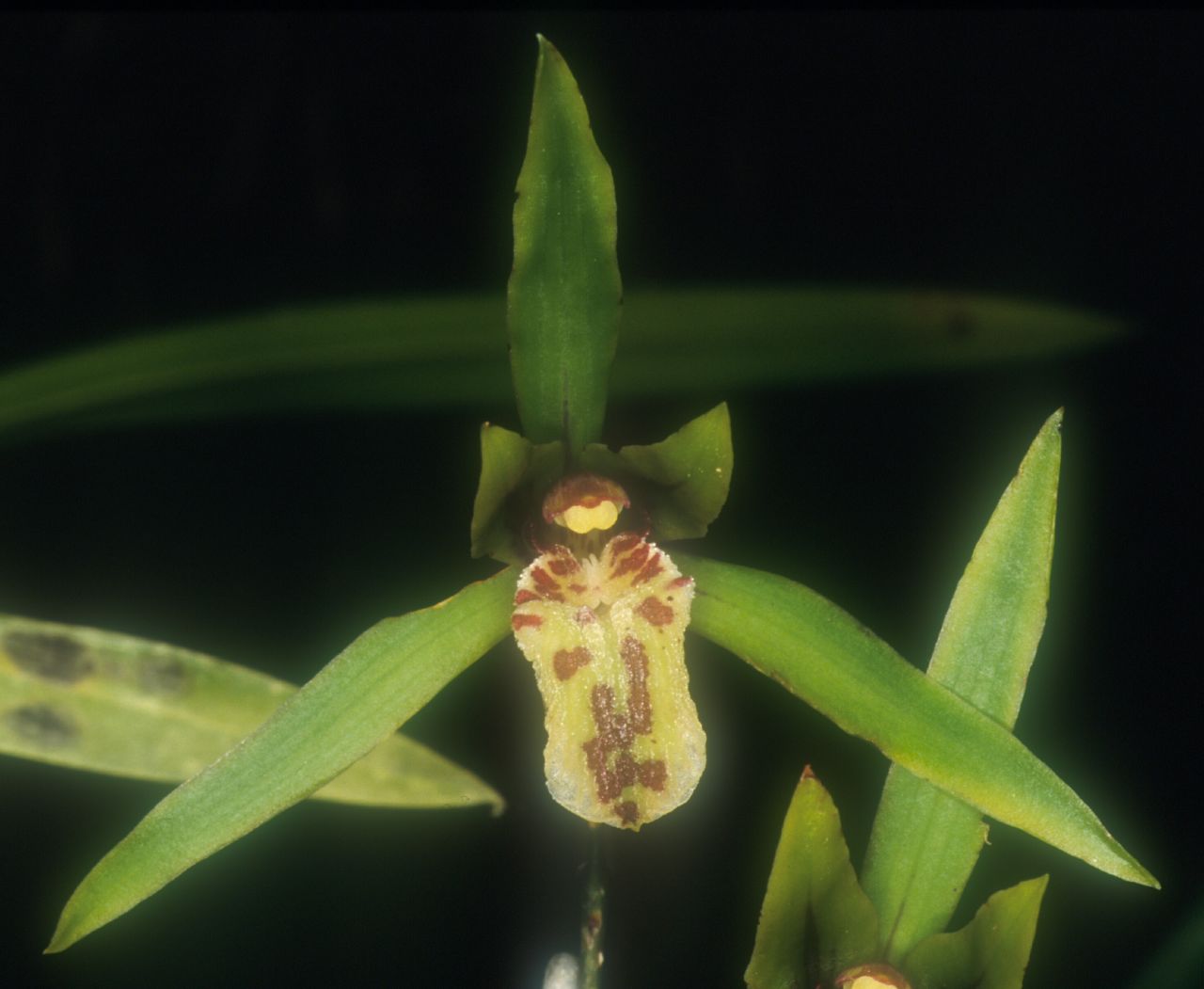 Cymbidium kanran Makino 1902 SUBGENUS Jensoa [Raf.] Schlechter 1924
Photo by © Lourens Grobler.
Photo courtesy of First Ray Orchids




to


Common Name The Cold Growing Cymbidium - In Japan - Kanran - In China Han Lan
Flower Size 2 to 3" [5 to 7.5 cm]
Found in north Vietnam and southern China in deep shade in open forests at elevations of 700 to 1800 meters as a medium to large sized, cold to cool growing terrestrial species with narrowly ovoid, often conspicuous pseduobulbs enveloped by scarious cataphylls and broad sheathing bases carrying 3 to 5, linear to linear-elliptic, acuminte, arching, dark green, shining leaves that often have serrulate margins towards the apex that blooms in the winter on a basal, erect, 20" [50 cm] long, many [10+] flowered, racemose inflorescence with the strongly lemon peel scented flowers held above the leaves.
Synonyms Cymbidium kanran f. purpurascens Makino 1902; Cymbidium kanran var. purpureo-hiemale (Hayata) S.S.Ying 1977; Cymbidium linearisepalum Yamam. 1930; Cymbidium linearisepalum f. atropurpureum Yamam. 1932; Cymbidium linearisepalum f. atrovirens Yamam. 1930; Cymbidium linearisepalum var. atropurpureum (Yamam.) Masam. 1933; Cymbidium nigrovenium Z.J.Liu & J.N.Zhang 1998; Cymbidium oreophilum Hayata 1914; Cymbidium purpureohiemale Hayata 1914; Cymbidium sinokanran Yen 1964; Cymbidium sinokanran var. atropurpureum T.C.Yen 1964; Cymbidium tosyaense Masam. 1935
References W3 Tropicos, Kew Monocot list , IPNI ; AOS Bulletin Vol 33 No 5 1964; Orchids of Southern Ryukyu Islands Garay & Sweet 1974; AOS Bulletin Vol 44 #9 1975 photo fide; Rudolf Schlechter Die Orchideen Band 1B lieferung 25 1520 - 1584 Brieger 1991; Orchid Digest Vol 60 #3 1996 photo fide; AOS Bulletin Vol 66 No 11 1997 photo fide; Wild Orchids of China Tsi, Chen Mori 1997; Orchids Australia Vol 10 No 5 1998 as C purpureo-hiemale; AOS Bulletin Vol 68 No 7 1999 photo fide; Native Orchids of China in Colour Singchi, Zhanhuo and Yibo 1999 photo fide; AOS Bulletin Vol 73 No 10 2004 photo fide; The Genus Cymbidium Du Puy & Cribb 2007 photo ok; Australian Orchid Review Vol 72 No 4 2007 photo; Native Orchids From Gaoligongshan Maountains, China Xiaohua, Xiaodong and Xiaochun 2009 photo fide; A Field Guide to the Orchids of China Singchi, Zhongjian, Yibo, Xiaohua and Zhanhuo 2009 photo fide; Flora of China Vol 25 Zhengyi, Raven & Deyuan 2009; Flora of China Vol 25 Illustrations Zhengyi, Raven & Deyuan 2010 drawing fide; The Atlas of Wild Orchids in Hainan Island, China Shenyan and Junmei 2010 photo fide; The Wild Orchids in Yunnan Xu Xiang Ye & Liu 2010 photos fide; The Wild Orchids of Hong Kong Barretto, Cribb and Gale 2011 drawing/photo fide; Wulfenia 22 [2015]: 137 - 188 New Orchids in the Flora of Vietnam Averyanov, Nguyen, Tich, Nguyen, Nong, Nguyen and Xuan photo fide; Orchid Digest Vol 80 #2 2016; AOS Bulletin Supplement Cymbidiums Vol 87 #10 2018 photo fide; Atlas of Native Orchids of China Vol 2 Jin Xiaohua, Li Jianwu and Ye Deping 2019 photo fide;
----------------------------------------------------------------------------------------------------------