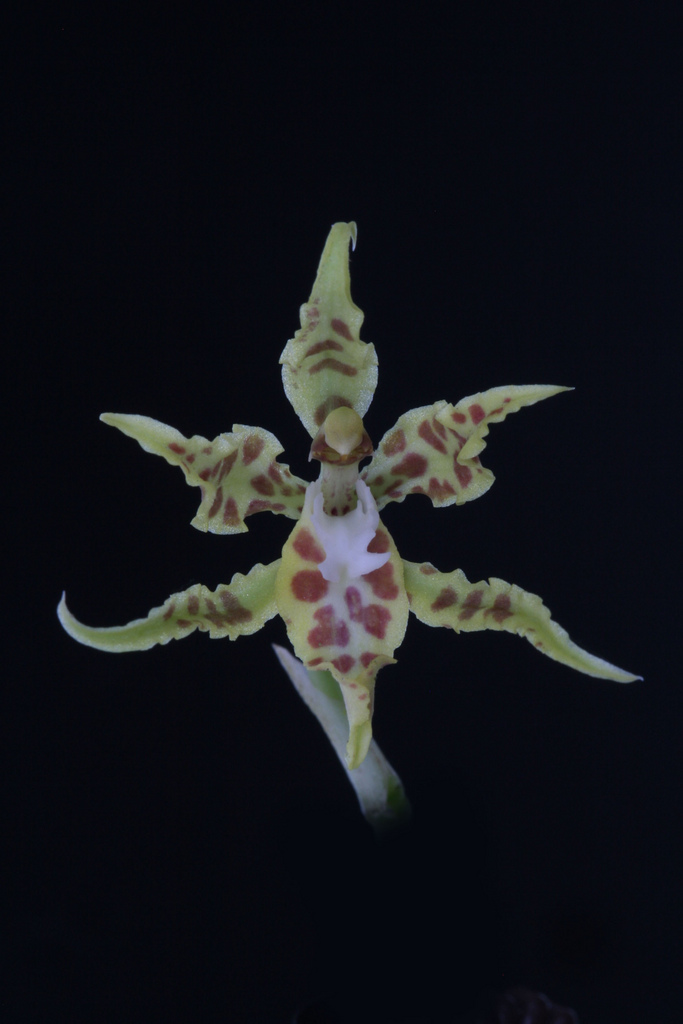 Cyrtochilum tetraplasium (Rchb. f.) Dalström 2001
Lip Detail Front Photos by Guido Deburghgraeve ©


LATE

EARLY

Flower Size 2.2" [5.5 cm]
Found in Peru and Bolivia in cold wet cloud forests at elevations of 2700 to 3100 meters as a medium to large, cold growing, caespitose terrestrial with ovoid-pyriform, unifoliate, lightly complanate, sulcate, furrows obtuse angled pseudobulbs that are basally enveloped by 3 to 4 pairs of sheaths, scarious below and articulated leaf-bearing above that has a single, apical, narrowly oblong-lanceolate, attenuate to the petiole acute apically leaf that blooms in the late winter and early spring on an erect, long, scapose, 2'+ [60 cm] long, paniculate, horizontallyto almost pendent, 5 to 6 branched each 5 to 8 flowered, 25 to 50 flowered inflorescence.
This species is distinguished by the wide spreading lanceolate sepals and petals, a winged callus on the labellum and the red spotted greenish flowers.
Cyrtochilum loesenerianum is often cited as a synonym of this species but it can be separated by the dorsal sepal being erect and away from the column basally, the wider lip, different calli and the more slender and erect column.
Synonyms *Odontoglossum tetraplasium Rchb. f. 1875
References W3 Tropicos, Kew Monocot list , IPNI ; Orchids Travel By Air A Pictoral Safari Mulder, Mulder-Roelfsema and Schuiteman 1990 as Odontoglossum tetraplasium photo fide; Icones Orchidacearum Peruviarum Plate 136 Bennett & Christenson 1993 as Odontoglossum tetraplasium drawing fide; *Lindleyana Vol 16 No 2 2001; Orchid Species Culture: Oncidium, Bakers 2006; Rudolf Schlechter Die Orchideen Band 1C lieferung 33 - 36 2057 - 2308 Brieger 1997 as Odontoglossum tetraplasium; Machu Picchu Orchids Christenson 2003 photo ok?; Orchid Species Culture: Oncidium/Odontoglossum alliance Bakers 2006; Orchid Species of Peru Zelenko Bermudez 2009 pg 100 photo not = C loesnerianum; Orchid Species of Peru Zelenko Bermudez 2009 pg 103 photo fide; Orquideas del Peru Freuler 2010 photo not = C loesenerianum
--------------------------------------------------------------------------------------------------------------------------