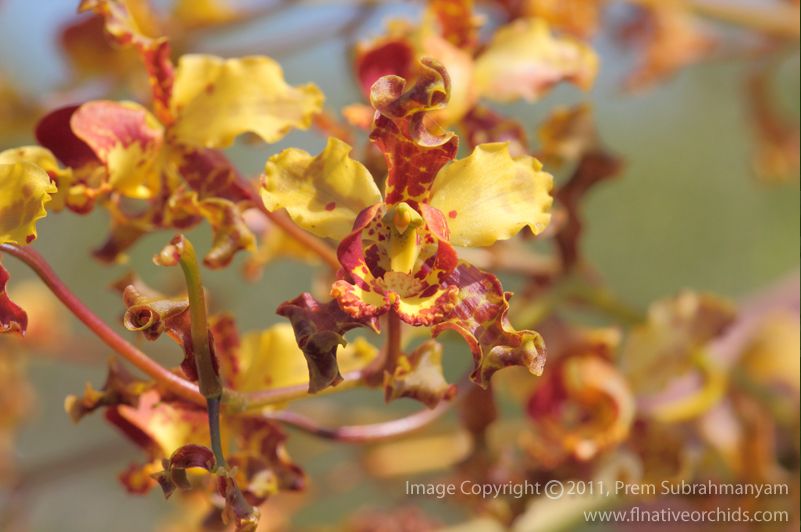 Cyrtopodium punctatum [L.]Lindley 1833
Photo by © Prem Subrahmanyam and his Florida Native Orchid Website
Photos by © Jay Pfahl


to

LATE

Common Name The Dotted Cyrtopodium - Bee Swarm Orchid, The Cow-Horn Orchid or Cigar Orchid - in Cuba - Canuela
Flower Size 1 1/2" [3.75 cm]
Found in Florida, Cuba, Dominican Republic, Haiti, Jamaica, Cayman Islands, Puerto Rico, Trinidad & Tobago, Mexico, Guatemala, Belize, El Salvador, Honduras, Nicaragua, Venezuela, Colombia, Peru, Bolivia, Brazil, Paraguay and Argentina in arid areas at elevations of 20 to 1400 meters as a large sized, hot to cool growing epiphyte, lithophyte or terrestrial with clustered, erect, fusiform elongate, many noded pseudobulbs enveloped by grey white sheaths when young and carrying linear to elliptic-lanceolate, acute to acuminate, distichous, spreading or recurved, elongate at the subpetiolate base, plicate leaves that blooms in late spring on a basal, branching, heavily bracteate, up to 5' [to 150 cm] long, many flowered inflorescence arising with a new growth, commonly called the cigar orchid because of it's pseudobulb's shape, it has deciduous leaves that it loses in the fall ,and thus should have less water in the winter, than when it is growing. The inflorecense appears just after the new lead for a pseudobulb begins to appear.
This species is a hot to cool growing epiphyte or sometimes terrestrial found on dead or living trees, logs and stumps or in soil between rocks or on boulders at altitudes up to 1400 meters.
A paste similar to Mucilage is made for bookbinding by extracting the juices from the pseudobulbs and in Cuba extracts from this species has been used for skin and lung diseases and in Brazil as a purgative.
Synonyms Cymbidium trinerve G.Mey. 1818; Cyrtopodium speciosissimum Planch. 1877; Cyrtopodium tigrinum Linden 1881; Epidendrum mayzifolium Lindl. 1853; *Epidendrum punctatum L. 1760
References W3 Tropicos, Kew Monocot list , IPNI ; Bonplandia Rchb.f 1854; Bonplandia Rchb.f 1855; Bonplandia Rchb.f 1856; Studies in the Family Orchidaceae Vol 1 Ames 1905 drawing fide; Symbolae Antillanae Vol VI Orchidaceae Urban 1909; Die Orchideen Schlechter 1915 photo ok; Atlas des Orchidees Cultivees Constantin 1920 drawing fide; Repert. Sp. Nov. Regni. Veg. Beih. 19: 136. Costa Rica Schlechter 1923; Flora Brasilica Vol XII VI Hoehne 1942 as C saintlegerianum drawing ok; Flora Brasilica Vol XII VI Hoehne 1942 drawing ok; Iconografia de Orchidaceae Do Brasil Hoehne 1949 as C saintlegerianum drawing fide; The Orchids of Panama L.O. Williams & P Allen 1946 drawing fide; Ceiba L O Williams 1956; AOS Bulletin Vol 26 No 2 1957; AOS Bulletin Vol 27 No 1 1958 drawing fide; AOS Bulletin Vol 27 No 10 1958 drawing/photo ok; AOS Bulletin Vol 27 No 11 1958 photo good; AOS Bulletin Vol 28 No 10 1959 photo; Native Orchids of Trinidad Schultes 1960 drawing fide; Orchids of Peru Vol 3 Schweinfurth 1960 drawing good; AOS Bulletin Vol 30 No 9 1961; AOS Bulletin Vol 31 #6 1962 photo fide; AOS Bulletin Vol 33 No 10 1964 photo ok; Encyclopedia of Cultivated Orchids Hawkes 1965 drawing fide; AOS Bulletin Vol 38 No 3 1969 photo fide; AOS Bulletin Vol 38 No 6 1969; AOS Bulletin Vol 39 No 4 1970 photo; Flora de Venezuela Foldats Volumen XV Part 4 Foldats 1970 drawing good; The Native Orchids Of Florida Luer 1972 Drawing/photo fide; Las Orquedias De El Salvador Vol 1 Hamer 1974 drawing/photo fide; AOS Bulletin Vol 44 #8 1975; Orchidaceae Brasilenses Band 1 1Pabst & Dungs 1975 drawing fide; AOS Bulletin Vol 47 No 6 1978; AOS Bulletin Vol 50 No 5 1981 photo fide; Icones Planetarum Tropicarum Plate 649 Dodson 1982 drawing fide; Las Orquedias de El Salvador Vol 3 Hamer 1981 drawing fide; AOS Bulletin Vol 54 No 3 1985 photo fide; AOS Bulletin Vol 54 No 6 1985 photo fide; Flora Novo-Galaciana Vol 16 McVaugh 1985; An Introdution to the orchids of Mexico Wiard 1987 photos fide; Catalogo Descriptivo de las Orquideas Cubanas Acuna 1987; Selbyana Vol 10 Orchids of Central America Hamer 1988 drawing fide; Native Colombian Orchid Vol 1 COS 1990 photo fide; Rudolf Schlechter Die Orchideen Band 1B lieferung 25 1520 - 1584 Brieger 1991 drawing fide/photo ok; The Illustrated Encyclopedia of Orchids Pridgeon 1992 photo fide; The Manual Of Cultivated Orchid Species Bechtel, Cribb & Launert 1992 photo fide; AOS Bulletin Vol 62 No 10 1993 photo fide; Field Guide to the Orchids of Costa Rica and Panama Dressler 1993 photo fide; AOS Bulletin Vol 64 No 9 1995 photo; An Orchid Flora Of Puerto Rico and the Virgin Islands Ackerman 1995; Manual Of Orchids Stewart 1995; AOS Bulletin Vol 67 No 9 1998 photo fide; Orchids of Venezuela [An illustrated field guide] Vol. 1 Ramiro and Carnevali 2000 drawing fide; Orchidaceae Antillanae Nir 2000; Harvard Pap. Bot. 5 #2: Carnevali etal. 2001; AOS Bulletin Vol 71 No 4 2002 photo fide; AOS Bulletin Vol 71 No 12 2002 drawing fide; Botanica's Orchids Laurel Glen 2002 photo fide; Orquideas Nativas del Tachira Cesar Fernandez 2003 photo fide; Algunas Orquideas de Oaxaca Suarez 2004 photo fide; Orchids of The Brazilian Central Plateau Menezes 2004 photo fide as C saintlegerianum; The Orchids of Cuba Llamacho & Larramendi 2005; 100 Orquideas Argentinas Freuler 2005 photo fide; Flora's Orchids Nash & La Croix 2005 photo fide; AOS Bulletin Vol 76 No 8 2007 photo fide; AOS Bulletin Vol 77 no 1 2008 photo fide; AOS Bulletin Vol 77 No 4 2008 photo fide; AOS Bulletin vol 78 No 7 2009 photo fide; AOS Bulletin vol 78 No 11 2009 photo fide; Orchid Species of Peru Zelenko Bermudez 2009 photo fide; Orquideologia Vol 27 #2 2010 photo fide; AOS Bulletin Vol 80 #8 2011 photo fide; AOS Bulletin Vol 83 #6 2014 photo fide; Orchids, A Colombian Treasure Vol 1 Ortiz & Uribe 2014 drawing/photo fide; AOS Bulletin Vol 85 #11 2016 photo fide; AOS Bulletin Vol 85 #12 2016 photo fide; Orchids of the Valle del Cauca Colombia Vol 4 Kolanowska and Szlachetko 2016 drawing good; AOS Bulletin Vol 89 #2 2020 as C polyphyllum stamp fide; The Orchid Review Vol 127 No 1328 December 2019 stamp fide;
--------------------------------------------------------------------------------------------------------------------------