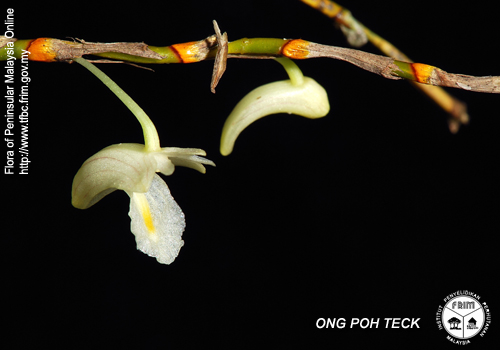 Dendrobium acerosum Lindl. 1841 SECTION Aporum SUBSECTION Strongyle Photo by © Ong Poh Teck and the Biological Diversity Clearing House Mechanism Website
Flower Closeup Photos courtesy of Botanická zahrada a arboretum Mendelova zemedelská a lesnická univerzita v Brne, Brno, Czech.





Common Name The Pointed Dendrobium - In Thailand - Kluai mai mue nang - Khao phae
Flower Size .48 to .8" [1.2 to 2 cm]
Found in Borneo, Suluwesi, Sumatra, Malaysia, Thailand and Myanmar at elevations of 50 to 1600 meters in lowland open spaces and swamps on trees and rock faces often in full sun as a miniature to small sized, hot to cool growing, pendulous epiphyte and ocassional lithophyte with stemlike, slender, flexuous, branching and usually pendant, usually fractiflex stems and carrying in the lower 2/3's, 7 to 10, persistant, flat, spreading, fleshy, succulent, recurved, sharply pointed, grooved, and loosely distichous leaves that blooms in the fall and spring on a 2 to 6" [5 to 15 cm] long, 1 to 3 flowered inflorescence arising on the apical, leafless portion of the stem.
Best mounted on a slab or a hanging pot with a well drawing medium. Hot temperatures, year round watering with a slight lessening in winter, good air circulation and bright light will ensurew a happy orchid.
The first photo is the most correct, the photos from Czech appear correct from the overall form but the spur is wrong to the type.
Synonyms Aporum acerosum (Lindl.) Brieger 1981; Aporum calceolariae (J.König) M.A.Clem. 2003; Aporum subteres Griff. 1845; Callista acerosa (Lindl.) Kuntze 1891; Callista subteres (Griff.) Kuntze 1891; Cymbidium calceolaria (J.König) Willd. 1805; Dendrobium subteres (Griff.) Lindl. 1859; Epidendrum calceolariae J.König 1791;
References W3 Tropicos, Kew Monocot list , IPNI ; The Orchids of Burma Grant 1895/95; Materials For a Flora of the Malayan Penninsula Part 1 Ridley 1907; Orchidaceae Monandre-Dendrobiinae Fr. Kraenzlin 1910; Contributions to the Knowledge of the Orchid Flora of Sumatra Schlechter 1911; Flora of Malaya Vol 1 Holttum 1953 drawing fide; The Orchids of Thailand Seidenfaden & Smitinand 1959 drawing fide; The Orchids of Papua New Guinea An Introduction Millar 1978 photo fide; Die Orchideen lieferung 11 Schlechter/Brieger 1981 as Aporum acerosumphoto plant only; The Orchids of Penninsular Malaysia and Singapore Seidenfaden & Wood 1992 drawing good to the 1st photo; The Plants of Mount Kinabalu Vol 2 Orchids Wood Beaman & Beaman 1993; A Checklist of the Orchids of Borneo Wood & Cribb 1994; Orchid Species Culture; Dendrobium Bakers 1996; Flora Of Malaya Vol. 1 Orchids Holttum 1964; Thai Orchid Species Rakpaibulsombay 1992 photo fide; Dendrobium and their Relatives Lavarack, Harris and Stocker 2000 photo good; Orchids of Sarawak Beaman, Wood, Beaman & Beaman 2001; Orchids of Sumatra Comber 2001; A to Z of South East Asian Orchid Species Vol 1 O'Byrne 2001 photo fide; Lindleyana Vol 17 No 1 2002; A field Guide to the Wild Orchids of Thailand Vaddhanaphuti 2005 photo good; The Dendrobiums H. P. Wood 2006 photo fide; The Orchids of Mount Kinabalu Vol 2 Wood, Beaman, Lamb, Chu Lun and Beaman 2011; Wild Orchids of Penninsular Malaysia Ong, O'Byrne, Yong & Saw 2011 photo fide; A Guide to Dendrobium of Borneo Wood 2013; Dendrobium of Borneo Wood 2014 photo/drawing fide
--------------------------------------------------------------------------------------------------------------------------