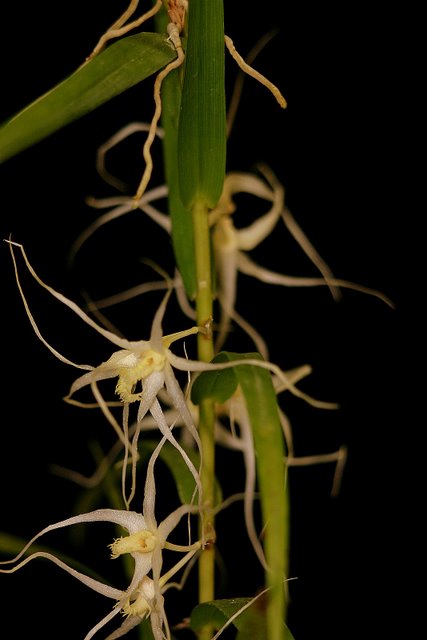 Dendrobium acuminatissimum (Blume) Lindl. 1830 SECTION Grastidium [Bl.] J.J.Sm.
Photo by Art Vogel


to


Common Name The Gradually Tapering Point Dendrobium
Flower Size 2.4" [6 cm]
Found in Java, Borneo, the Moluccas, Sumatra, the Philippines and New Guinea in hill and lower montane forests at elevations of 900 to 1500 meters as a giant sized, warm to cool growing epiphyte with a thin, terete, elongate stem enveloped by leaf-bearing sheaths and carrying grasslike, gradually narrowing from the base to the uneven apex leaves that blooms in the spring on a very short, to 2 flowered inflorescence with the flowers often held rear to rear
In Indonesia the stems of this species are used in the making of wickerwork.
Synonyms Callista acuminatissima (Blume) Kuntze 1891; Dendrobium acuminatissimum var. papuanum J.J.Sm. 1916; Dendrobium caudatum Teijsm. & Binn 1862; *Grastidium acuminatissimum Blume 1825
References W3 Tropicos, Kew Monocot list , IPNI ; Die Orchideen Von Java J.J.Sm. 1905; Die Orchideen Von Java Figuren Atlas J.J.Smith 1908 drawing fide; Orchidaceae Monandre-Dendrobiinae Fr. Kraenzlin 1910 drawing hmm; Contributions to the Knowledge of the Orchid Flora of Sumatra Schlechter 1911; Neue Orchideen Papuasiens J J Smith 1934; The Complete Writings on Philippine Orchids Vol 1 Quisumbing 1981; Orchidiana Philippiana Vol 1 Valmayor 1984; The Plants of Mount Kinabalu Vol 2 Orchids Wood Beaman & Beaman 1993; A Checklist of the Orchids of Borneo Wood & Cribb 1994; Orchids of Java Comber 1990; Orchid Species Culture; Dendrobium Bakers 1996; Dendrobium and their Relatives Lavarack, Harris and Stocker 2000 as D squamiferum photo good; Orchids of Sarawak Beaman, Wood, Beaman & Beaman 2001; Orchids of Sumatra Comber 2001; Lindleyana Vol 17 No 1 2002; Flora Malesiana Orchids of the Philippines Vol I Agoo, Shuiteman and de Vogel 2003; The Orchids of Mount Kinabalu Vol 2 Wood, Beaman, Lamb, Chu Lun and Beaman 2011; A Guide to Dendrobium of Borneo Wood 2013 photo fide; Dendrobium of Borneo Wood 2014 photo/drawing fide
----------------------------------------------------------------------------------------------------------