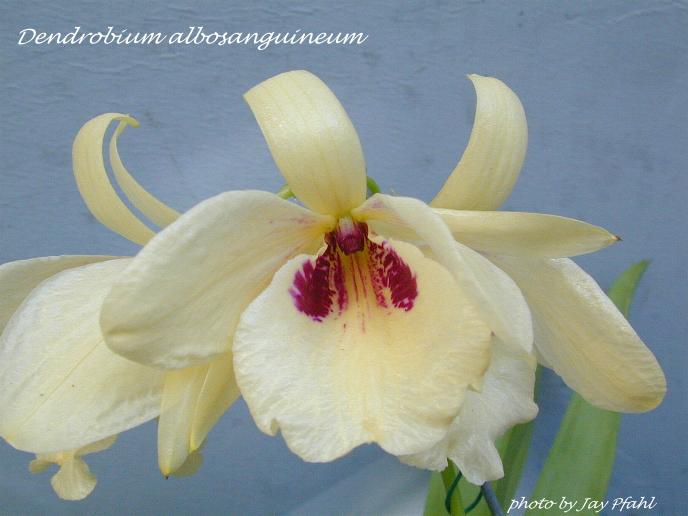 Dendrobium albosanguineum Lindley & Paxt. 1851 SECTION Dendrobium
Photos by © Jay Pfahl.



to


Common Name The White and Blood-Red Dendrobium
Flower Size 2 to 3 5/8" [5 to 9 cm]
Found in Myanmar and Thailand occurs high up in trhe canopy of tall trees at elevations of 300 to 600 meters as a small to medium sized, hot to warm growing, epiphytic species is with very stout, subclavate or cylindric, clustered pseudobulbous canes with strongly developed nodes and covered in white sheathing bracts carrying linear-lanceolate, light green, somewhat translucent, deciduous leaves and blooms in the spring on a short, 2 to 7 flowered raceme with fragrant, fleshy, long-lived flowers that arise from the upper nodes of the more mature leafed and leafless canes and needs a semi-dry winter rest.
This species does best mounted on tree fern as they like to dry out between watering which should be daily throughout the growth season.
Synonyms Callista albosanguinea (Lindl. & Paxton) Kuntze 1891; Dendrobium atrosanguineum E. Morren & De Voss [Spalm] ?
References W3 Tropicos, Kew Monocot list , IPNI ; Orchids of Burma Grant 1895/1995; Orchidaceae Monandre-Dendrobiinae Fr. Kraenzlin 1910; Die Orchideen Schlechter 1915; Atlas des Orchidees Cultivees Constantin 1920 as Eudendrobium albosanguinea drawing fide; Die Orchideen 2 Auflage Schlechter 1927; The Orchids of Thailand Seidenfaden & Smitinand 1960 as D aphrodite drawing fide; Encyclopedia of Cultivated Orchids Hawkes 1965; Opera Botanica #83 Orchid Genera in Thailand XII Dendrobium Sw. Seidenfaden 1985 drawing/photo fide; A Guide to Orchids of the World Hodgson, Paine & Anderson 1991 Photo fide; Thai Orchid Species Rakpaibulsombay 1992 as D aphrodite not = D albosanguineum photo fide; The Manual Of Cultivated Orchid Species Bechtel, Cribb & Laurent 1992 drawing fide; Manual of Orchids Stewart 1995; Orchid Species Culture Dendrobium Bakers 1996; Dendrobium and their Relatives Lavarack, Harris and Stocker 2000 photo fide; A Field Guide To The Wild Orchids of Thailand Vaddhanaphuti 2001 photo fide; Botanica's Orchids 2002 photo fide; A field Guide to the Wild Orchids of Thailand Vaddhanaphuti 2005 photo fide; Flora's Orchids Nash & La Croix 2005 photo fide; The Dendrobiums H. P. Wood 2006 photo fide; Orchid Digest Vol 73 #2 2009 drawing/photo fide; Wild Orchids of Myanmar Hyan Tun [Mr Myanmar] 2014 Photo fide
------------------------------------------------------------------------------------------------------------------------------------------