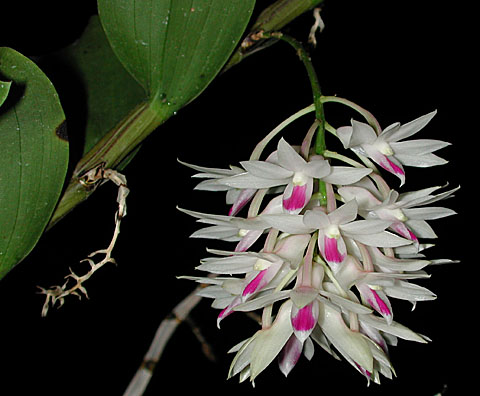 Dendrobium amethystoglossum Rchb. f. 1872 SECTION Calcarifera
Photo cortesy of Andy's Orchids, Copyright © 2002 All rights reserved
Photos by © Jay Pfahl.



to


Common Name Amethest Colored Dendrobium
Flower Size 1 1/4" [3.125 cm]
A medium to large sized, lithophytic, cold to warm growing species that is found growing on mossy, limestone cliffs at 1400 meters in Luzon, Philippines with clustered, erect, or arching, long, cane-like, often fractiflex, ridged stems carry several, oval, pale green, deciduous, shiny, leathery, ascendingly curved backward leaves that blooms in the winter on a axillary, pendant, 6" [15 cm] long, densely 15 to 20 flowered raceme with fragrant, drooping, long-lasting flowers that arise from nodes at the apex of the leafless canes but occcasionally on leafy ones.
This species may be mounted or grown in a pot and should recieve ample water from spring until late fall yet need a 2 to 4 month drier rest from fertilizer but the humidity must be maintained, resume normal care when new growths begin to emerge.
Synonyms Callista amethystoglossa (Rchb. f.) Kuntze 1891; Pedilonum amethystoglossum (Rchb.f.) M.A.Clem. 2003
References W3 Tropicos, Kew Monocot list , IPNI ; Orchidaceae Monandre-Dendrobiinae Fr. Kraenzlin 1910; Die Orchideen Schlechter 1915; Die Orchideen 2 Auflage Schlechter 1927; Encyclopedia of Cultivated Orchids Hawkes 1965; Orchids in Colour Ritterhausen 1979 photo fide; Orchidiana Philipiniana Vol 1 Valmayor 1984; A Guide to Orchids of the World Hodgson, Paine & Anderson 1991 Photo fide; The Illustrated Encyclopedia of Orchids Pridgeon 1992 photo fide; Manual of Orchids Stewart 1995; Orchid Species Culture; Dendrobium Bakers 1996; Dendrobium and their Relatives Lavarack, Harris and Stocker 2000 photo fide; The Orchids of the Philippines Cootes 2001 photo fide; Botanica's Orchids 2002 photo fide; Flora Malesiana Orchids of the Philippines Vol I Agoo, Shuiteman and de Vogel 2003; Flora's Orchids Nash & La Croix 2005 photo fide; The Dendrobiums H. P. Wood 2006 photo fide; AOS Bulletin Vol 78 #4 2009 photo fide; Philippine Native Orchid Species Cootes 2009 photo fide; Orchid Digest Vol 74 #4 2010 photo fide; A to Z of South East Asian Orchid Species Vol 2 O'Byrne 2011 photo fide; Le Petit Larousse des Orchidees Lecoufle, Barthelemy & Schmidt 2013 photo fide; A Guide to the Dendrobium of the Philippines Cootes & Tiong 2015 photo fide; AOS Bulletin Vol 88 #5 2019 photo fide;
----------------------------------------------------------------------------------------------------------