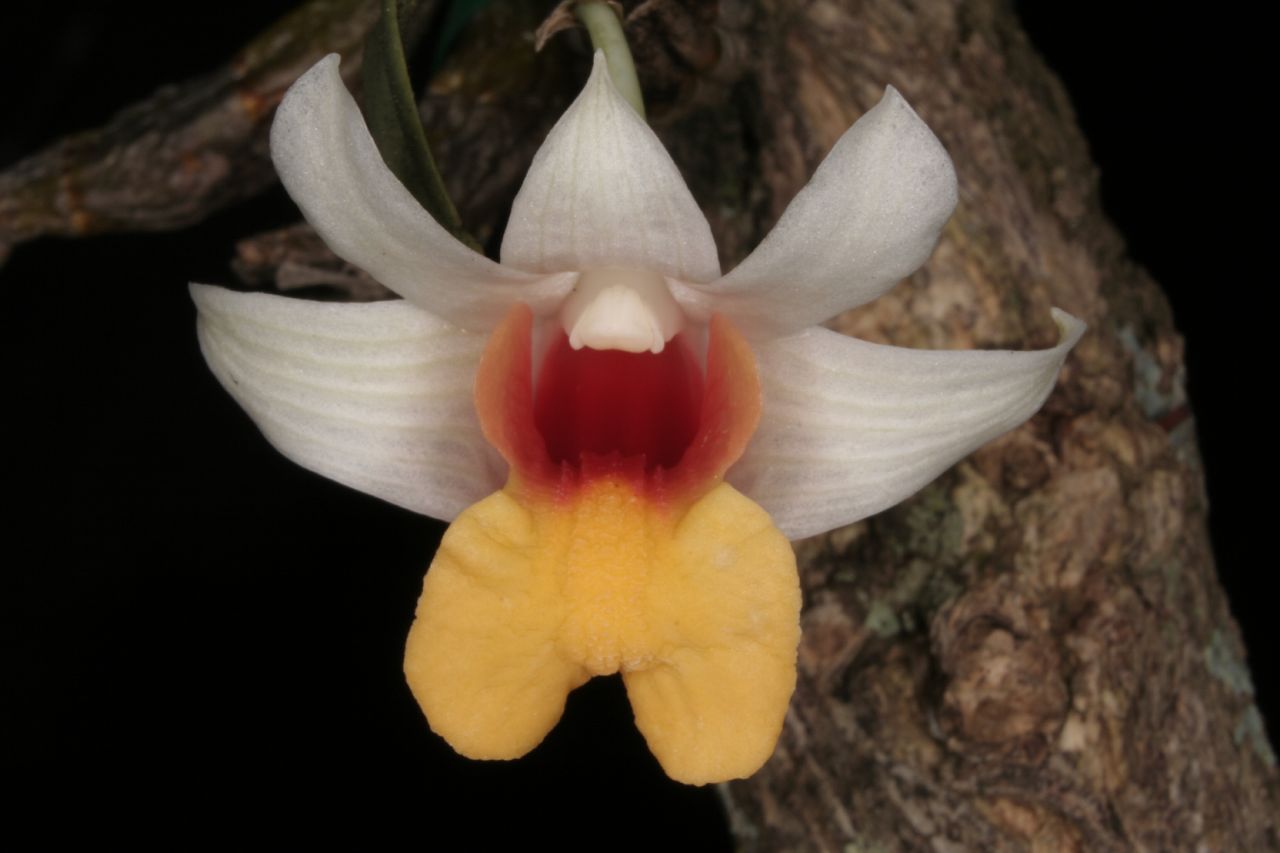 Dendrobium bellatulum Rolfe 1903 SECTION Formosae
Photo by © Lourens Grobler
Photo courtesy of Andy's Orchids, Copyright © 2002 All rights reserved
Photo by Erik Vallee.




Mostly

Common Name The Enchanting Dendrobium - In China Ai Shi Hu
Flower Size 1.2 to 1 1/2" [3 to 4.5 cm]
Found in the Himalayas, southern China, Myanmar, Thailand, Laos and Vietnam in primary montane forests at altitudes of 700 to 2100 meters, as a mini-miniature sized, warm to cold growing epiphyte with tufted, erect to suberect, close set, very short, ovoid to fusiform, gray-green, covered in fine black hairs, longitudinally rugose-costate stems carrying 2 to 4, eventually deciduous, subterminal, distichous, ligulate to narrowly elliptic to oblong-lanceolate, obtuse, unequally bilobed, gray-green, covered in fine black hairs on both surfaces, leathery leaves covered in black hairs that blooms most often in the spring on an axillary, very short, racemose, simultaneously few [3 to 5] flowered inflorescence arising on leafy stems, that have fragrant lemon-orange scented, longlasting flowers held close to the pseudobulb.
This species needs a drier winter rest from watering and fertilizer starting in November and ending with blooming in March. This species does best mounted as it needs to fully dry out between waterings.
Similar to both D luekelianum and D christyanum but D bellatulum differs mostly in the raised callus on the lip with the yellow apex.
Synonyms Dendrobium bellatulum var. cleistogamia Pradhan 1979
References W3 Tropicos, Kew Monocot list , IPNI ; Orchidaceae Monandre-Dendrobiinae Fr. Kraenzlin 1910; Die Orchideen Schlechter 1915 photo good; Die Orchideen 2 Auflage Schlechter 1927 photo good; The Orchids of Thailand Seidenfaden & Smitinand 1960 drawing fide; The Orchids of Thailand Seidenfaden & Smitinand 1965 corrections photo fide; Encyclopedia of Cultivated Orchids Hawkes 1965; Beautiful Indian Orchids and How to grow them Ghose 1968; AOS Bulletin Vol 39 No 5 1970 photo fide; Beautiful Thai Orchid Species Kamemoto & Sagarik 1975 photo fide; Indian Orchids: A guide to Identification and Culture Vol II Pradhan 1979; Indian Orchids: A guide to Identification and Culture Vol II Pradhan 1979 as D bellatulum var cleistogamia; Miniature Orchids Northern 1980; AOS Bulletin Vol 52 No 7 1983 photo fide; AOS Bulletin Vol 53 No 8 1984 photo fide; Opera Botanica #83 Orchid Genera in Thailand XII Dendrobium Sw. Seidenfaden 1985 drawing/photo fide; AOS Bulletin Vol 57 No 2 1988 photo fide; Orchids Travel By Air A Pictoral Safari Mulder, Mulder-Roelfsema and Schuiteman 1990 photo fide; Schlechteriana Vol 2 No 4 1991 photo fide; The Illustrated Encyclopedia of Orchids Pridgeon 1992 photo fide; Thai Orchid Species Rakpaibulsombay 1992 photo fide; The Manual Of Cultivated Orchid Species Bechtel, Cribb & Laurent 1992 drawing/photo fide; Miniature Orchids McQueens 1992 photo fide; Identification of the Orchids [Orchidaceae Juss.] Vietnam Averyanov 1994; Manual of Orchids Stewart 1995 drawing fide; Orchid Species Culture; Dendrobium Bakers 1996; Native Orchids of China in Colour Singchi, Zhanhuo and Yibo 1999 photo fide; Dendrobium and their Relatives Lavarack, Harris and Stocker 2000 photo fide; A field Guide to the Wild Orchids of Thailand Vaddhanaphuti 2001 photo fide; Botanica's Orchids 2002 photo fide; Australian Orchid Review Vol 68 No 5 2003 photo; Wild Orchids in Myanamar Vol 1 Tanaka 2003 photo fide; AOS Bulletin Vol 73 No 3 2004; A field Guide to the Wild Orchids of Thailand Vaddhanaphuti 2005 photo fide; The Dendrobiums H. P. Wood 2006 photo fide; Orchids of India A Glimpse Misra 2007; Wild Orchids in Myanmar Tanaka 2007 phot fide; A Field Guide to the Orchids of China Singchi, Zhongjian, Yibo, Xiaohua and Zhanhuo 2009 photo fide; Flora of China Vol 25 Zhengyi, Raven & Deyuan 2009; Mille Et Une miniOrchidees Roguenant 2009 photo fide; Mille et Une Mini Orchideees Roguenant 2009 photo fide; Orchid Digest Vol 74 #4 2010 photo fide; Flora of China Vol 25 Illustrations Zhengyi, Raven & Deyuan 2010 drawing ok; The Wild Orchids in Yunnan Xu Xiang Ye & Liu 2010 photos fide; Le Petit Larousse des Orchidees Lecoufle, Barthelemy & Schmidt 2013 photo fide; Wild Orchids of Myanmar Hyan Tun [Mr Myanmar] 2014 Photo fide; A Compendioum of Minaiture Orchid Species Vol 1 Parsons and Gerritsen 2013 photo fide; Orchid Digest Vol 80 #2 2016; Atlas of Native Orchids of China Vol 1 Jin Xiaohua, Li Jianwu and Ye Deping 2019 photo fide;
--------------------------------------------------------------------------------------------------------------------------