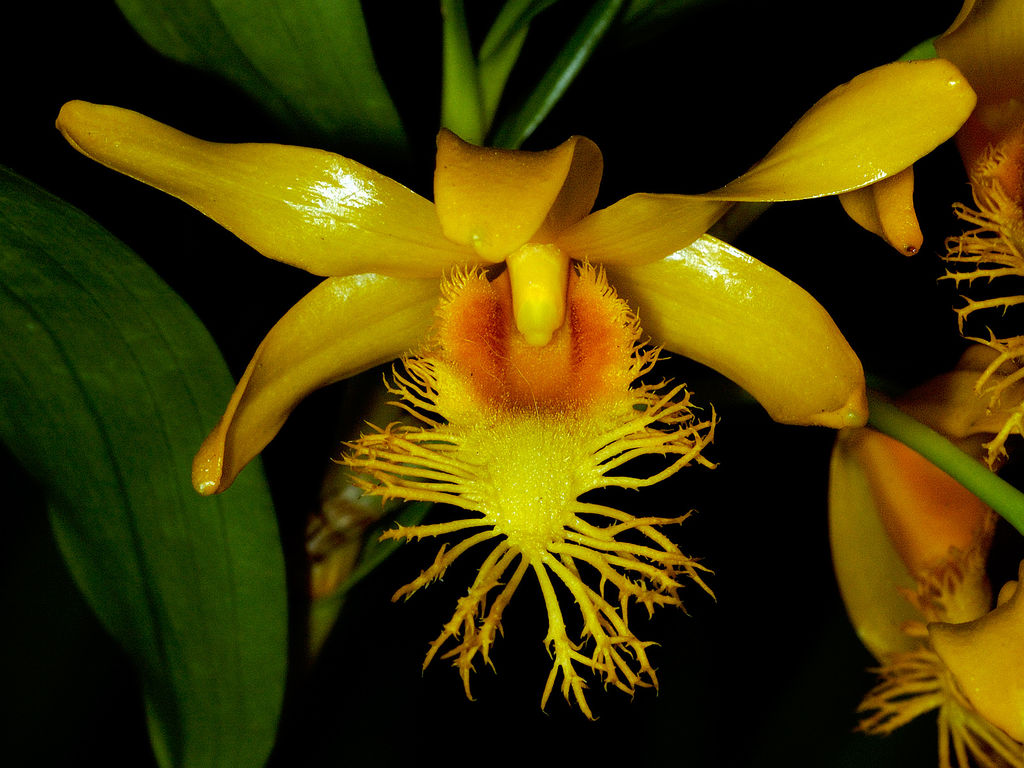 Dendrobium brymerianum Rchb. f. 1875 SECTION Densiflora
All Yellow Flower Form Photos by © Eric Hunt and His Orchid Website.




and AGAIN

Common Name Brymer's Dendrobium [English Orchid Enthusiast 1800's] - in Thailand - Ueang kham foi - In China Chang Su Shi Hu
Flower Size 2 to 3" [5 to 7.5 cm]
Found in northeastern India, north Thailand, Myanmar, northern Laos, and southwestern China on tree trunks at forest margins at elevations of 1100 to 1900 meters as a small to medium sized, cool growing epiphyte that has an erect, yellowish pseudobulb with 2 swollen, central internodes carrying 6 leaves per growth with the apical, oblong-lanceolate, thin-textured, shiny, rich green, and leathery leaves persisting for several growing seasons and then become deciduous. The lateral or subterminal, 4" [10 cm] long, racemose inflorescence arise from the nodes near the apex of the mature pseudobulb with 1 to 5, extremely fragrant, spreading, glossy, short lived flowers that occur in the spring and again in the fall.
This species flourishes if left to dry out just a little between winter waterings but morning mistings may be nessasary, increase water and fertilizer with the advent of new growth.
Synonyms Callista brymerana (Rchb.f.) Kuntze 1891;
References W3 Tropicos, Kew Monocot list , IPNI ; Orchids of Burma Grant 1895/1995; Orchidaceae Monandre-Dendrobiinae Fr. Kraenzlin 1910 drawing fide; Orchidaceae Monandre-Dendrobiinae Fr. Kraenzlin 1910 as D brymerianum var histrionicum; Die Orchideen Schlechter 1915; Die Orchideen 2 Auflage Schlechter 1927; AOS Bulletin Vol 28 No 2 1959 photo fide; The Orchids of Thailand Seidenfaden & Smitinand 1960; Encyclopedia of Cultivated Orchids Hawkes 1965; AOS Bulletin Vol 37 # 6 1968; Beautiful Indian Orchids and How to grow them Ghose 1968; AOS Bulletin Vol 50 No 5 1981 drawing fide; Die Orchideen lieferung 11/12 Schlechter/Brieger 1981; Opera Botanica #83 Orchid Genera in Thailand XII Dendrobium Sw. Seidenfaden 1985 drawing fide; AOS Bulletin Vol 56 No 6 1987 drawing fide; The Manual Of Cultivated Orchid Species Bechtel, Cribb & Laurent 1992 photo fide; The Illustrated Encyclopedia of Orchids Pridgeon 1992 photo fide; Manual of Orchids Stewart 1995 drawing fide; Orchid Species Culture; Dendrobium Bakers 1996; Native Orchids of China in Colour Singchi, Zhanhuo and Yibo 1999 photo fide; AOS Bulletin Vol 70 No 8 2001 photo fide; Orchid Digest Vol 66 #1 2002 photo fide; A field Guide to the Wild Orchids of Thailand Vaddhanaphuti 2001 photo fide; Wild Orchids in Mynamar Vol 1 Tanaka 2003 photo fide; A field Guide to the Wild Orchids of Thailand Vaddhanaphuti 2005 photo fide; The Dendrobiums H. P. Wood 2006 photo fide; The Dendrobiums H. P. Wood 2006 as D histrionicum photo fide; Orchid Digest Vol 71 No 1 2007 photo fide; Orchids of India A Glimpse Misra 2007; A Field Guide to the Orchids of China Singchi, Zhongjian, Yibo, Xiaohua and Zhanhuo 2009 photo fide; Flora of China Vol 25 Zhengyi, Raven & Deyuan 2009; Orchid Digest Vol 74 #4 2010 photo fide; Flora of China Vol 25 Illustrations Zhengyi, Raven & Deyuan 2010 drawing fide; The Wild Orchids in Yunnan Xu Xiang Ye & Liu 2010 photos fide; Le Petit Larousse des Orchidees Lecoufle, Barthelemy & Schmidt 2013 photo fide; Wild Orchids of Myanmar Hyan Tun [Mr Myanmar] 2014 Photo fide; AOS Bulletin Vol 88 #2 2019 photo fide; Orchid Digest Vol 82 #3 2018 photo fide;
--------------------------------------------------------------------------------------------------------------------------