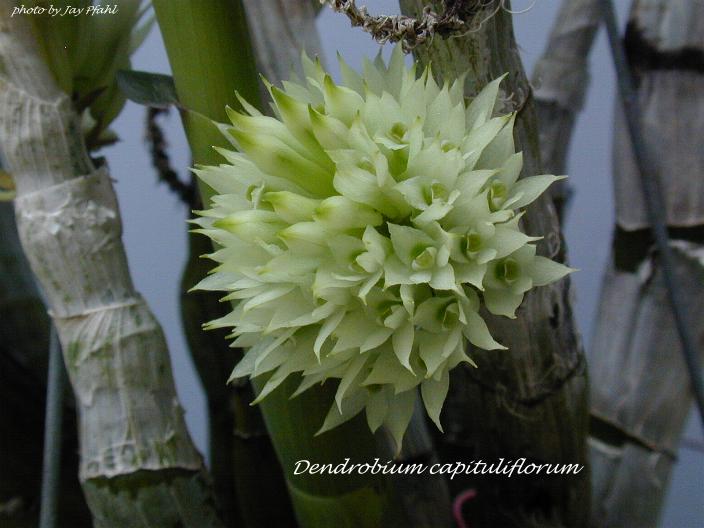 Dendrobium capituliflorum Rolfe 1901 SECTION Calyptrochilus
Flower Closeup Photo by Jay Pfahl.


to


MID

Common Name White Bottle-Brush Orchid [Australia] - Small-Headed Flower Dendrobium
Flower Size 1/2" [1.2 to 1.8 cm]
Found in Papua New Guinea and the Solomon Islands as a small sized, cool to hot growing epiphyte on trunks and branches of trees in lowland savannahs, plantations, coastal forests and rainforests but it is also a lithophyte and is found on rocky outcroppings in grasslands at elevations of sealevel to 1800 meters with spindle to cylindrical-shaped, several noded, constricted basally pseudobulbs carrying many, apical dark to gray green on the upper side and velvety purple on the underside, thin, leathery, narrowly lanceolate to elliptical, unequally bilobed apically leaves that blooms with a ball-like cluster of many flowers that arise from the nodes closer to the middle and base of mature leafy and leafless canes arising on dense ovoid clusters of suberect, 3/4" to 1 1/2" [2 to 4 cm] long inflorescence occuring in winter through mid spring.
This plant can be mounted or grown in a pot with a fast draining medium and can be grown with much more even conditions than many Dendrobium. A lessening of fertilizer can be benificial to better spring blooming but watering can basically remain the same.
Synonyms Dendrobium confusum J.J.Sm 1911; Pedilonum capituliflorum (Rolfe) Brieger 1981
References W3 Tropicos, Kew Monocot list , IPNI ; Orchidaceae Monandre-Dendrobiinae Fr. Kraenzlin 1910; The Orchidaceae of German New Guinea Schlechter 1912/85; The Orchids of Papua New Guinea An Introduction Millar 1978 photo fide; Die Orchideen lieferung 11/12 633 - 752 Brieger 1981 as Pedilonum capituliferum sic photo fide; The Orchids of the Solomon Islands and Bougainville Lewis & Cribb 1991 photo fide; AOS Bulletin Vol 62 # 1 1993 photo fide; Lowland Orchids of of Papua New Guinea Peter O'Byrne 1994 drawing/photo fide; Orchid Species Culture; Dendrobium Bakers 1996; Orchids of Papua New Guinea Millar 1999 photo fide; Dendrobium and their Relatives Lavarack, Harris and Stocker 2000 photo fide; Flora Malesiana Orchids of New Guinea Vol II Shuiteman and de Vogel 2002; Botanica's Orchids 2002 photo fide; Flora's Orchids Nash & La Croix 2005 photo ok; Orchid Digest Vol 74 #4 2010 photo fide; A Guide to the Dendrobium of New Guinea Andre Schuiteman 2013 photo fide; AOS Bulletin Vol 85 #2 2016 photo fide; AOS Bulletin Vol 85 #1 2016 photo fide; AOS Bulletin Vol 85 #6 2016 photo fide; AOS Bulletin Vol 88 # 6 2019 photo fide;
--------------------------------------------------------------------------------------------------------------------------