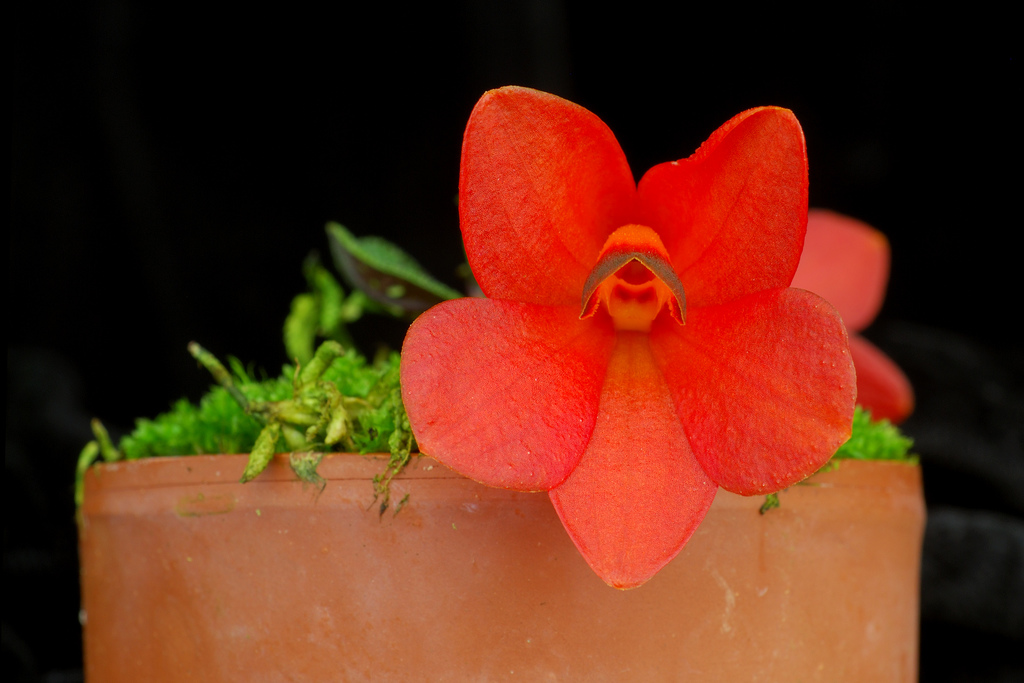 Dendrobium cuthbertsonii F. Mueller 1888 SECTION Calyptrochilus
Photo by © Eric Hunt
Photo courtesy of Jean Claude George
Photo courtesy of Wilford Neptune.
Bicolor variety - Specimen Plant
Photos by © Eric Hunt
Photo courtesy of Weyman Bussey, plant grown by Judy Carne
Photo by © Eric Hunt


to





Common Name Cuthbertson's Dendrobium [English Collector in Asia 1800's]
Flower Size 1 1/4" [3 cm]
This is a high altitude [750m-3500m] mossy tree growing, miniature epiphyte or growing as a lithophyte on mossy rocks by streams or a east face terrestrial cliff dweller that is in leaf litter and beneath small plants in very exposed sun conditions with clustered, very short, fusiform stems carrying lanceolate, rough textured, dark green, purple veined below leaves. This plant is found in New Guinea and is free-flowering with a solitary flower on a terminal to axillary, short, single flowered inflorescence if given cool to cold conditions with high humidity and great airflow, even year round watering and a steady weekly fertilizing.
Synonyms Dendrobium agathodaemonis J.J.Sm. 1910; Dendrobium asperfolium J.J.Sm. 1911; Dendrobium atromarginatum J J Sm 1929; Dendrobium carstensziense J.J.Sm. 1929; Dendrobium coccinellum Ridley 1916; Dendrobium euphues Ridley 1916; Dendrobium fulgidum Ridley 1916; Dendrobium laetum Schlechhter 1923; Dendrobium lichenicola J.J.Sm. 1929; Dendrobium sophronites Schlechter 1912; Dendrobium trachyphyllum Schlechter 1912; Maccraithea agathodaemonis (J.J.Sm.) M.A.Clem. & D.L.Jones 2002; Maccraithea asperifolia (J.J.Sm.) M.A.Clem. & D.L.Jones 2002; Maccraithea atromarginata (J.J.Sm.) M.A.Clem. & D.L.Jones 2002; Maccraithea coccinella (Ridl.) M.A.Clem. & D.L.Jones 2002; Maccraithea cuthbertsonii (F.Muell.) M.A.Clem. & D.L.Jones 2002; Maccraithea euphues (Ridl.) M.A.Clem. & D.L.Jones 2002; Maccraithea lichenicola (J.J.Sm.) M.A.Clem. & D.L.Jones 2002; Maccraithea sophronites (Schltr.) M.A.Clem. & D.L.Jones 2002; Maccraithea trachyphylla (Schltr.) M.A.Clem. & D.L.Jones 2002; Pedilonum asperifolium (J.J. Sm.) Brieger 1981; Pedilonum coccinellum (Ridl.) Rauschert 1983; Pedilonum cuthbertsonii (F. Muell.) Brieger 1981; Pedilonum euphues (Ridl.) Rauschert 1983; Pedilonum sophronites (Schltr.) Rauschert 1983; Pedilonum trachyphyllum (Schltr.) Brieger 1981
References W3 Tropicos, Kew Monocot list , IPNI ; Orchidaceae Monandre-Dendrobiinae Fr. Kraenzlin 1910; The Orchidaceae of German New Guinea Schlechter 1912/1985; The Orchids of Papua New Guinea An Introduction Millar 1978 as D sophronites photos fide; AOS Bulletin Vol 47 No 11 1978 as D sophronites photo fide; The Orchids of The High Mountains of New Guinea P Van Royen 1979 as D agathodaemonis drawing ok; Miniature Orchids Northern 1980 as D sophronites photo fide; Die Orchideen lieferung 11/12 Schlechter/Brieger 1981 as Pedilonum cuthbertsonii photo plant only; Die Orchideen lieferung 11/12 Schlechter/Brieger 1981 as Pedilonum asperifolium photo fide; Die Orchideen lieferung 11/12 633 - 752 Brieger 1981 as Pedilonum trachyphyllum drawing good; Die Orchideen lieferung 11/12 633 - 752 Brieger 1981 as Pedilonum cuthbertsonii photo plant only; Die Orchideen lieferung 11/12 633 - 752 Brieger 1981 as Pedilonum asperifolium photo fide; AOS Bulletin Vol 53 #8 1984 as D sophronitis photo fide; AOS Bulletin Vol 55 No 2 1986 photo fide; AOS Bulletin Vol 55 No 10 1986 photo fide; AOS Bulletin Vol 55 No 12 1986 photo fide; AOS Bulletin Vol 57 No 2 1988 photo fide; Schlechteriana Vol 2 No 3 1991 photo FIDE; A Guide to Orchids of the World Hodgson, Paine & Anderson 1991 Photo fide; AOS Bulletin Vol 61 No 11 1992 photo fide; The Manual Of Cultivated Orchid Species Bechtel, Cribb & Laurent 1992 photo fide; The Illustrated Encyclopedia of Orchids Pridgeon 1992 photo fide; AOS Bulletin Vol 62 No 11 1993 photo fide; Phylogeny and Classification of the Orchid Family Dressler 1993 photo fide; Manual of Orchids Stewart 1995; AOS Bulletin Vol 65 No 2 1996 photo fide; Orchid Species Culture; Dendrobium Bakers 1996; AOS Bulletin Vol 68 No 4 1999 photo fide; Orchids of Papua New Guinea Millar 1999 photo fide; AOS Bulletin Vol 69 No 7 2000 photo fide; Orchid Australia Vol 12 No 5 2000 photo; Dendrobium and their Relatives Lavarack, Harris and Stocker 2000 photo fide; Australian Orchid Review Vol 66 No 5 2001 photo; AOS Bulletin Vol 70 No 12 2001 drawing fide; AOS Bulletin Vol 71 No 6 2002 photo fide; Botanica's Orchids 2002 photo fide; Australian Orchid Review Vol 68 No 3 2003 photo; Flora Malesiana Orchids of New Guinea Vol II Shuiteman and de Vogel 2002; AOS Bulletin Vol 72 No 4 2003 drawing fide; AOS Bulletin Vol 73 No 1 2004 photo fide; AOS Bulletin Vol 73 No 2 2004 photo fide; AOS Bulletin Vol 73 No 5 2004 photo fide; Australian Orchid Review Vol 70 No 3 2005; AOS Bulletin Vol 74 No 2 2005 photo fide; AOS Bulletin Vol 74 No 7 2005 photo fide; Flora's Orchids Nash & La Croix 2005 photo fide; Orchid Digest Vol 70 #2 2006 photo fide; The Dendrobiums H. P. Wood 2006 photo fide; Australian Orchid Review Vol 72 No 4 2007 photo fide; AOS Bulletin Vol 76 No 4 2007 photo; Miniature Orchids Frownie 2007 photos fide; Mille Et Une miniOrchidees Roguenant 2009 photo fide; Orchid Digest Vol 74 #4 2010 photo fide; AOS Bulletin Vol 79 #7 2010 photo fide; AOS Bulletin Vol 79 #9 2010 drawing fide; AOS Bulletin Vol 81 #12 2012 photo fide; A Guide to the Dendrobium of New Guinea Schiteman 2013 photo fide; Le Petit Larousse des Orchidees Lecoufle, Barthelemy & Schmidt 2013 photo fide; A Compendioum of Minaiture Orchid Species Vol 1 Parsons and Gerritsen 2013 photo fide; Genera Orchidacearum Vol 6 Epidendrodeae Part 3 Pridgeon, Cribb, Chase and Rasmussen 2014; Orchid Digest Vol 81 #3 2017 photo fide; AOS Bulletin Vol 86 #5 2017 photo fide; Orchid Digest Vol 82 #3 2018 photo fide; AOS Bulletin Vol 87 #10 2018 photo fide; AOS Bulletin Vol 88 #8 2019 photo fide; AOS Bulletin Vol 88 #10 2019 photo fide; AOS Bulletin Vol 89 #11 2020 photo fide;
--------------------------------------------------------------------------------------
------------------------------------------------------------------------------------------------------------------------------------------------