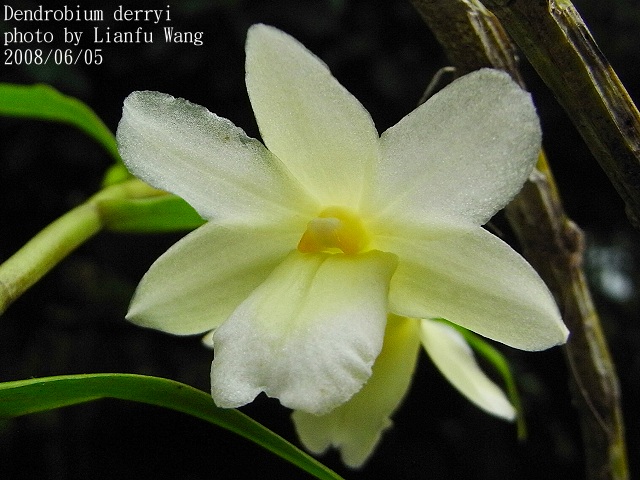 Dendrobium derryi Ridl. 1907 SECTION Calcarifera
Photo by © Lianfu Wang
What was considered D cinereus
Photo by © A Lamb




LATER

to EARLIER

Common Name Derry's Dendrobium [English Director of Singapore Botanical Garden 1900]
Flower Size 1" [2.5 cm]
Found in Sumatra, Borneo and penninsular Malaysia in oak/laurel, stunted mossy ridge, lower montane forests and forests on sandstone and shale at elevations of 500 to 1700 meters as a small to just medium sized, warm to cool growing epiphyte with with clustered, slender, dirty green, shiny, longitudinally grooved stems with many oblong, shiny, pearl grey above and dark purple beneath leaves that blooms in the later winter and earlier spring on short, few flowered inflorescence that arise on leafless and leafy stems from the upper nodes and carrying fragrant flowers that are held close to the stem.
Similar to D groeneveldtii but it differs in the ovate sepals, a shorter mentum, erose petals and a bilobed apex to the lip. Also similar to D viridipetalum [now a synonym of D derryi] but D groeneveldtii differs in the blunter sepals, the shorter claw, the longer blade of the lip with different keels and the erose petals
Ample water and fertilizer while growing, ease up on the water slightly through the winter and drop the fertilizer for a month or so to promote good blooming.
Synonyms Eurycaulis cinereus (J.J.Sm.) M.A.Clem. 2003; Dendrobium cinereum J.J.Sm. 1920; Dendrobium viriditepalum J.J.Sm. 1917; Eurycaulis cinereus (J.J.Sm.) M.A.Clem. 2003; Eurycaulis derryi (Ridl.) M.A.Clem. 2003; Eurycaulis viriditepalus (J.J.Sm.) M.A.Clem. 2003; Pedilonum derryi (Ridl.) Rauschert 1983
References W3 Tropicos, Kew Monocot list , IPNI ; *Materials For a Flora of the Malayan Penninsula Part 1 Ridley 1907; Orchidaceae Monandre-Dendrobiinae Fr. Kraenzlin 1910; Flora of Malaya Vol 1 Orchids Holttum 1953; The Orchids of Thailand Seidenfaden & Smitinand 1960; The Orchids of Thailand Seidenfaden & Smitinand 1965 corrections; The Orchids of Penninsular Malaysia and Singapore Wood & Seidenfaden 1992 drawing ok; The Plants of Mount Kinabalu Vol 2 Orchids Wood Beaman & Beaman 1993 as D cinereum photo fide; A Checklist of the Orchids of Borneo Cribb & Wood 1994 excluded taxa; A Checklist of the Orchids of Borneo Wood & Cribb 1994 as D cinereum photo fide; Orchid Species Culture, Dendrobium Bakers 1996 as D cinereum; Orchid Species Culture, Dendrobium Baker's 1996; Orchid Species Culture, Dendrobium Bakers 1996 as d viriditepalumOrchids of Sumatra Comber 2001 as D viriditepalum;   Orchids of Sarawak Beaman & Wood 2001 photo fide; A to Z of South East Asian Orchid Species Vol 1 O'Byrne 2001 as D cinereum photo fide; Orchids of Borneo Wood Vol 4 2003 drawing/photo fide Dendrobiums Wood 2006; Malesian Orchid Journal Vol 3 2009; The Orchids of Mount Kinabalu Vol 1 Wood, Beaman, Lamb, Chu Lun and Beaman 2011; The Orchids of Mount Kinabalu Vol 2 Wood, Beaman, Lamb, Chu Lun and Beaman 2011 photo fide; Wild Orchids of Penninsular Malaysia Ong, O'Byrne, Yong & Saw 2011 photo fide; Malesian Orchid Journal Vol 10 2012 photo fide; A Guide to the Dendrobium of Borneo JJ Wood 2013 photo fide; Dendrobium of Borneo Wood 2014 photo/drawing fide
--------------------------------------------------------------------------------------------------------------------------