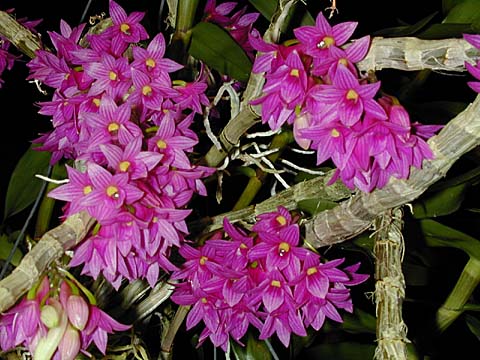 ~Dendrobium miyakei Schlechter 1919 - See Dendrobium goldschmidtianum Kraenzl. 1909 Photo courtesy of Andy's Orchids, Copyright © 2002 All rights reserved
Flower Closeup Photo by Patricia Harding.


to

LATE

to

and again

to

Common Name Miyake's Dendrobium [Philippine Orchid Enthusiat early 1900's]
Flower Size 1/2" [1.25 cm]
A medium to large sized, hot to warm growing, low altitude epipyhte found most often in ficus trees in the banyan jungles of Taiwan and the Philippines below the altitude of 300 meters with clustered, unbranched, cane-like stems carrying many, deciduous, lenear-lanceolate, pointed leaves. The bloom season is in the late winter and early spring and a secondary bloom through the summer and fall on a short, fasciculate, racemose, few to several flowered inflorescence that arises from the nodes along the older leafless cane with 4 to 8, small flowers in a cluster. They need a slight lessening of water and a cessation of fertilizer through the winter months and resuming with the onset of spring and prefer a semishaded situation. Cited as a synonym, by Jim Cootes in Orchids of the Philippines, of D goldschmidtianum and I feel that it is correct. Only difference that I can see is that D miyakei is said to be scentless and D goldschmidtianum is scented.
Synonyms Dendrobium victoria-reginae Loher var miyakei [Schlechter] Liu & Su 1978; Pedilonum miyakei (Schltr.) Rauschert 1983
References W3 Tropicos, Kew Monocot list , IPNI ; Orchidiana Philipiniana Vol 1 Valmayor 1984;
---------------------------------------------------------------------------------