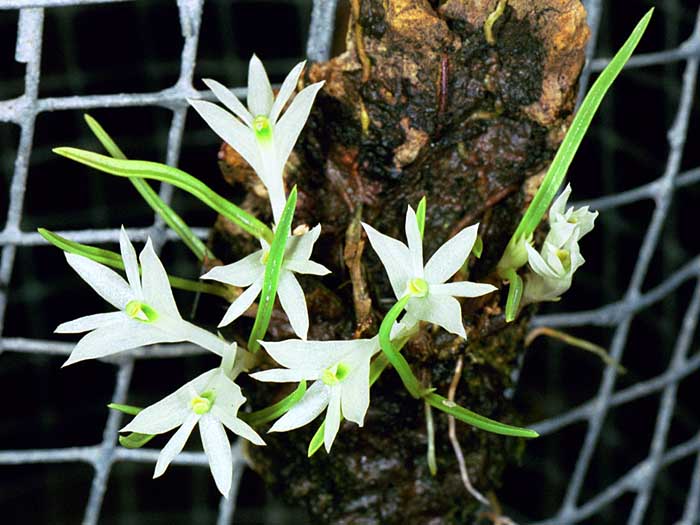 Dendrobium masarangense Schltr. 1911 SECTION Calyptrochilus Photo by Eric Hunt, plant grown by Dan Newman of Hanging Gardens.
Another Color Form of Lip Apex Photo courtesy of Dale and Deni Borders.



to

LATER

Common Name or Meaning The Mt Masarang Dendrobium [A mountain in Sulawesi]
Flower Size 1/3" to 3/4" [1 cm]
This hot to warm growing, mini-miniature sized, epiphytic species is from the lowland forests of New Guinea, the Bismark Archipelago, Sulawesi, the Solomon Islands, New Caledonia, Vanuatu and Fiji in lowland montane forests on trees at elevations of 300 to 1200 meters with clusered, globose, obclavate, fusiform to cylindrical pseudobulbs carrying 2 to 4, erect to suberect, leathery, soft or thin, linear to lanceolate to semi-terete, obtuse to acute, apiculate leaves and it blooms on a apical , racemose, simultaneously 1 to few flowered inflorescence arising apically that holds the long-lasting, fragrant, wide open flowers amidst the leaves occuring around May.
After flowering they need copious water through the late fall when they should receive less water but the same temperatures.
Synonyms Dendrobium masarangense var. chlorinum (Ridl.) T.M.Reeve & P.Woods 1989; Dendrobium pumilio Schlechter 1912
References W3 Tropicos, Kew Monocot list , IPNI ;; The Orchidaceae of German New Guinea Schlechter 1914/1985; Neue Orchideen Papuasiens J J Smith 1934 as D pumilia; AOS Bulletin Vol 38 No 5 1969 as Dendrobium masarangense stamp good; The Orchids of Papua New Guinea An Introduction Millar 1978 as D pseudofrigidum photo fide; The Orchids of The High Mountains of New Guinea P Van Royen 1979 as D pseudofrigidum drawing good; The Orchids of The High Mountains of New Guinea P Van Royen 1979 as D theionanthum drawing ok; Miniature Orchids Northern 1980 as D frigidum; Miniature Orchids Northern 1980 as D pseudofrigidum; Miniature Orchids Northern 1980 as D theionanthum; Orchids of Vanuatu Lewis & Cribb 1989 drawing fide; Allertonia Vol 5 No 1 Kores 1989; The Orchids of the Solomon Islands and Bougainville Lewis & Cribb 1991 drawing ok; Schlechteriana Vol 2 No 4 1991 photo FIDE; Dendrobium and its Relatives Lavarack, Harris and Stocker 2000 photo fide; Lindleyana Vol 17 No 1 2002; Flora Malesiana Orchids of New Guinea Vol II Shuiteman and de Vogel 2002; Australian Orchid Review Vol 70 No 3 2005; Flora's Orchids Nash & La Croix 2005 photo fide; The Dendrobiums H. P. Wood 2006; Miniature Orchids Frownie 2007 photo fide; Mille Et Une miniOrchidees Roguenant 2009 as D masarangense var theionanthum photo fide; A Guide to the Dendrobium of New Guinea Schuiteman 2013 photo fide; Orchid Digest Vol 81 #3 2017 photo fide;
Photo by Marki Clemments and The Swiss Orchid Foundation at the Jany Renz Herbaria

Dendrobium masarangense var. theionanthum Schlechter 1911

Found only in New Guinea as a warm to cold, twig growing epiphyte at elevations of 800 to 3200 meters on tree twigs and shrubs on steep exposed ridges and summits.

This variety of the species grows a bit cooler than the type species and needs ample sun and air circulation.

Flower Size 1/3" to 3/4" [1 cm]

Synonyms Dendrobium caespitificum Ridley 1916; Dendrobium chlorinum Ridley 1916; Dendrobium frigidum Schlechter 1912; Dendrobium gemma Schlechter 1923; Dendrobium masarangense subsp. theionanthum (Schltr.) T.M.Reeve & P.Woods 1989; Dendrobium masarangense var. theionanthum (Schltr.) T.M.Reeve & P.Woods 1989; Dendrobium monogrammoides J.J.Sm. 1929; Dendrobium pseudofrigidum J.J.Sm. 1929; Dendrobium pumilio Schlechter 1912; Dendrobium theionanthum Schlechter 1912; Oxyglossellum theionanthum (Schltr.) M.A.Clem. & D.L.Jones 2002; Pedilonum caespitificum (Ridl.) Rauschert 1983; Pedilonum chlorinum (Ridl.) Rauschert 1983; Pedilonum frigidum (Schltr.) Rauschert 1983; Pedilonum gemma (Schltr.) Rauschert 1983; Pedilonum pumilio (Schltr.) Rauschert 1983; Pedilonum theionanthum (Schltr.) Rauschert 1983

References W3 Tropicos, Kew Monocot list , IPNI ;; The Orchidaceae of German New Guinea Schlechter 1914/1985 as Dendrobium masarangense, Dendrobium pumilio Schlechter 1912 and Dendrobium theionanthum Schlechter 1912; The Orchids of The High Mountains of New Guinea P Van Royen 1979 as D theionanthum drawing ok; The Orchids of The High Mountains of New Guinea P Van Royen 1979 as D pseudofrigidum drawing ok Orchid Species Culture; Dendrobium Bakers 1996; The Dendrobiums H. P. Wood 2006 as D theionanthum photo fide; Mille Et Une miniOrchidees Roguenant 2009 photo fide;

--------------------------------------------------------------------------------------------------------------------------

--------------------------------------------------------------------------------------------------------------------------