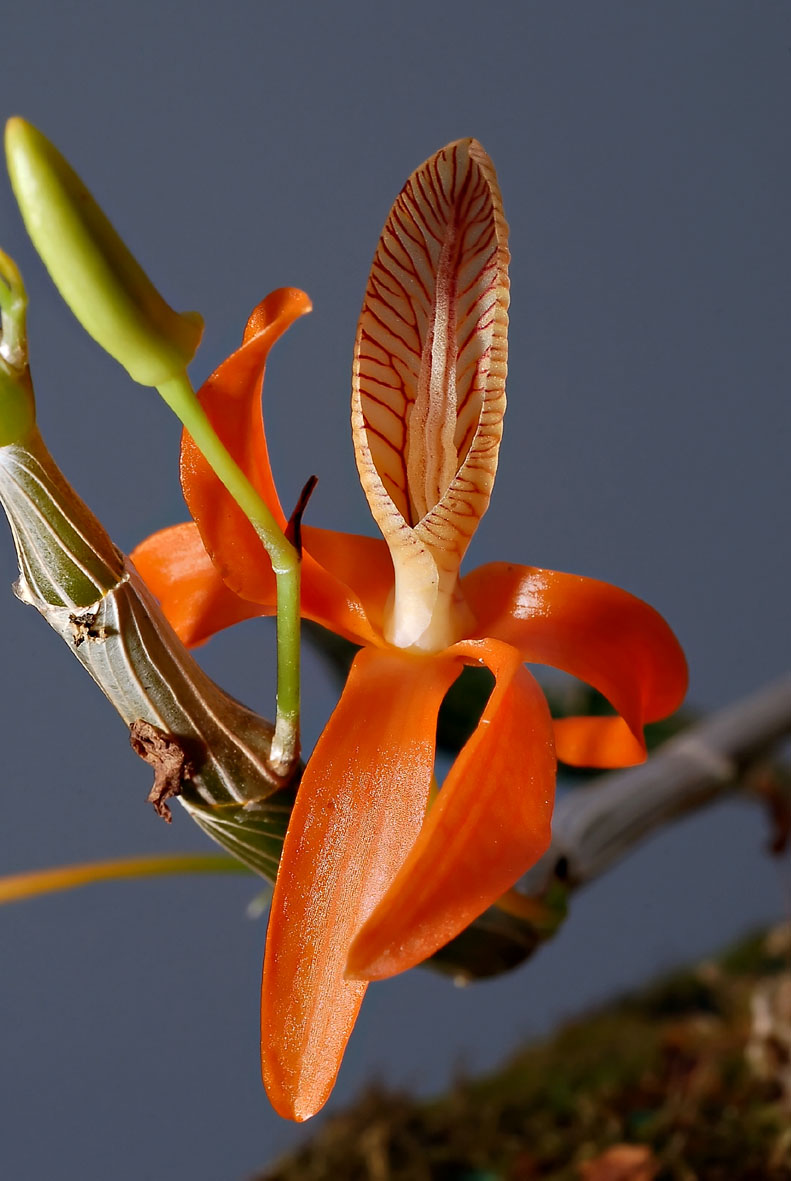 Dendrobium unicum Seidenfadden 1970 SECTION Dendrobium Photo by © Pieter C. Brouwer and his Nature Photo Website
Another Angle Photo by Jay Pfahl



to

LATER

To EARLY

Common Name The Unique Dendrobium
Flower Size 1 1/2" to 2" [5 cm]
A nice miniature plant that likes to be wood mounted and needs warm conditions through the summer growth season but cool to warm and drier in the winter and spring and has clustered, small stems carrying 2 to 3, apical, narrow, persistent leaves and blooms in the later spring and early summer on axillary, short [1 to 2"], raceme that arises from near and at the apex of leafed and leafless canes with up to 4 fragrant peach to apricot scented flowers. It is found in Vietnam, Laos, Myanmar and Thailand in evergreen, in semi-deciduous and deciduous dry lowland forests and savana-like woodlands at elevations of 800 to 1550 meters and is found on rocks and small bushes.
This species is similar to D dickasonii and D lamyaiae but this one differs in the smaller flowers with a wider cupped lip and three central keels
A lessening of water and fertilizer is beneficial through the onset of winter but in the last 2 months water should be reduced even more and fertilizer eliminated until new growths arise in the spring.
References W3 Tropicos, Kew Monocot list , IPNI ; Miniature Orchids Northern 1980 photo fide; Die Orchideen lieferung 11/12 Schlechter/Brieger 1981; Opera Botanica #83 Orchid Genera in Thailand XII Dendrobium Sw.Seidenfaden 1985 drawing/photo fide; Thai Orchid Species Rakpaibulsombay 1992 photo fide; Miniature Orchids McQueens 1992 photo fide; The Manual Of Cultivated Orchid Species Bechtel, Cribb & Laurent 1992 photo fide; Identification of the Orchids [Orchidaceae Juss.] Vietnam Averyanov 1994; Manual of Orchids Stewart 1995; Orchid Species Culture; Dendrobium Bakers 1996; Orchids Travel By Air A Pictoral Safari Mulder, Mulder-Roelfsema and Schuiteman 1990 photo fide; Oasis Vol 1 No 3 2000 photo; Dendrobium and its Relatives Lavarack, Harris and Stocker 2000 photo fide; A Field Guide to the Wild Orchids of Thailand Vaddhanaphuti 2001 photo fide; A to Z of South East Asian Orchid Species Vol 1 O'Byrne 2001 photo fide; Botanica's Orchids 2002 photo fide; Slipper Orchids of Vietnam Averyanov, Cribb, Loc and Hiep 2003 photo fide; AOS Bulletin Vol 74 No 5 2005 photo fide; A field Guide to the Wild Orchids of Thailand Vaddhanaphuti 2005 photo fide; The Dendrobiums H. P. Wood 2006 photo fide; Miniature Orchids Frownie 2007 photo fide; Wild Orchids in Myanamar Vol 3 Tanaka 2007 photo fide; A Field Guide to the Orchids of China Singchi, Zhongjian, Yibo, Xiaohua and Zhanhuo 2009 photo fide; Mille Et Une miniOrchidees Roguenant 2009 photo fide; Orchid Digest Vol 74 #4 2010 photo fide; Orchid Digest Vol 76 #1 2012 photo fide; Orchid Digest Vol 80 #2 2016; AOS Bulletin Vol 86 #4 2017 photo fide; AOS Bulletin Vol 86 #5 2017 photo fide; AOS Bulletin Vol 86 #6 2017 photo fide; AOS Bulletin Vol 88 #8 2019 photo fide;
--------------------------------------------------------------------------------------------------------------------------