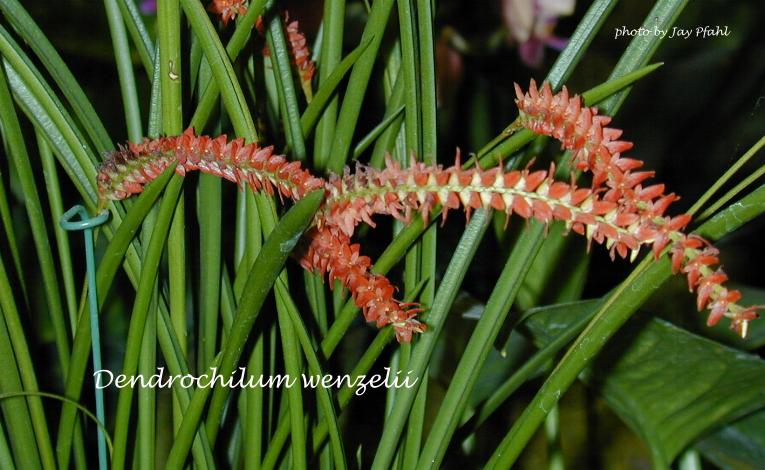 Dendrochilum wenzelii Ames 1915 SECTION Acoridium [Nees & Meyen] Pfitzer & Kranzlin Photo courtesy of Jay Pfahl.
Plant and Flower Photos by © Eric Hunt and His Orchid Website



LATE

to EARLY

Common Name Wenzel's Dendrochilum [Orchid Collector in the Philippines early 1900's]
Flower Size .4" [1 cm]
This is a small to medium sized, warm growing Philippine epiphytic species occuring in forests at elevations of 300 to 1000 meters with tapered pseudobulbs carrying a single, apical, leathery leaf that blooms on a semi-arching inflorescence that arises on a new growth with many [30] crowded flowers occuring in the late winter and early spring.
Synonyms Acoridium wenzelii (Ames) Ames 1922
References W3 Tropicos, Kew Monocot list , IPNI ; Orchidiana Philipiniana Vol 1 Valmayor 1984; AOS Bulletin Vol 66 No 8 1997 photo; AOS Bulletin Vol 66 No 9 1997 photo; Orchids of The Philippines Cootes 2001 photo fide; Australian Orchid Review Vol 67 No 4 2002 photo; Flora Malesiana Orchids of the Philippines Vol I Agoo, Shuiteman and de Vogel 2003; AOS Bulletin Vol 78 No 5 2009 photo; A to Z of South East Asian Orchid Species Vol 2 O'Byrne 2011 photo fide

Dendrochilum wenzelii Ames 1915 yellow variety

Photo courtesy of Dale and Deni Borders

This species is from the Philippines and blooms in the late winter and early spring and is a color form of the species.
References W3 Tropicos, Kew Monocot list , IPNI ; Orchids of The Philippines Cootes 2001 photo fide; Mille et Une Mini Orchideees Roguenant 2009 photo fide; A to Z of South East Asian Orchid Species Vol 2 O'Byrne 2011 photo fide
--------------------------------------------------------------------------------------------------------------------------