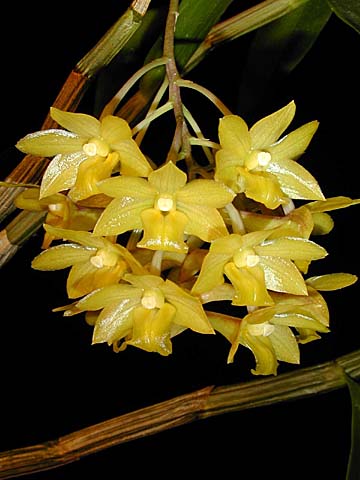 Dendrobium epidendropsis Kraenzl.1908 SECTION Calcarifera Andy's Orchids, Copyright © 2002 All rights reserved
Flower Closeup Photo courtesy of ?




to EARLY

and again in

Common Name The Epipdendrum-Like Dendrobium
Flower Size 2 1/2" includes the mentum [6.25 cm]
Found in the Philippines, Java, and Japan as a large sized, warm growing epiphyte that occurs low on tree trunks on forested slopes at 900 to 1000 meters with cane-like, slender stems carrying oblong-lanceolate, leathery leaves and blooms in the fall through early winter and again in the spring on a slender, axillary, to about 4" [10 cm] long, pendulous raceme with many flowers clustered towards the apex that arises from near the apex of the older leafless canes carrying 15, waxy, glossy, showy and sometimes fragrant flowers.
Plants should be allowed to dry out but not completely between waterings through the winter months and fertilizer should be curtailed until new growth arises in the spring.
Said to be a synonym of D ionopus, I have left them separate for now as the lips appear to be different
Synonyms
References W3 Tropicos, Kew Monocot list , IPNI ; Das Pflanzenreich Orchidaceae Monandre-Dendrobiinae Fr. Kraenzlin 1910; Die Orchideen Schlechter 1915; Die Orchideen 2 Auflage Schlechter 1927; Encyclopedia of Cultivated Orchids Hawkes 1965; Orchidiana Philipiniana Vol 1 Valmayor 1984 drawing fide; Orchid Species Culture; Dendrobium Bakers 1996; The Dendrobiums H. P. Wood 2006; Orchid Digest Vol 74 #4 2010 photo fide; Genera Orchidacearum Vol 6 Epidendrodeae Part 3 Pridgeon, Cribb, Chase and Rasmussen 2014; AOS Bulletin Vol 85 #3 2016;
----------------------------------------------------------------------------------------------------------