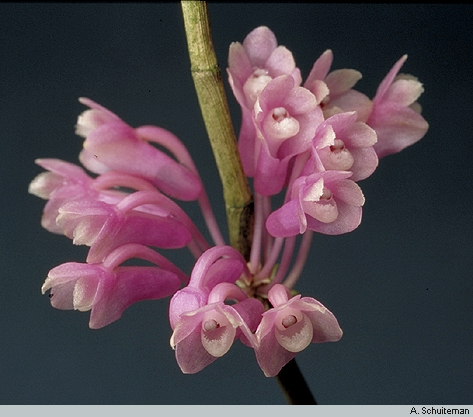 Dendrobium erosum (Blume) Lindl. 1830 SECTION Calyptrochilus
Photo by © André Schuiteman, Dr. E.F. de Vogel and Jaap Vermeulen and Their Netherlands National Herbarium Website and Flora Malesiana Vol III
Photo by Rogier van Vugt


to


to

Common Name The Erose Dendrobium [Refers to the erose lip apex]
Flower Size 1" [2.5 cm]
Found in southern Thailand, Malaysia, Sumatra, Java, Sulawesi, Papua & New Guinea, Vanuatu, and the Solomon Islands as a large sized, warm to cool growing epiphyte on large trees along the border of mangrove swamps and lower montane forests at elevations of 500 to 2000 meters with pendant, clustered, many angled, noded and leafy stems carrying many, lanceolate leaves and blooms in the fall and winter on a very short, pendant, few to many [5 to 10] flowered inflorescence arising from the upper nodes of leafless canes with flowers that do not open fully.
The leaves of this species are dried, powdered and steeped and then mixed with coconut oil to be used as a perfume in western New Guinea.
Water and fertilizer should be greatly reduced for 2 months in the winter until early spring and only resumed with the onset of new growth.
Synonyms Callista erosa (Lindl.) Kuntze 1891; Chromatotriccum aemulans (Schltr.) M.A.Clem. & D.L.Jones 2002; Chromatotriccum amblyogenium (Schltr.) M.A.Clem. & D.L.Jones 2002; Chromatotriccum erosum (Blume) D.L.Jones & M.A.Clem. 2002; Dendrobium aegle Ridl. 1896; Dendrobium aemulans Schltr. 1906; Dendrobium amblyogenium Schlechter 1911; Dendrobium inopinatum J.J. Sm. 1922; Pedilonum aegle (Ridl.) Rauschert 1983; Pedilonum aemulans (Schltr.) Rauschert 1983; Pedilonum amblyogenium [Schltr.] Raushert 1983; *Pedilonum erosum Blume 1825; Pedilonum inopinatum (J.J.Sm.) Rauschert 1983
References W3 Tropicos, Kew Monocot list , IPNI ; Die Orchideen Von Java J.J.Sm. 1905; Materials For a Flora of the Malayan Penninsula Part 1 Ridley 1907 as D aegle; Orchidaceae Monandre-Dendrobiinae Fr. Kraenzlin 1910 as D aegle; Orchidaceae Monandre-Dendrobiinae Fr. Kraenzlin 1910; Neue Orchideen Papuasiens J J Smith 1934 as D aemulans; Flora of Malaya Vol 1 Orchids Holttum 1953 as D aegle; The Orchids of Thailand Seidenfaden & Smitinand 1960 as D aegle; The Orchids of Papua New Guinea An Introduction Millar 1978 as D aemulans photo not; Die Orchideen lieferung 11 Schlechter/Brieger 1981 as Pedilonum erosum; Opera Botanica #83 Orchid Genera in Thailand XII Dendrobium Sw. Seidenfaden 1985 as D aegle drawing fide; Orchids of Vanuatu Lewis & Cribb 1989 as D aegle drawing fide; Orchids of Java Comber 1990 as D aegle photo fide; The Orchids of the Solomon Islands and Bougainville Lewis & Cribb 1991 drawing fide; The Orchids of Penninsular Malaysia Wood & Seidenfaden 1992 drawing fide; A Checklist of the Orchids of Borneo Wood & Cribb 1994; Lowland Orchids of of Papua New Guinea Peter O'Byrne 1994 drawing/photo fide; Orchid Species Culture Dendrobium Bakers 1996; Dendrobium and its Relatives Lavarack, Harris and Stocker 2000 as D aff erosum photo fide; Orchids of Sumatra Comber 2001 photo fide; Orchids of Sarawak Beaman, Wood, Beaman & Beaman 2001;Lindleyana Vol 17 No 1 2002; Australian Orchid Review Vol 68 No 2003 photo; Flora Malesiana Orchids of New Guinea Vol II Shuiteman and de Vogel 2002; The Dendrobiums H. P. Wood 2006 photo fide; Wild Orchids of the Cameron Highlands REACH 2009 photo fide; Philippine Native Orchid Species Cootes 2009 photo fide; Malesian Orchid Journal Vol 6 2010 photo fide; The Orchids of Mount Kinabalu Vol 2 Wood, Beaman, Lamb, Chu Lun and Beaman 2011; Dendrobium of Borneo Wood 2014 photo/drawing fide; A Guide to the Dendrobium of the Philippines Cootes & Tiong 2015 photo fide
--------------------------------------------------------------------------------------------------------------------------
--------------------------------------------------------------------------------------