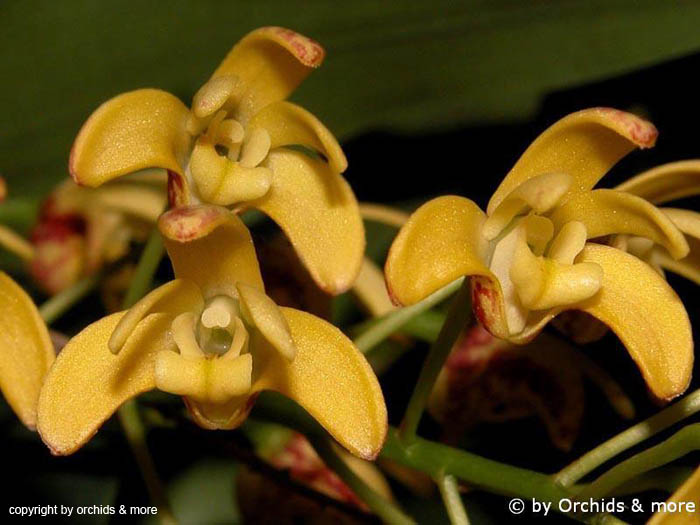 Dendrobium gracilicaule F. Muell. 1894 SECTION Dendrocoryne Photo by Copyright © W C Schraut and Orchids and More Website
Closer Flower Shot Photos by Eric Hunt, plant grown by Golden Gate Orchids
Another view and color form Photo by David P. Banks Australia Copyright ©
Another Color Form Photo by Patricia Harding



to

LATE

and

Common Name The Delicate Stems Dendrobium - In Australia The Blotched Cane Orchid - The Yellow Cane Orchid
Flower Size 1/2 to almost 1" [1.25 to 2.4 cm]
A medium to large sized, hot to warm growing epiphytic and sometimes lithophytic species from Queensland and New South Wales Australia as well as New Caledonia where it is found below 600 meters in sunny situations with erect, basally swollen, cylindrical, greyish stems carrying 3 to 6, longly lanceolate to ovate, acuminate, thin textured leaves flowering in the late winter and spring as younger plants and becoming freeflowering with age on a drooping few to many [5 to 40], fragrant flowered inflorescence arising from the nodes near the apex of mature canes.
Give this species a distinct dry winter starting in the mid fall and withhold fertilizer until new growth appears in the spring.
Some references say D comptonii is a synonym for this species as well. I have kept them and their representative synonyms separate for now.
Similar to and often cited as synomonous with D comptoni but D gracilicaule differs in the very cordate, longitudianlly folded lip apex that is not revolute
Synonyms Callista elongata (A.Cunn. ex Lindl.) Kuntze 1891; Callista gracilicaulis (F. Muell.) Kuntze 1891; Dendrobium brisbanense Rchb.f 1861; Dendrobium elongatum A. Cunningham not Lindley 1839; Dendrobium floribundum Rchb.f. 1875; Dendrobium macropus [Endl.]Rchb.f 1889 subsps. gracilicaule [F.Mueller]P.Green; Thelychiton gracilicaulis (F.Muell.) M.A.Clem. & D.L.Jones 2002; Tropilis gracilicaulis (F. Muell.) Butzin 1982
References W3 Tropicos, Kew Monocot list , IPNI ; Orchidaceae Monandre-Dendrobiinae Fr. Kraenzlin 1910 as D floribundum; Orchidaceae Monandre-Dendrobiinae Fr. Kraenzlin 1910; AOS Bulletin Vol 35 No 4 1966; Orchids of Australia Nicholls 1969 drawing fide; The Orchids of New South Wales Rupp 1969; Flore de la Nouvelle-Caledonie et Dependences Vol 8 Orchidaceae Halle 1977 drawing fide; Flore de la Nouvelle-Caledonie et Dependences Vol 8 Orchidaceae Halle 1977 as D gracicaule frma vigoreuse drawing fide; Dendrobium Orchids of Australia Upton 1989 as D macropus subsp gracilicaule drawing fide; Allertonia Vol 5 No 1 Kores 1989; A Guide to Orchids of the World Hodgson, Paine & Anderson 1991 Photo good; The Manual Of Cultivated Orchid Species Bechtel, Cribb & Laurent 1992 photo fide; The Illustrated Encyclopedia of Orchids Pridgeon 1992 photo fide; Native Orchids of New Caledonia Societe' Neo-Caledonienne D' Orchidophile 1995 photo fide; Manual of Orchids Stewart 1995; Orchid Species Culture; Dendrobium Bakers 1996; Dendrobium and its Relatives Lavarack, Harris and Stocker 2000 photo not = D macropus; Flora's Orchids Nash & La Croix 2005 photo fide; Australian Orchid Review Vol 71 No 5 2006 photo; The Dendrobiums H. P. Wood 2006 photo fide; The Dendrobiums H. P. Wood 2006 as D gracicaule var howeanum photo fide; Native Orchids of Australia Jones 2006 as Thelychiton gracilicaulis photo fide; Native Orchids of Australia Jones 2006 as Thelychiton howeanus photo fide; Genera Orchidacearum Vol 6 Epidendroidee Pt 3 Pridgeon, Cribb, Chase and Rasmussen 2014 photo fide; AOS Bulletin Vol 85 #3 2016 photo fide;
--------------------------------------------------------------------------------------------------------------------------
--------------------------------------------------------------------------------------