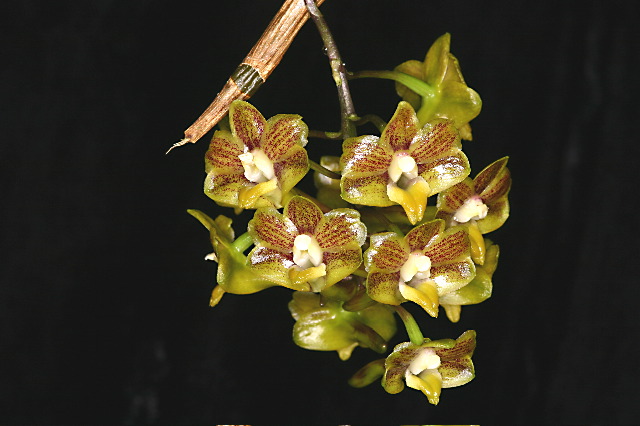 Dendrobium hymenophyllum Lindl. 1830 SECTION Calcarifera J.J.Sm.
Flower Closeup Photos by © Marius Wasbauer Copyright ©
Red Flower Variety Photos by Eric Hunt
Flower Inflorescence Photo by Weyman Bussey.
Flower inflorescence Photo by Nik Fahmi photo by Mr Rosli Zakaria.



LATE

Common Name The Delicately-Leafed Dendrobium
Flower Size .6" [1.5 cm]
Found in Sumatra and Java in moist dark, primary forests in foothills at elevations of 600 to 1250 meters with an even wet climate as a large sized, warm to cool growing epiphyte with clustered, drooping with age stems carrying many, lanceolate, papery, wavy at the margins, dark green above and reddish below, deciduous leaves that blooms in the late spring on a pendulous, 1.2" [3 cm] long, several flowered inflorescence arising from the nodes on the apical half, normally after the leaves have fallen, with 7 to 14, shiny, wide open flowers.
Water should be reduced and fertilizer eliminated as long as the plants are dormant in the winter, resume with the onset of new growth in the spring.
Synonyms Callista hymenophylla (Lindl.) Kuntze 1891; Callista quadrangularis (C.S.P.Parish & Rchb.f.) Kuntze 1891; Eurycaulis undulatus (Blume) M.A.Clem. 2003; Pedilonum undulatum Blume 1825
References W3 Tropicos, Kew Monocot list , IPNI ; Die Orchideen Von Java J.J.Sm. 1905; Die Orchideen Von Java Figuren Atlas J.J.Smith 1908 drawing fide; Orchidaceae Monandre-Dendrobiinae Fr. Kraenzlin 1910; Orchid Digest Vol 47 No 5 1983 drawing/photo fide; Orchids of Java Comber 1990 photo fide; Orchid Species Culture; Dendrobium Bakers 1996; Dendrobium and its Relatives Lavarack, Harris and Stocker 2000 photo good; Orchids of Sumatra Comber 2001 photo fide; The Dendrobiums H. P. Wood 2006 photo fide; Orchid Digest Vol 82 #3 2018 photo fide;
--------------------------------------------------------------------------------------------------------------------------