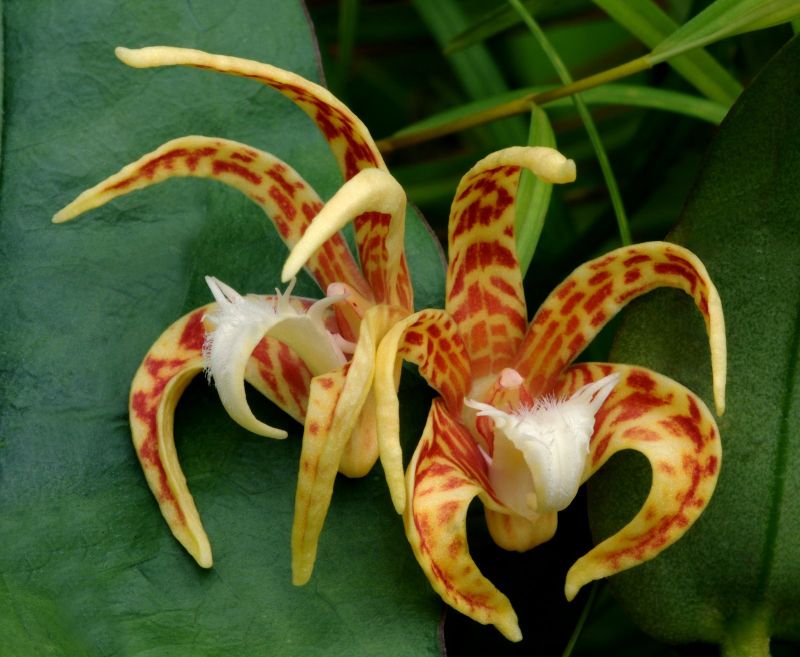 Dendrobium insigne [Bl.]Rchb. f. ex Miq. 1859 SECTION Grastidium
Another Flower Photo by Wolfgang H. Bandisch Copyright © 1998, 1999 All rights reserved. And his Papua & New Guinea Orchid Species site
Flower Closeup Photo by David Jubineau and His Bulbophyllum Pages Copyright ©








Common Name The Splendid Dendrobium - In Australia The Mangrove Tartan Orchid
Flower Size 3/4" to 2" [2 to 5 cm]
A widely distributed, coastal, medium sized, hot to warm growing epiphyte and occasional terrestrial found in Papua and New Guinea, Queensland Australia and surrounding islands at elevations of 0 to 600 meters that grows exposed on solitary trees in full sun and can be found on the tips of small branches of mangrove trees with woody, brittle pseudobulbs carrying many, variable sized leaves with the apical ones the smallest and blooms on nodes all along the cane with a very short raceme with 1 to 2, short lived, fragrant flowers occuring at any time of the year that is initiated by a 10 degree farenheight drop in temperature.
This species prefers some direct sunlight and can tolerate drought-like conditions. Put in a pot or grow on a tree. Water and fertilizer should be reduced somewhat through the winter months and resumed only with the onset of new growth.
Sole member of the section Dichopus.
Synonyms Callista insignis (Rchb. f. ex Miq.) Kuntze 1891; Dendrobium gazellae Kraenzl. 1886; Dendrobium insigne var. subsimplex J.J.Sm. 1911; Dendrobium lyperanthiflorum Kraenzl. 1894; Dendrobium obcuneatum F.M. Bailey 1906; Dendrobium pentactis Kraenzl. 1910; *Dichopus insignis Blume 1856; Grastidium insigne (Blume) M.A.Clem. & D.L.Jones 1997; Grastidium lyperanthiflorum (Kraenzl.) Rauschert 1983; Grastidium obcuneatum (F.M.Bailey) M.A.Clem. & D.L.Jones 1983
References W3 Tropicos, Kew Monocot list , IPNI ; Orchidaceae Monandre-Dendrobiinae Fr. Kraenzlin 1910 as D gazellae drawing fide; Orchidaceae Monandre-Dendrobiinae Fr. Kraenzlin 1910; Orchidaceae Monandre-Dendrobiinae Fr. Kraenzlin 1910 as D lyperanthiflorum drawing fide; Orchidaceae Monandre-Dendrobiinae Fr. Kraenzlin 1910 as D pentactis; The Orchidaceae of German New Guinea Schlechter 1912/85 drawing fide; The Orchids of Papua New Guinea An Introduction Millar 1978 photo fide; Die Orchideen lieferung 11/12 633 - 752 Brieger 1981 drawing fide; Orchids of Vanuatu Lewis & Cribb 1989; Dendrobium Orchids of Australia Upton 1989 drawing/photo fide; The Orchids of the Solomon Islands and Bougainville Lewis & Cribb 1991; AOS Bulletin Vol 61 No 11 1992 Photo fide; Lowland Orchids of of Papua New Guinea Peter O'Byrne 1994 drawing/photo fide; Orchid Species Culture; Dendrobium Bakers 1996; Orchid Species Culture; Dendrobium Bakers 1996 as D obcuneatum; Orchids of Papua New Guinea Millar 1999 photo fide; Orchid Australia Vol 12 No 3 2000 photo as Grastidium insigne; Oasis Vol 1 No 3 2000 photo; Dendrobium and its Relatives Lavarack, Harris and Stocker 2000 photo fide; Rudolf Schlechter Die Orchideen Lieferung 42/3 2001 as Grastidium insigne; Lindleyana Vol 17 No 1 2002; Flora Malesiana Orchids of New Guinea Vol II Shuiteman and de Vogel 2002; The Dendrobiums H. P. Wood 2006 photo fide; Native Orchids of Australia Jones 2006 as Dichopus insignis photo fide; A Guide to the Dendrobium of New Guinea Schuiteman 2013 photo fide; Genera Orchidacearum Vol 6 Epidendrodeae Part 3 Pridgeon, Cribb, Chase and Rasmussen 2014
----------------------------------------------------------------------------------------------------------
--------------------------------------------------------------------------------------------