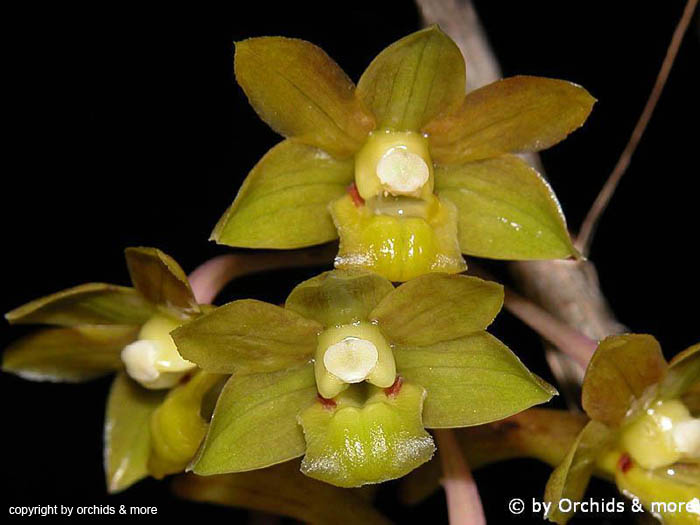 Dendrobium ionopus Reichb.f. 1882 SECTION Calcarifera
Photo by Copyright © W C Schraut and Orchids and More Website
Photo by © Eric Hunt





Common Name or MeaningFlower Size .8" [2 cm]
Found in the Philippines at elevations around 500 to 1200 meters as a medium to large sized, warm to cool growing epiphyte with semi-pendulous, leafy stems carrying many deciduous, lanceolate, purplish striping below leaves that blooms in the fall and spring on 1 to 3, pendant, to 20 flowered inflorescence arising on older leafless canes carrying long-lasting flowers.
Cootes states that there is a white flower variety of this species .
D epidendropsis is cited as a synonym of this species and may be, there are mostly separated on color differences but I have left them separate at this time.
Synonyms Callista ionopus (Rchb.f.) Kuntze 1891; Eurycaulis ionopus (Rchb.f.) M.A.Clem. 2003
References W3 Tropicos, Kew Monocot list , IPNI ; Orchids of Burma Grant 1895/1995; Orchids of Burma Grant 1895/1995 D jamesianum; Orchidaceae Monandre-Dendrobiinae Fr. Kraenzlin 1910; Gard. Bull. Singapore 30:272 Seidenfaden 1977 drawing fide; Orchid Species Culture; Dendrobium Bakers 1996; Dendrobium and its Relatives Lavarack, Harris and Stocker 2000 photo fide; The Orchids of the Philippines Cootes 2001 photo fide; A to Z of South East Asian Orchid Species Vol 1 O'Byrne 2001 photo fide; Flora Malesiana Orchids of the Philippines Vol I Agoo, Shuiteman and de Vogel 2003; The Dendrobiums H. P. Wood 2006 photo fide; Philippine Native Orchid Species Cootes 2009 photo fide; Genera Orchidacearum Vol 6 Epidendrodeae Part 3 Pridgeon, Cribb, Chase and Rasmussen 2014; A Guide to the Dendrobium of the Philippines Cootes & Tiong 2015 photo fide; AOS Bulletin Vol 85 #3 2016 photo fide; AOS Bulletin Vol 85 #12 2016 photo fide;
----------------------------------------------------------------------------------------------------------