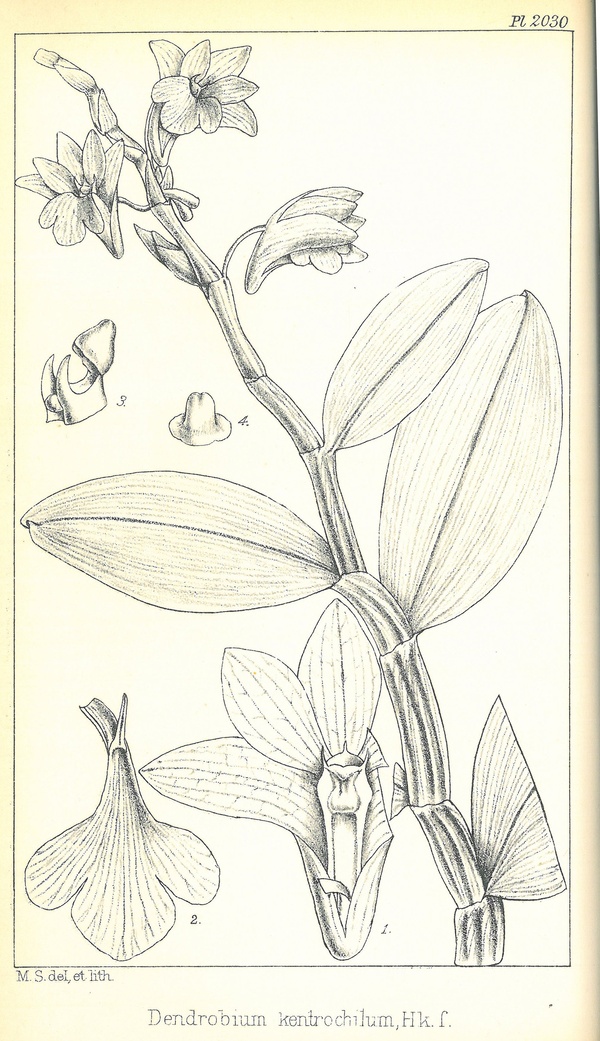 Dendrobium kentrochilum Hkr.f. 1890 SECTION Calcarifera J.J.Sm Type Drawing by © Hooker and The Swiss Orchid Foundation at the Jany Renz Herbaria Website


Common Name The Sting Point Dendrobium
Flower Size 1 to 1.2" [2.5 to 3cm] long 1" [2.5 cm wide]
Found only in Perak in penninsular Malaysia as a small sized, warm growing epiphyte with erect, slightly zig zag stems carrying coriaceous, elliptic to oblong, obtuse, unequally biapiculate leaves that blooms on short, 1 to 2 flowered inflorescence arising from near the apex of the stem, carrying white spreading flowers.
Similar to D sanguinolentum but this one differs in broader leaves and a lip with a deeper incision between the hypochile and the orbicular epichile as well as the 1 to 2 flowered inflorescence.
More research with this one needs to be done to assure that they are separate or if this species is a synonym of D sanguinolentum.
Synonyms Callista kentrochila (Hook.f.) Kuntze 1891; Eurycaulis kentrochilus (Hook.f.) M.A.Clem. 2003; Pedilonum kentrochilum (Hook.f.) Rauschert 1983
References W3 Tropicos, Kew Monocot list , IPNI ; Hookers Icones Plantarum 1890 drawing fide; Materials For a Flora of the Malayan Penninsula Part 1 Ridley 1907; Orchidaceae Monandre-Dendrobiinae Fr. Kraenzlin 1910; The Orchids of Penninsular Malaysia and Singapore Seidenfaden & Wood 1992 drawing fide; Orchid Species Culture; Dendrobium Bakers 1996
--------------------------------------------------------------------------------------------------------------------------