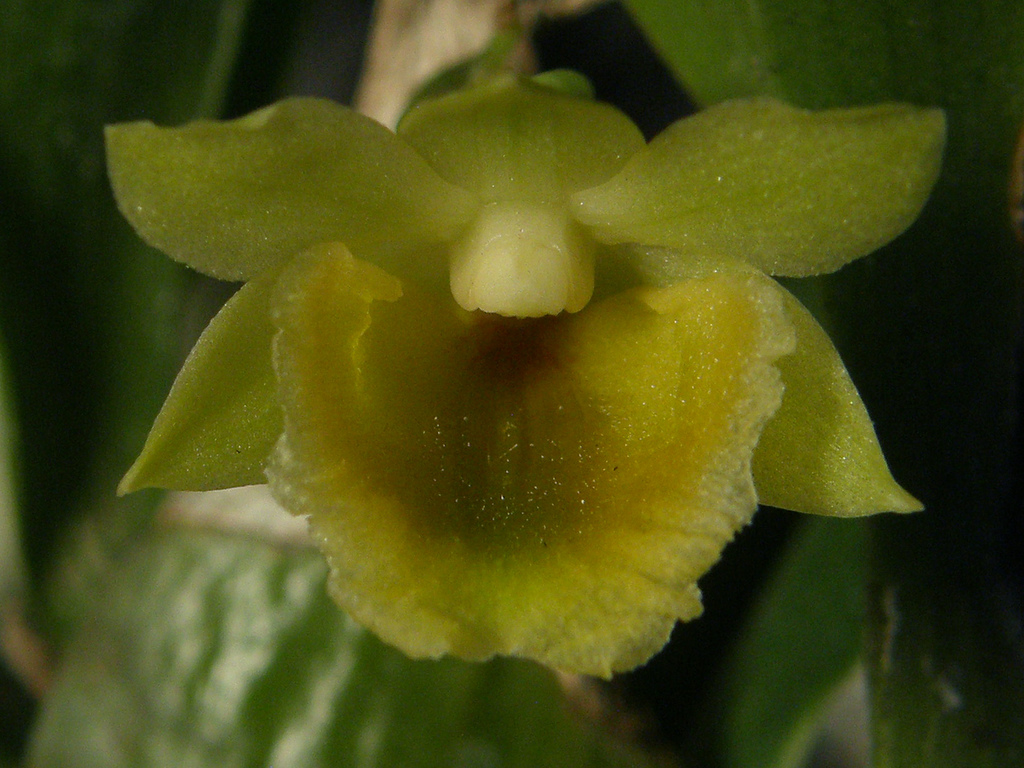 Dendrobium lamellatum [Bl.] Lindley 1830 SECTION Platycaulon
Photo by Rachmat Setiawan © and his Flickr Orchid Photo Website




LATE


Common Name The Laminae Dendrobium [refers to the lips calli]
Flower Size .9" [2.2 cm]
Found only in Java at elevations of 460 to 900 meters as a miniature to small sized, hot to warm growing epiphyte with green stems carrying cactus like, broad, thin, very flat and slighly curved or cupped leaves that are clustered towards the apex and blooms in the winter, late spring and summer on an arching to pendulous, racemose, few to several flowered inflorescence arising from the nodes at the apex of the stem and having pendulous flowers that do not open fully.
This species and D compressum have been tangled up for a century, I have come to the conclusion that this species only comes from western Java and that D compressum is widespread throughout Malesia. My research has come to the conclusion that D lamellatum has at least 5 up to 7, low, even in height, lammelae on the lip while D compressum has 3 that come to a peak towards the base of the lip. Den pseudolamellatum has 7 keels with the middle 1 being lower and does not go as far back as the others. That being said I have not found a good photo proving that hypothosis so please use with
CAUTION! I do think that the flowers of all three species [ D compressum, D lamellatum and D pseudolamellatum] are represented correctly on this site but I cannot prove it conclusively.
Synonyms Callista lamellata (Blume) Kuntze 1891; Eurycaulis lamellatus (Blume) M.A.Clem. & D.L.Jones 2002; *Onychium lamellatum Blume 1825; Pedilonum lamellatum (Blume) Brieger 1981
References W3 Tropicos, Kew Monocot list , IPNI ; Bonplandia Rchb.f 1857; Otia Botanica Hamburgensia Rchb.f 1878; Xenia Orchidaceae Vol 3 Reichenbach 1892 as D compressum drawing fide; Orchids of Burma Grant 1895/1995; Die Orchideen Von Java J.J.Sm. 1905; Materials For a Flora of the Malayan Penninsula Part 1 Ridley 1907; Die Orchideen Von Java Figuren Atlas J.J.Sm. 1908 drawing fide; Orchidaceae Monandre-Dendrobiinae Fr. Kraenzlin 1910; Flora of Malaya Vol 1 Holttum 1953 drawing good; The Orchids of Thailand Seidenfaden & Smitinand 1960 = D compressum; Encyclopedia of Cultivated Orchids Hawkes 1965; Miniature Orchids Northern 1980; Die Orchideen lieferung 11/12 633 - 752 Brieger 1981 as Pedilonum lamellatum drawing/photo good; Orchidiana Philipiniana Vol 1 Valmayor 1984; Opera Botanica #83 Orchid Genera in Thailand XII Dendrobium Sw. Seidenfaden 1985 drawing/photo =D compressum; Orchids of Java Comber 1990 photo fide; Miniature Orchids McQueens 1992 photo good; The Orchids of Penninsular Malaysia and Singapore Seidenfaden & Wood 1992 drawing/photo fide; The Plants of Mount Kinabalu Vol 2 Orchids Wood Beaman & Beaman 1993; A Checklist of the Orchids of Borneo Wood & Cribb 1994; Orchid Species Culture; Dendrobium Bakers 1996; Dendrobium and its Relatives Lavarack, Harris and Stocker 2000 photo good; Orchids of Sumatra Comber 2001 photo fide; Field Guide to the Wild Orchids of Thailand Vadhanaphutti 2001 Photo hmm = D compressum; A to Z of South East Asian Orchid Species Vol 1 O'Byrne 2001 photo fide; Botanica's Orchids 2002 photo fide; A field Guide to the Wild Orchids of Thailand Vaddhanaphuti 2005 photo hmm; Australian Orchid Review Vol 71 No 1 2006 photo; The Dendrobiums H. P. Wood 2006 photo ok; Wild Orchids of Penninsular Malaysia Ong, O'Byrne, Yong & Saw 2011 photo fide; Genera Orchidacearum Vol 6 Epidendrodeae Part 3 Pridgeon, Cribb, Chase and Rasmussen 2014
--------------------------------------------------------------------------------------------------------------------------