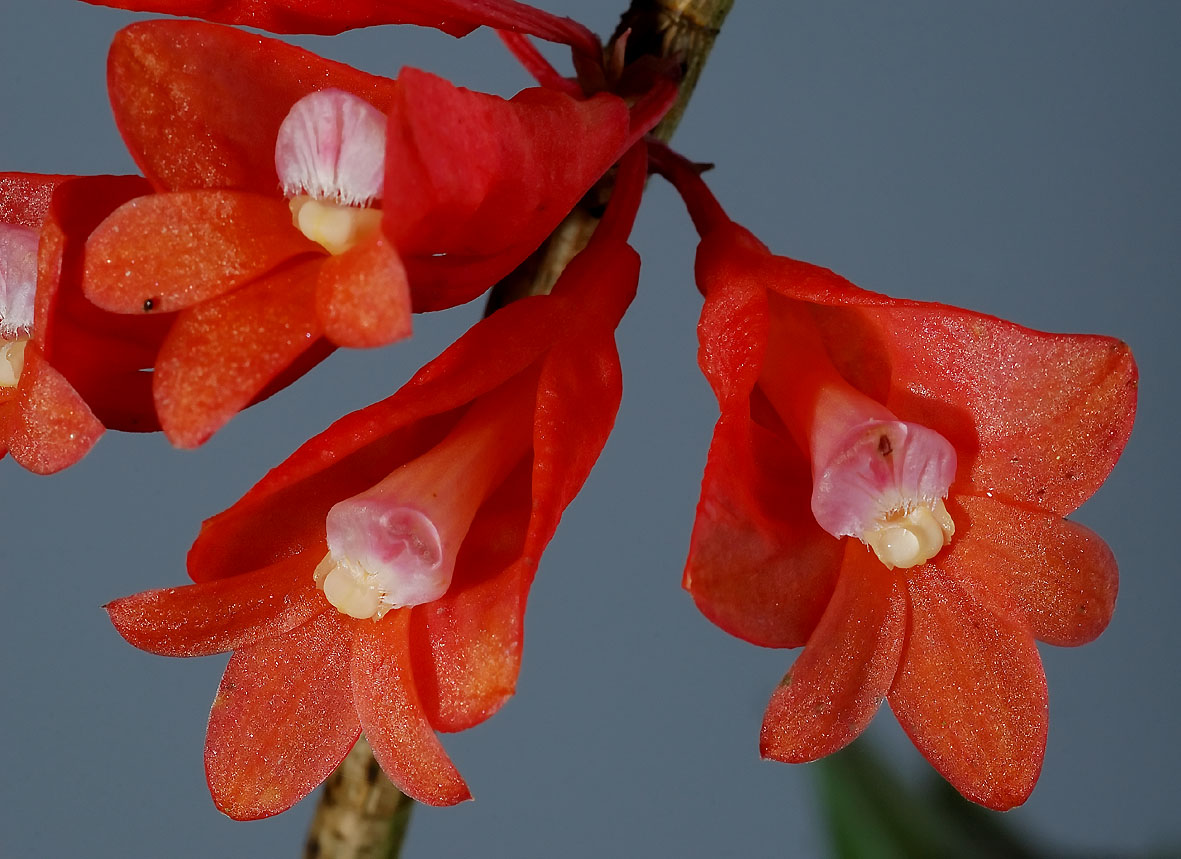 Dendrobium lawesii F. Mueller 1884 SECTION Calyptrochilus Photo by © Pieter C. Brouwer and his Nature Photo Website
Another Bicolor variety Photos by © Eric Hunt and His Orchid Website.
Violet color form Photo courtesy of Oak Hill Gardens
Yellow Color Form Photo by Lewis Tabor



to





Common Name Lawes' Dendrobium [English Missionary and Collector 1800's - New Guinea]
Flower Size more than 1/2" [more than 1.25 cm]
A year round blooming, medium sized, warm to cool growing epiphyte from Papua and New Guinea and Bougainville Island mist forests low on the trees or on the underside of branches at an elevation of 800 to 2000 meters with thin, flattened stems carrying broadly ovate, acute or obtuse, bilaterally flattened, distichous, thick and fleshy leaves that overlap at the base. It has a very short [less than 2", or 5 cm] raceme that arises from the old and new leafless canes with from 1 to 6, pendant, showy, highly variable, floral scented flowers that occur ar most any time of the year.
This plant is best mounted on tree fern or grown in baskets to accomodate the pendant growth habit and a somewhat dry rest is needed in the winter so reduce slightly water and fertilizer until the onset of new growth in the spring
Synonyms Chromatotriccum delphinioides (R.S.Rogers) M.A.Clem. & D.L.Jones 2002; Chromatotriccum lawesii (F.Muell.) M.A.Clem. & D.L.Jones 2002; Dendrobium delphinioides R.S.Rogers 1925; Dendrobium lawesii var. salmonicolor Schltr. 1912 ; Dendrobium psuedomohlianum Krzl. ?; Dendrobium warburgianum Krzl. 1891; Pedilonum lawesii (F. Muell.) Rauschert 1983
References W3 Tropicos, Kew Monocot list , IPNI ; Orchidaceae Monandre-Dendrobiinae Fr. Kraenzlin 1910 drawing ok; Orchidaceae Monandre-Dendrobiinae Fr. Kraenzlin 1910 as D warburgianum; The Orchidaceae of German New Guinea Schlechter 1914/85; Neue Orchideen Papuasiens J J Smith 1934; AOS Bulletin Vol 35 No 7 1966 photo fide; AOS Bulletin Vol 36 #10 1967 photo fide; AOS Bulletin Vol 38 No 5 1969 stamp good; AOS Bulletin Vol 47 No 11 1978 photo fide; The Orchids of Papua New Guinea An Introduction Millar 1978 photo fide; The Orchids of the Solomon Islands and Bougainville Lewis & Cribb 1991 drawing ok; The Manual Of Cultivated Orchid Species Bechtel, Cribb & Laurent 1992 photo fide; The Illustrated Encyclopedia of Orchids Pridgeon 1992 photo fide; Lowland Orchids of Papua New Guinea O'Byrne 1994 drawing good; Manual of Orchids Stewart 1995; Orchid Species Culture; Dendrobium Bakers 1996 as D delphinoides; Orchid Species Culture; Dendrobium Bakers 1996; Orchids of Papua New Guinea Millar 1999 photo fide; Dendrobium and its Relatives Lavarack, Harris and Stocker 2000 as D aff lawesii photo fide; Flora Malesiana Orchids of New Guinea Vol II Shuiteman and de Vogel 2002; Botanica's Orchids 2002 photo fide; AOS Bulletin Vol 74 No 2 2005 photo fide; Flora's Orchids Nash & La Croix 2005 photo fide; Australian Orchid Review Vol 71 No 4 2006 photo; The Dendrobiums H. P. Wood 2006 photo good; AOS Bulletin Vol 77 no 1 2008 photo; Orchid Digest Vol 74 #4 2010 photo fide; Le Petit Larousse des Orchidees Lecoufle, Barthelemy & Schmidt 2013 photo fide; Dendrobium of Borneo Wood 2014 photo/drawing fide; Genera Orchidacearum Vol 6 Epidendrodeae Part 3 Pridgeon, Cribb, Chase and Rasmussen 2014; Orchid Digest Vol 80 #2 2016; Orchid Digest Vol 82 #3 2018 photo fide; AOS Bulletin Vol 87 #10 2018 photo fide;
--------------------------------------------------------------------------------------------------------------------------