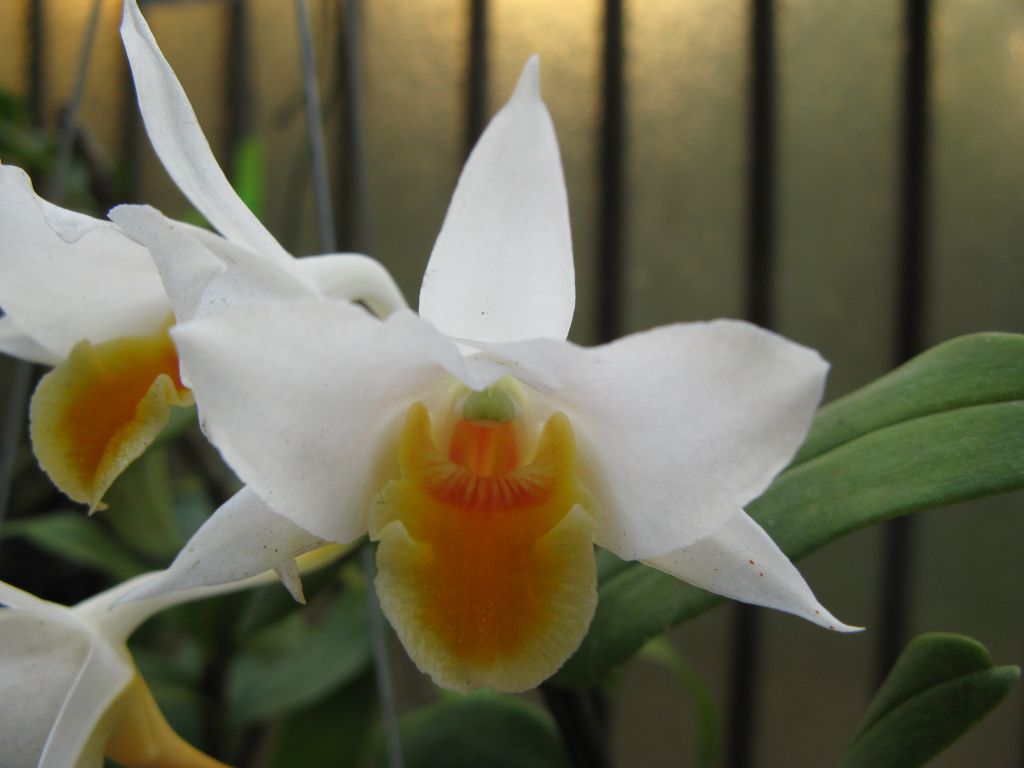 Dendrobium ovipostoriferum J.J.Sm. 1912
Photos by © Diar Tambunan
Photos by Petrus Kurniawan



Common Name The Egg-Laying Dendrobium [refers to the mentum's Shape]
Flower Size 1.6 to 2.4" [4 to 6 cm]
Found in Borneo on exposed ridges at elevations of 100 to 500 meters as a medium sized, hot to warm growing epiphyte with slender, erct, flexuous, fractiflex distally, sulcate, glabrous, dark brown to greyish brown stems carrying distichous, spreading, slightly recurved, ovate-oblong to ovate-elliptic, , strongly obliquely bilobulate, coriaceous, black hirsute on both surfaces, sheaths black hairy leaves that blooms on an abbrieviated, to .12" [3 mm] long, glabrous, green, enveloped completely by bracts, 1 to 5 flowered inflorescence with ovate-triangular, acuminate, concave, upper surface glabrous, densely black hairy beneath floral bracts and carrying long-lasting, size variable flowes.
Following text by Peter O'Byrne; "When J.J.Smith described D. ovipostoriferum (syn D. takahashii)in 1913, he stated that both the sheaths and the leaves (especially near the base) are covered in small black hairs. "The species is not currently found in cultivation. I have never seen a plant or photo of this species. [See above, the correct species photo has been found by Petrus in Indonesia see above] " "Since the 1960's the name D. ovipostoriferum (often mis-spelled in various ways) has been applied to plants from North Borneo that are actually a distinct, showy, large-flowered form of Dendrobium dearei.
This error was repeated in Cribb and Wood's "Checklist of the Orchids of Borneo", where the colour photo labelled "D. ovipostoriferum" shows the North Borneo form of D. dearei. I published an article clarifying this in the 2000 edition of Malayan Orchid Review, and J.J.Woods (of Kew Gardens) acknowledged that I was correct in his Orchids of Borneo Volume 4, on pages 86-88. "
Synonyms Dendrobium takahashii Carr 1934
References W3 Tropicos, Kew Monocot list , IPNI ; Flora of Malaya Vol 1 Orchids Holttum 1953 drawing fide; A Checklist of the Orchids of Borneo Wood & Cribb 1994 photo not = Den dearei; A Checklist of the Orchids of Borneo Wood & Cribb 1994 as D takahashii; Orchid Species Culture; Dendrobium Bakers 1996; The Dendrobiums H. P. Wood 2006 photo fide; A Guide to the Dendrobium of Borneo J J Wood 2013 photo fide; Dendrobium of Borneo Wood 2014 photo/drawing fide
----------------------------------------------------------------------------------------------------------
---------------------------------------------------------------------------------------------