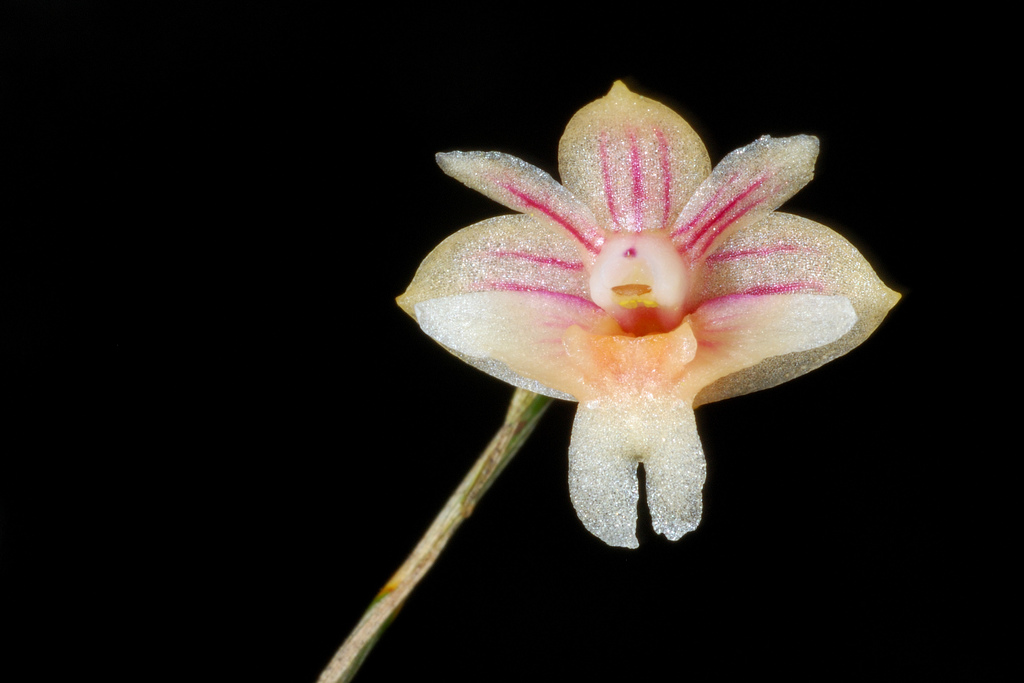 Dendrobium patentilobum Ames & C.Schweinf. 1920 SECTION Aporum
Photos courtesy of Eric Hunt.



LATE



Common Name The Flat Spread Lobe Dendrobium [Refers to the lobes hanging from the apex of the lip]
Flower Size .6" [1.5 cm]
Found in Sabah, Borneo in hill and lower montane forests at elevations of 800 to 1700 meters as a small to medium sized, warm to cool growing epiphyte with a slender, subterete base, then strongly compressed, slightly fractiflex stems enveloped almost completely by distichous, imbricate, leaf bearing sheaths and each carrying equitant, laterally compressed, narrowly linear, falcate, decurved, obtuse to acute apically, coriaceous, rigid leaves that blooms in the winter, spring and fall on a arising from near the apex of the thin apical leafless stem with internodes, with pendant successively single flowered inflorescence held in fasciles arsing from the internodes.
In habit it is similar to D ventricosum and D macfarlanei of the SECTION Crumenata but has very different flowers. It differs from D smithianum in its longer leaves and in its very distinctive petals and lip. D calceolum has flowers that are large and differently colored.
Synonyms Ceraia patentiloba (Ames & C.Schweinf.) M.A.Clem. 2003
References W3 Tropicos, Kew Monocot list , IPNI ; The Plants of Mount Kinabalu Vol 2 Orchids Wood Beaman & Beaman 1993 drawing/photo fide; A Checklist of the Orchids of Borneo Wood & Cribb 1994; Orchids of Borneo Wood Vol 3 1997 drawing/photo fide; Orchid Species Culture, Dendrobium Bakers 1996; Dendrobium and its Relatives Lavarack, Harris and Stocker 2000 photo hmm; Orchids of Sarawak Beaman, Wood, Beaman & Beaman 2001; The Dendrobiums Wood 2006 photo fide; Malesian Orchid Journal Vol 6 2010; The Orchids of Mount Kinabalu Vol 1 Wood, Beaman, Lamb, Chu Lun and Beaman 2011 drawing/photo fide; The Orchids of Mount Kinabalu Vol 2 Wood, Beaman, Lamb, Chu Lun and Beaman 2011 photo fide; A Guide to the Orchids of Mt Kinabalu J J Wood 2013 photo fide; Dendrobium of Borneo Wood 2014 photo/drawing fide; Genera Orchidacearum Vol 6 Epidendroidee Pt 3 Pridgeon, Cribb, Chase and Rasmussen 2014 drawing fide;
----------------------------------------------------------------------------------------------------------