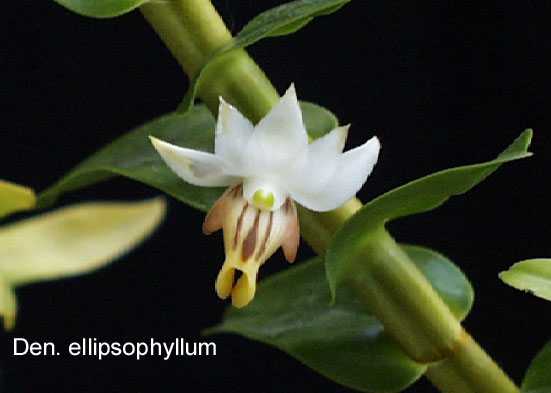 Dendrobium ellipsophyllum T. Tang & F.T. Wang 1951 SECTION Distichophyllae
Photos by Dan and Marla Nikirk



to


Common Name The Oval-Leafed Dendrobium - In China Fan Ban Shi Hu
Flower Size almost 1" [2.2 cm]
Found in Myanmar, Thailand, Laos, Vietnam and Yunnan Province China in evergreen lowland forests and primary montane forests as a medium sized, warm to hot growing epiphyte at elevations of 300 to 1000 meters with cane-like, ridged pseudobulbs carrying 14 to 18, bilobed, elliptic, distichous, twisted leaves all facing in one direction that blooms in the spring and summer on a short, single flowered inflorescence arising opposite the leaves near the apex of the canes and has fragrant flowers.
A winter lessening of water and fertilizer is needed and the plants need to dry out between waterings, resume water and fertilizer with the onset of new growth in the spring.
Comparison photos for ID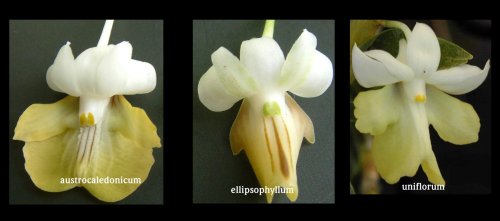 Lips Spread See also D revolutum
Very similar or confused with D revolutum.
Synonyms Distichorchis ellipsophylla (Tang & F.T.Wang) M.A.Clem. 2003;
References W3 Tropicos, Kew Monocot list , IPNI ; Orchids of Burma Grant 1895/1995; Materials For a Flora of the Malayan Penninsula Part 1 Ridley 1907; Studies in the Family Orchidaceae Fascile 2 Ames 1908; Orchidaceae Monandre-Dendrobiinae Fr. Kraenzlin 1910; Die Orchideen Schlechter 1915; Die Orchideen 2 Auflage Schlechter 1927; The Orchids of Thailand Seidenfaden & Smitinand 1960 as D revolutum pg 248 fig 186 drawing fide; Encyclopedia of Cultivated Orchids Hawkes 1965; Orchids of Asia Soon 1980 photo fide; Opera Botanica #83 Orchid Genera in Thailand XII Dendrobium Sw. Seidenfaden 1985 drawing/photo fide; The Orchids of Penninsular Malaysia and Singapore Seidenfaden & Wood 1992 drawing ok; Thai Orchid Species Rakpaibulsombay 1992 photo fide; A Checklist of the Orchids of Borneo Wood & Cribb 1994; Identification of the Orchids [Orchidaceae Juss.] Vietnam Averyanov 1994; Orchid Species Culture; Dendrobium Bakers 1996; Dendrobium and its Relatives Lavarack, Harris and Stocker 2000 photo fide; A Field Guide to the Wild Orchids of Thailand Vaddhanaphuti 2001 photo fide; Orchids of Sarawak Beaman, Wood, Beaman & Beaman 2001; A to Z of South East Asian Orchid Species Vol 1 O'Byrne 2001 photo fide; A field Guide to the Wild Orchids of Thailand Vaddhanaphuti 2005 photo fide; The Dendrobiums H. P. Wood 2006 photo fide; Wild Orchids in Myanamar Vol 3 Tanaka 2007 photo not; Flora of China Vol 25 Zhengyi, Raven & Deyuan 2009; The Wild Orchids in Yunnan Xu Xiang Ye & Liu 2010 photos fide; Malesian Orchid Journal Vol 10 2012; Genera Orchidacearum Vol 6 Epidendroidee Pt 3 Pridgeon, Cribb, Chase and Rasmussen 2014 photo fide;
--------------------------------------------------------------------------------------------------------------------------