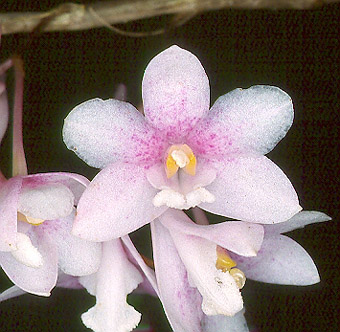 Dendrobium roseosparsum P.O'Byrne & J.J.Verm. 2004 SECTION Calcarifera
Side view of flower Photo courtesy of Peter O'Byrne.



Common Name or Meaning The Light Pink Dendrobium
Flower Size 1" [2.5 cm]
Found in Sulawesi at elevations around 500 meters as a giant sized, hot to warm growing epiphyte. As can be partly seen below, Peter made the determination that this was indeed a new species!
Text by Peter O'Byrne pre 2004 - This plant was found in central Sulawesi. I need to do some work on this one, since there are several differences from the Type description. My plant had (a) stems 250 cm tall, not 30 cm, (b) midlobe apex fluffy-texture & inrolled, not smooth & denticulate, and (c) sepals & petals white, suffused light pink with pink base and spots; lip white, column pink with pink spots and gold apex; not tepals violet-pink with yellowish spur & yellow anther. Schlechter's D. klabatense has been "missing" since the Type specimen was collected at 500 metres altitude on the Klabat volcano (North Sulawesi) in 1909. I am now satisfied that the Dendrobium is not D. klabatense, and am working on the hypothesis that it may be D. rachmatii J.J.Sm. It could take me some time to get a firm identity, partly because D. rachmatii (which has not been seen since 1913) was described from 2 different specimens, each containing one flower. One specimen's flower had been part-eaten by insects, and the other specimen's flower had been torn and crushed during collection. Smith stated that he was uncertain about some features on the species ... such as the precise shape of the lip & the number of keels !!!!! This one will NOT be easy.
Synonyms
References Pers. Comm. with author 4/07
--------------------------------------------------------------------------------------------------------------------------