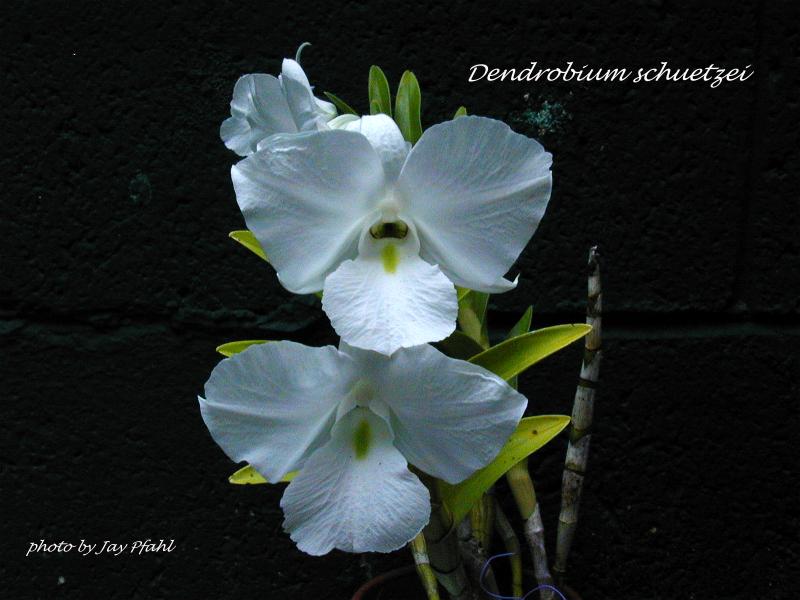 Dendrobium schuetzei Rolfe 1911 SECTION Formosae Photo by © Jay Pfahl.
Flower Closeup Photos by © Eric Hunt and His Orchid Website




and

Common Name Schuetze's Dendrobium
Flower Size to 3" [to 7.5 cm]
Found in Mindanao Island of the Philippines at elevations around 300 meters as a small to medium sized, hot growing epiphyte and likes to be kept moist. They have erect, 12 noded, stems with many, narrowly ovate, suberect, coriaceous, obscurely bilobed apically leaves that can bloom in the winter and fall on a short, 3 to 4 flowered raceme with fragrant, waxy flowers that is longer than the leaves and arising from bracts near the apex of the cane and like an even year round watering and fertilizing schedule.
References W3 Tropicos, Kew Monocot list , IPNI ; Die Orchideen Schlechter 1915; Die Orchideen 2 Auflage Schlechter 1927; Flora of Malaya Vol 1 Orchids Holttum 1953; Encyclopedia of Cultivated Orchids Hawkes 1965; The Complete Writings on Philippine Orchids Vol 1 Quisumbing 1981 drawing/photo fide; Orchidiana Philipiniana Vol 1 Valmayor 1984 drawing; A Guide to Orchids of the World Hodgson, Paine & Anderson 1991; The Manual Of Cultivated Orchid Species Bechtel, Cribb & Laurent 1992 photo fide; Manual of Orchids Stewart 1995; Orchid Species Culture; Dendrobium Bakers 1996; Orchids Australia Vol 10 No 4 1998 photo; Dendrobium and its Relatives Lavarack, Harris and Stocker 2000 photo fide; The Orchids of the Philippines Cootes 2001 photo fide; Flora Malesiana Orchids of the Philippines Vol I Agoo, Shuiteman and de Vogel 2003; The Dendrobiums H. P. Wood 2006 photo not = D sanderae; Philippine Native Orchid Species Cootes 2009 photo fide; A Guide to the Dendrobium of the Philippines Cootes and Tiong 2015 photo fide;
----------------------------------------------------------------------------------------------------------