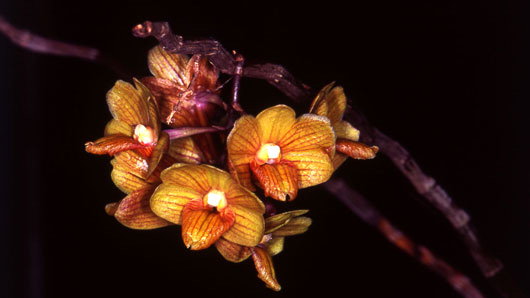 Dendrobium serena-alexorum J.J.Wood & A.L.Lamb 2008 SECTION Calcarifera
Photo by © Tony Lamb



Common Name Serena and Alex's Dendrobium [Children of Indonesian Orchid Enthusiast current]
Flower Size 1.2" [3 cm]
Found in Sabah Borneo in hill forests at elevations of 200 to 600 meters as a medium sized, hot to warm growing epiphyte with clustered, erect, internodal, distinctly ribbed stems carrying several, narrowly elliptic, acute, deciduous leaves that blooms on a pendent, to 1.2" [3 cm] long, purple green, 5 to 8 flowered inflorescence arising on leafless stems with triangular, acute, translucent greenish-purple floral bracts.
CAUTION Kew puts this species as a synonymonous with D datinconnieaea and they are similar but it seems that there are differences in the lip so I leave them separate at this time pending more references. If they are synomonous then D serena-alexianum takes precedence.
Related to D endertii, D corallorhizon and D punbatuense but differs fromall three in the dsitinct waxy, orange callus at the base of the blade of the lip and the often strongly dorsally carinate mentum.
Synonyms
References W3 Tropicos, Kew Monocot list , IPNI ; *Malesian Orchid Journal Vol 2 2008 photo/drawing fide; Malesian Orchid Journal Vol 3 2009; The Orchids of Mount Kinabalu Vol 1 Wood, Beaman, Lamb, Chu Lun and Beaman 2011 drawing/photo fide; The Orchids of Mount Kinabalu Vol 2 Wood, Beaman, Lamb, Chu Lun and Beaman 2011 drawing fide; Dendrobium of Borneo J J Wood 2014 drawing/photo fide; Malesian Orchid Journal Vol 15 P.O'Byrne 2015 photo fide
--------------------------------------------------------------------------------------------------------------------------