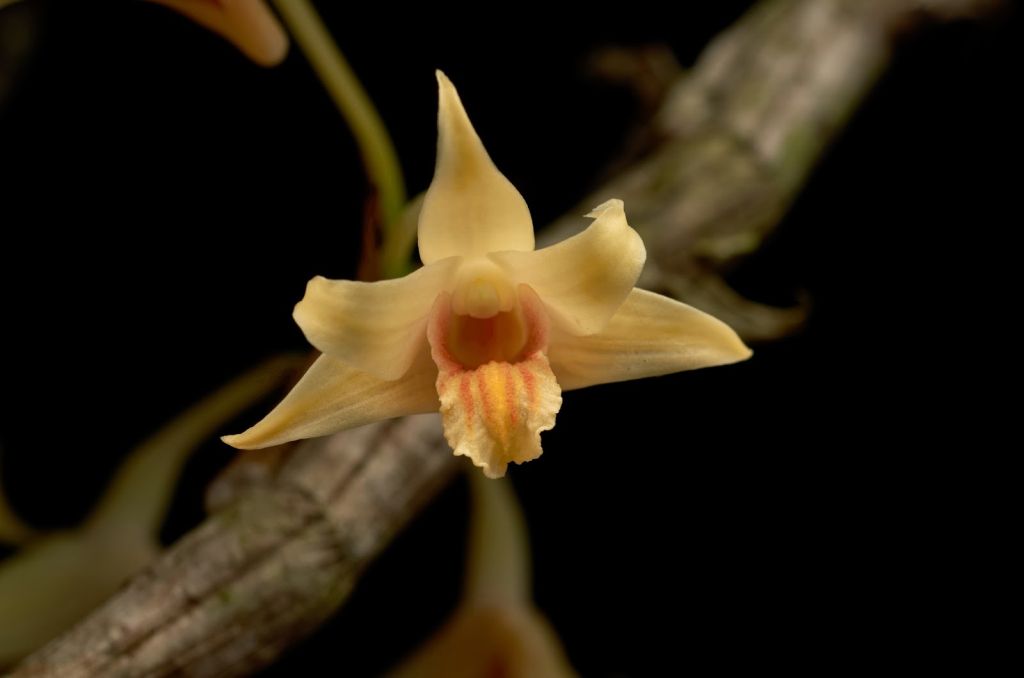 Dendrobium singkawangense J.J.Smith 1935
Photos by The AOS Species Identification Task Force Website



Common Name The Singkawang Dendrobium [Village in southwestern Borneo]
Flower Size 1.2" [3 cm]
Found in west Kalimantan Borneo in hill forests in lalang fields with scattered trees at elevations around 300 to 400 meters in fields with scattered trees as a small sized, hot growing epiphyte with clustered stems carrying several, oblong, apically recurved and bilobed leaves initially covered in black hairs that blooms in the fall on a .4 to .8" [1 to 2 cm] long inflorescence that arises through the leaf bases with 3 to 4, fleshy, long-lived flowers.
This orchid should be allowed to dry out between waterings in the winter months and fertilizer should be withheld until the onset of new growth in the spring.
Dendrobium sinsuronense has often been confused with this species, it is a higher elevation plant occuring at elevations over 900 meters with flowers with three less raised longitudinal calli in the center of the lip and whiter flowers. Dendrobium singkawangense has yellowish flowers with 3 prominently raised longitudinal calli and occurs at elevations around 300 to 400 meters.
References W3 Tropicos, Kew Monocot list , IPNI ; The Plants of Mount Kinabalu Vol 2 Orchids Wood Beaman & Beaman 1993 not = D sinsoronense; A Checklist of the Orchids of Borneo Wood & Cribb 1994 not = D sinsoronense; Orchids of Borneo Vol 1 Chan, Lamb, Shim & Wood 1994 drawing/photo not = D sinsoronense; Orchid Species Culture; Dendrobium Bakers 1996; A to Z of South East Asian Orchid Species Vol 1 O'Byrne 2001 photo fide; The Dendrobiums H. P. Wood 2006 photo fide; Dendrobium of Borneo Wood 2014 photo/drawing fide
--------------------------------------------------------------------------------------------------------------------------