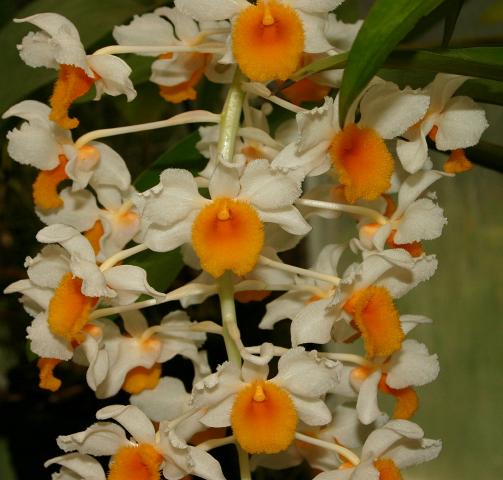 Dendrobium thyrsiflorum B S Williams 1871 SECTION Densiflora
Photo by Patricia Harding.
Photo by Dale Borders.
Photo by Eric Hunt, plant grown by Hanging Gardens




Common Name The Pine Cone-Like Raceme Dendrobium - In Thailand - Ueang mawn khai - In China Qui Hua Shi Hu
Flower Size to 2" [to 5 cm]
Found in the Chinese Himalayas, Hainan China, Assam India, eastern Himalayas, Myanmar, Thailand, Laos and Vietnam at elevations of 1200 to 2000 meters as a small to large sized, cool growing, epiphytic, lithophytic or terrestrial speciesfound in humid, mossy mixed and coniferous forests with slender, ridged, rounded, club-shaped, yellowish apically stems carrying 5 to 7, persistent, smooth, flexible, dark green leaves that blooms in the spring on a pendant, 12" [30 cm] long, densly several to many [30 to 50] fragrant flowered raceme that arise from near the apex of the cane.
Mount on driftwood, water sparingly through the winter months and reduce the fertilizer until the initiation of new growth in the spring. Then full on watering and fertilizer till fall. Air circulation and bright light are essential for blooming.
Synonyms Callista thyrsiflora (Rchb.f. ex André) M.A.Clem. 2003; Dendrobium densiflorum var. alboluteum Hook.f. 1869; Dendrobium galliceanum Linden 1890; Dendrobium thyrsiflorum var. bronckartii Cogn. 1904; Dendrobium thyrsiflorum var. minutiflorum Aver. 2012
References W3 Tropicos, Kew Monocot list , IPNI ; Orchids of Burma Grant 1895/1995 as D Galliceanum; Die Orchideen Schlechter 1915 photo ok; Die Orchideen 2 Auflage Schlechter 1927 photo ok; Flora of Malaya Vol 1 Orchids Holttum 1953; AOS Bulletin Vol 28 No 9 1959 photo as D densiflorum var albo-luteum; The Orchids of Thailand Seidenfaden & Smitinand 1960 photo; AOS Bulletin Vol 33 No 10 1964 photo fide; The Orchids of Thailand Seidenfaden & Smitinand 1965 corrections; Encyclopedia of Cultivated Orchids Hawkes 1965; Beautiful Indian Orchids and How to grow them Ghose 1968; AOS Bulletin Vol 44 #9 1975 photo fide; Beautiful Thai Orchid Species Kamemoto & Sagarik 1975 photo fide; AOS Bulletin Vol 48 No 3 1979 photo fide; Indian Orchids: A guide to Identification and Culture Vol II Pradhan 1979; Orchid Digest Vol 45 No 6 1981 photo fide; Opera Botanica #83 Orchid Genera in Thailand XII Dendrobium Sw. Seidenfaden 1985 drawing/photo fide; Orchids Travel By Air A Pictoral Safari Mulder, Mulder-Roelfsema and Schuiteman 1990 photo fide; A Guide to Orchids of the World Hodgson, Paine & Anderson 1991 Photo fide; Thai Orchid Species Rakpaibulsombay 1992 photo fide; The Illustrated Encyclopedia of Orchids Pridgeon 1992 photo fide; Identification of the Orchids [Orchidaceae Juss.] Vietnam Averyanov 1994; Manual of Orchids Stewart 1995; Orchid Species Culture; Dendrobium Bakers 1996; Wild Orchids of China Tsi, Chen Mori 1997 photo fide; Orchid Digest Vol 63 #1 1999 photo fide; Native Orchids of China in Colour Singchi, Zhanhuo and Yibo 1999 photo fide; Dendrobium and its Relatives Lavarack, Harris and Stocker 2000 photo fide; Orchid Genera of Thailand, Laos, Cambodia and Vietnam Schuiteman & De vogel 2000 photo fide; AOS Bulletin Vol 70 No 8 2001 photo ok; A Field Guide to the Wild Orchids of Thailand Vaddhanaphuti 2001 photo fide; Australian Orchid Review Vol 67 No 4 2002 photo; Orchid Digest Vol 66 #1 2002 photo fide; The Orchids of Bhutan Pearce & Cribb 2002; Botanica's Orchids 2002 photo fide; AOS Bulletin Vol 72 No 6 2003 photo fide; AOS Bulletin Vol 73 No 2 2004 photo fide; Wild Orchids in Myanamar Vol 2 Tanaka 2004 photo fide; A field Guide to the Wild Orchids of Thailand Vaddhanaphuti 2005 photo fide; Flora's Orchids Nash & La Croix 2005 photo fide; The Dendrobiums H. P. Wood 2006 photo fide; Orchids of India A Glimpse Misra 2007; Native Orchids From Gaoligongshan Mountains, China Xiaohua, Xiaodong and Xiaochun 2009 photo fide; A Field Guide to the Orchids of China Singchi, Zhongjian, Yibo, Xiaohua and Zhanhuo 2009 photo fide; Flora of China Vol 25 Zhengyi, Raven & Deyuan 2009; Orchid Digest Vol 74 #4 2010 photo fide; The Wild Orchids in Yunnan Xu Xiang Ye & Liu 2010 photos fide; Orchideen Series C Band 74 Thiv & Worz 2012 photo fide; Le Petit Larousse des Orchidees Lecoufle, Barthelemy & Schmidt 2013; AOS Bulletin Vol 83 #9 2014 photo fide; Wild Orchids of Myanmar Hyan Tun [Mr Myanmar] 2014 Photo fide; AOS Bulletin Vol 85 #6 2015 photo fide; Turczaninowia 19 (3): 5–58 L. V. Averyanov, Khang Sinh Nguyen etal 2016 ; Orchid Digest Vol 82 #3 2018 photo fide; Orchid Digest Vol 83 #1 2019 photo fide; Atlas of Native Orchids of China Vol 1 Jin Xiaohua, Li Jianwu and Ye Deping 2019 photo fide;
--------------------------------------------------------------------------------------------------------------------------
--------------------------------------------------------------------------------------------