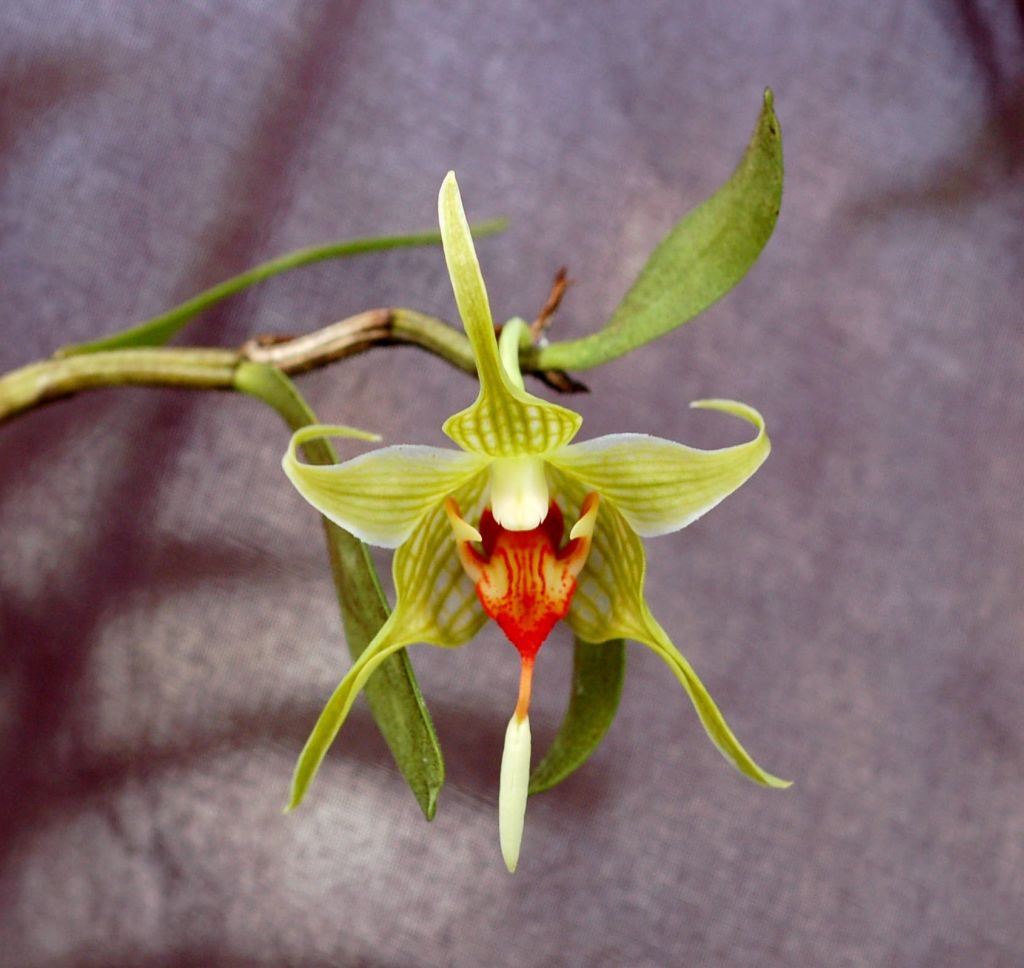 Dendrobium tobaense J.J.Sm. & Comber 1993 SECTION Formosae Lindley
Photo by Antoine Hendrickx © plant owned by Mr Pascal Buguel owner of the Buscal Firm.
Photo by Eric Hunt, plant grown by Walter M. Shinn
Photos by Dale and Deni Borders




Common Name The Toba Dendrobium [A lake and town in Sumatra]
Flower Size 3" [7.5 cm]
Found in Sumatra in pine and montane forests at elevations of 750 to 1500 meters as a small sized, warm to cool growing orchid with cylindrical stems carrying 8 to 9, oblong-ellptic, smooth on top, hairy beneath leaves that are apically bilobed and have leaf sheaths covered in black hairs, blooming on a very short, successively single, several flowered inflorescence that arises from the base of the leaf sheath opposite the leaf occuring in the fall.
A slight lessening of water and fertilizer should occur through the winter months and should be resumed only with the initiation of new growth in the spring.
Very similar to D ayubii but differs in that this one has a very narrow lip apex that widens slightly in the apical half.
References W3 Tropicos, Kew Monocot list , IPNI ; Orchid Species Culture; Dendrobium Bakers 1996; Dendrobium and its Relatives Lavarack, Harris and Stocker 2000 photo fide; Orchids of Sumatra Comber 2001 photo fide; A to Z of South East Asian Orchid Species Vol 1 O'Byrne 2001 photo fide; AOS Bulletin Vol 72 No 1 2003 photo fide; The Dendrobiums H. P. Wood 2006 photo; Mille Et Une miniOrchidees Roguenant 2009 photo fide; Orchid Digest Vol 74 #4 2010 photo fide; AOS Bulletin Vol 80 #10 2011 photo fide; Orchid Digest Vol 78 #1 2014 photo fide; AOS Bulletin Vol 83 #4 2014 photo fide; Orchid Digest Vol 79 #3 2015 photo fide; AOS Bulletin Vol 86 #5 2017 photo fide; AOS Bulletin Vol 88 #4 2019 photo fide;
--------------------------------------------------------------------------------------------------------------------------