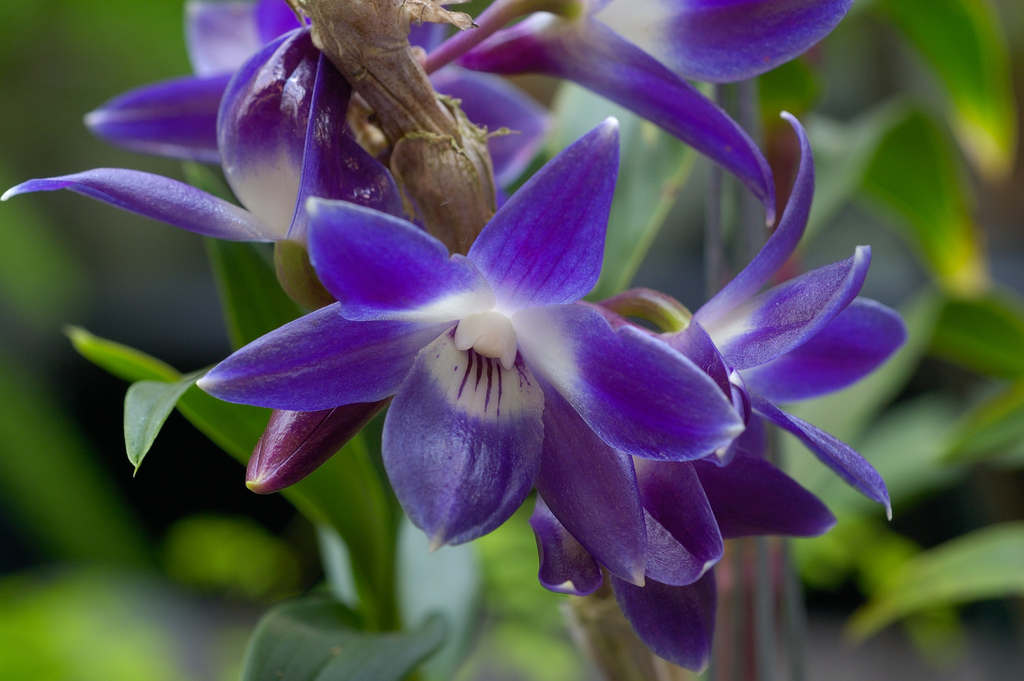 Dendrobium victoriae-reginae Loher 1910 SECTION Calcarifera
Photo by © Eric Hunt
Photo by Patricia Harding.
Photo courtesy of Bill Dobson in Australia


to

MOSTLY LATE

Common Name Queen Victoria's Dendrobium
Flower Size 1" or more [2.5 cm or more]
Found in the Philippines in dense, mossy forests with oaks, rhododendrons and azaleas at an elevation of 1300 to 2700 meters as a medium to large sized, cool to cold growing epiphyte always growing with it's roots in moss, deep shade and with plenty of air movement and have pendulous, basally branching, nodaly swollen stems enveloped by persistent sheaths and carrying to 12, oblong or lanceolate, papery, acute to acuminate leaves. They need to be kept evenly humid and moist throughout the year and bloom almost at any time but the strongest bloom is in May-June on very short, erect, 1 to 3 flowered racemes with paleaceous, oblong, acute bracts and color variable flowers that do not open well occuring in clusters that arise from the older leafless canes.
Synonyms Dendrobium coeleste Loher 1897; Dendrobium victoriae-reginae f album Valmayor & Tiu 1983; Pedilonum victoriae-reginae (Loher) Rauschert 1983
References W3 Tropicos, Kew Monocot list , IPNI ; Studies in the Family Orchidaceae Vol 1 Ames 1905 Orchidaceae Monandre-Dendrobiinae Fr. Kraenzlin 1910 drawing ok; Die Orchideen Schlechter 1915; Die Orchideen 2 Auflage Schlechter 1927; AOS Bulletin Vol 26 No 10 1957 drawing fide; Encyclopedia of Cultivated Orchids Hawkes 1965; AOS Bulletin Vol 35 No 1 1966 photo fide; The Complete Writings on Philippine Orchids Vol 1 Quisumbing 1981; Orchid Digest Vol 46 No 1 1982 photo fide; Orchidiana Philipiniana Vol 1 Valmayor 1984; Orchidiana Philippiana Vol 1 Valmayor 1984 as D victoriareginae f album; AOS Bulletin Vol 55 No 8 1986 photo fide; A Guide to Orchids of the World Hodgson, Paine & Anderson 1991 Photo fide; The Manual Of Cultivated Orchid Species Bechtel, Cribb & Laurent 1992 photo fide; The Illustrated Encyclopedia of Orchids Pridgeon 1992 photo fide; AOS Bulletin Vol 64 No 10 1995 photo fide; Manual of Orchids Stewart 1995; Orchid Species Culture; Dendrobium Bakers 1996; Australian Orchid Review Vol 65 No 4 2000 photo; Dendrobium and its Relatives Lavarack, Harris and Stocker 2000 photo fide; AOS Bulletin Vol 70 No 1 2001 photo fide; The Orchids of the Philippines Cootes 2001 photo fide; Botanica's Orchids 2002 photo fide; Australian Orchid Review Vol 68 No 5 2003 photo; Flora Malesiana Orchids of the Philippines Vol I Agoo, Shuiteman and de Vogel 2003; AOS Bulletin Vol 74 No 12 2005 photo fide; Flora's Orchids Nash & La Croix 2005 photo fide; The Dendrobiums H. P. Wood 2006 photo fide; Australian Orchid Review Vol 72 No 2 2007 photo; Orchid Digest Vol 73 #1 2009 drawing fide; AOS Bulletin Vol 78 #4 2009 photo fide; Philippine Native Species Orchids Cootes 2009 photo fide; Orchid Digest Vol 74 #4 2010 photo fide; Malesian Orchid Journal Vol 6 2010 photo fide; AOS Bulletin Vol 80 #4 2011 photo fide; A to Z of South East Asian Orchid Species Vol 2 O'Byrne 2011 photo fide; Le Petit Larousse des Orchidees Lecoufle, Barthelemy & Schmidt 2013 photo fide; A Guide to the Dendrobium of the Philippines Cootes and Tiong 2015 photo fide;
--------------------------------------------------------------------------------------------------------------------------