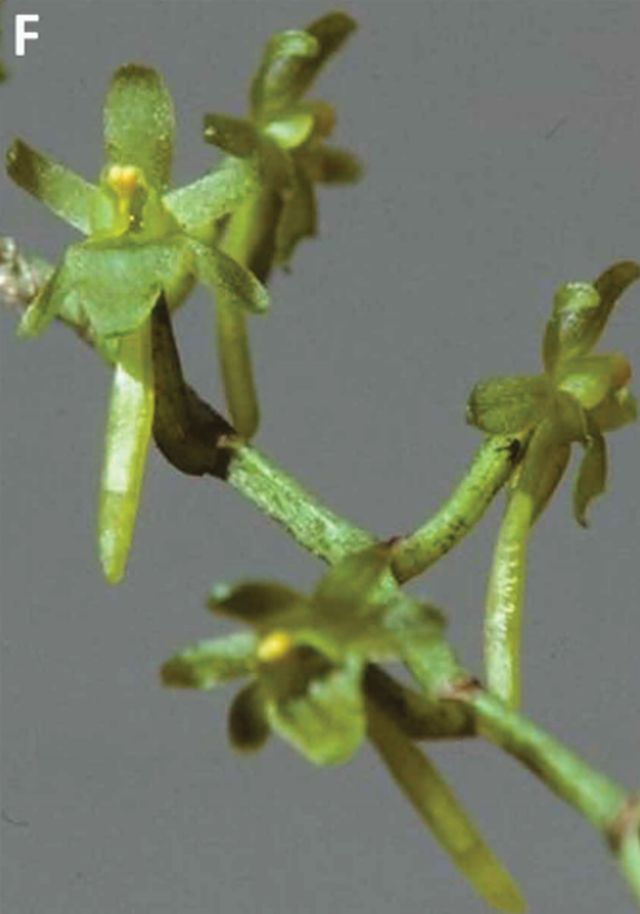 Kylicanthe rohrii (Rchb.f.) Descourv. & Farminhão 2018
Photo by © W Bachmann and Phytotaxa 373 (2) © Descourv. Stévart & Droissart 2018 - A New Genus of Angraecoid Orchids and the Research Gate Website
Inflorescence Photos by © T Stevart and The Orchidaceae of Central Africa Website



EARLY

Common Name Rohr's Kylicanthe [German Orchidist and Type collector 1800's]
Flower Size .2" [5 mm]
Found in Ghana, Ivory Coast, Liberia, Togo, Cameroon, Burundi, Central African Republic, Gabon, Gulf of Guinea Islands, Zaire, Angola, Ethiopia, Uganda, Kenya and Tanzania in montane forests at elevations of 2100 to 3000 meters as a mini-miniature sized, cold growing epiphyte with an irregular, short stem carrying 2 to 7, somewhat falcate, linear to obovate, slightly unequally bilobed apically, articulated below into the base leaves that blooms in the spring and early summer on a [5 to 17 cm] long, zigzag, laxly many flowered inflorescence with amplexicaul bracts and carrying waxy flowers.
"After being "rediscovered" by Summerhayes (1960), this species has been regarded as conspecific to K. quintasii but can be distinguished from the later by its rounded leaf apex with subequal lobes and more slender flower pedicels (see K. quintasii for further discriminating characters). Kylicanthe rohrii is the only species of the genus recorded for East Africa. Fieldwork in further localities of the Kenyan and Tanzanian highlands, and possibly in the Imatong Mountains of South Sudan, should likely expand the range of this species." Descourv. Stévart & Droissart 2018
D rohrii is similar to D candida other than D rohrii has yellow green flowers and has a .44 to .5" [1.1 to 1.2 cm] long, spur instead of white flowers with a 1.2 to 1.6" [3 to 4 cm] long, spur.
Synonyms Angorchis rohrii (Rchb.f.) Kuntze 1891; *Angraecum rohrii Rchb.f. 1881; Diaphananthe alfredii Geerinck 1990; Diaphananthe rohrii (Rchb.f.) Summerh. 1960;
References W3 Tropicos, Kew Monocot list , IPNI ; Die Orchideen Schlechter 1915; Orchids of East Africa Piers 1968 as Diaphananthe quintasii; Rudolph Schlechter Die Orchideen Band 1B lieferung 16/17/18 945-1128 Brieger 1985/1986 as Diaphananthe rohri; Flora of Tropical East Africa Orchidaceae Part 3 Cribb 1989 as Diaphananthe rohri; Orchids of Kenya Stewart & Campbell 1996 as Diaphananthe rohri; Rudolf Schlechter Die Orchideen Band 1C lieferung 42 - 43 pg 2626 - 2762 Brieger 2001 as Diaphananthe alfredi Field Guide to the Ethiopian Orchids Demissew, Cribb & Rassmussen 2004 as Diaphananthe rohrii; Angraecoid Orchids Stewart, Hermans and Campbell 2006 as Diaphananthe rohri; Angraecoid Orchids Stewart, Hermans and Campbell 2006 as Diaphananthe alfredi; * Phytotaxa 373 (2) © Descourv. Stévart & Droissart 2018 - A New Genus of Angraecoid Orchids Photo fide;
--------------------------------------------------------------------------------------------------------------------------