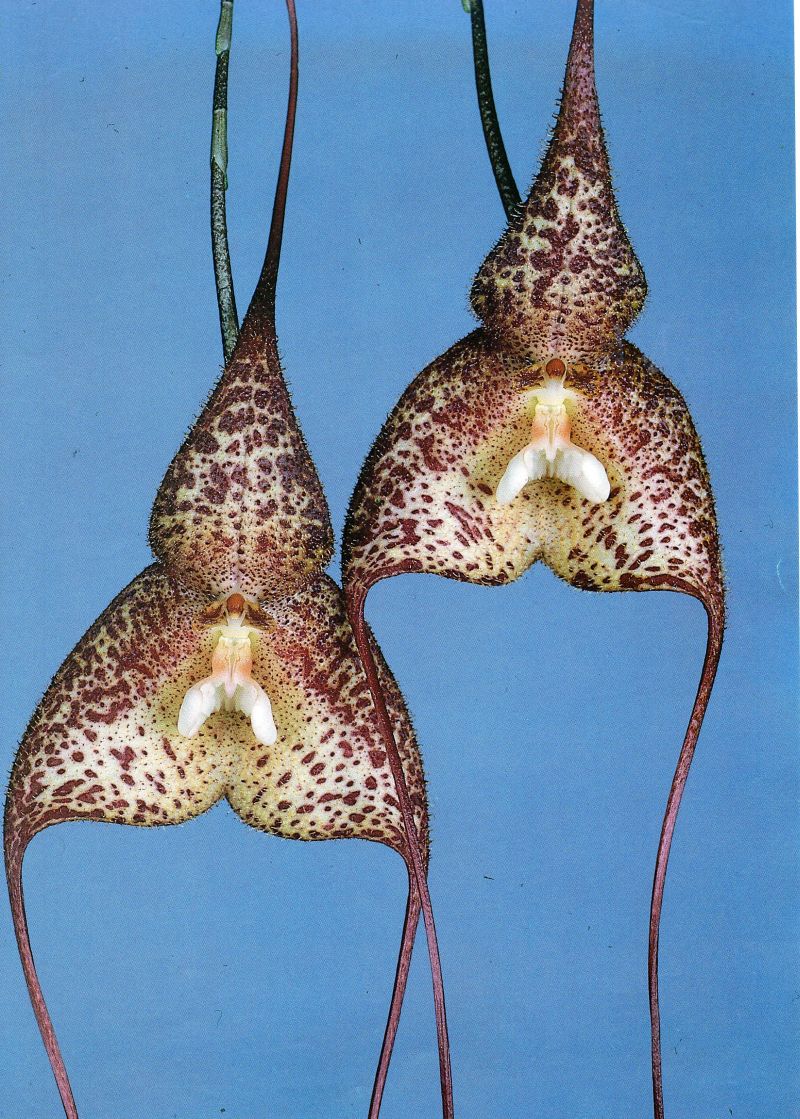 Dracula bella [Rchb.f.]Luer 1978 SUBGENUS Dracula SECTION Dracula SUBSECTION Costatae
Photos by © Colomborquideas
Photos by © Milan Vagner.
Drawing by © Carl Luer




to

Common Name The Beautiful Dracula
Flower Size to almost 9" [to almost 22.5 cm]
Found Antioquia, Risaralda, Cauca and Putomayo departments of Colombia and Ecuador in dense cloud forests at elevations of 1700 to 2000 meters as a fragrant, small sized, cool growing, caespitose epiphytic species with coarse roots and a short leafy stem enveloped by loose basal sheaths and carrying a single, erect, thin coriaceous, elliptic-oblanceolate, acute to obtuse, petiolate base leaf blooms in the winter through spring on a pendulous, arising from the base of the pseudobulb, short to 7" [17.5 cm] long, single flowered inflorescencer with as longa s the pedicel floral bracts and carrying a single, nodding flower.
"Easily recognized by the large, yellow flower, difusely spotted with red brown, with very long, slender tails and with a broad, white, mushroom-like lip that dangles in the center. The apices of the petals are broadly expanded and verrucose." Luer 1993
This species benefits from basket culture as the flowers are pendant and will poke out the bottom of the basket.
Synonyms *Masdevallia bella Rchb.f. 1878
References W3 Tropicos, Kew Monocot list , IPNI ; Atlas des Orchidees Cultivees Constantin 1920 as Masdevallia bella drawing not # 29 - #25 = D bella fide; Encyclopedia of Cultivated Orchids Hawkes 1965 as Masdevallia bella photo good; AOS Bulletin Vol 37 # 6 1968 as Masdevallia bella; * Selbyana 2: 194 Luer 1978; AOS Bulletin Vol 55 No 8 1986 photo fide; Native Colombian Orchid Vol 1 COS 1990 photo fide; The Manual of Cultivated Orchids Bechtel, Cribb & Laurent 1992 photo fide; The Illustratred Encyclopedia of Orchids Pridgeon, 1992 photo fide; Icones Pleurothallidinarum X Systematics of Dracula Luer 1993 drawing fide; Manual of Orchids Stewart 1995 drawing fide; Orchid Australia Vol 12 No 1 2000 photo; Orchid Digest Vol 66 #1 2002 drawing fide; Botanica's Orchids Laurel Glen 2002 photo fide; Flora's Orchids Nash & La Croix 2005; Libro Rojo de Plantas De Colombia Vol 6 Primera Parte Saenz 2007 photo fide; Draculas Del Ecuador Pupulin, Merino and Medina 2009 photo fide; Mille et Une Mini Orchideees Roguenant 2009 photo fide; Orchids Masdevallia with its segregates including Dracula Zelenko 2014 photo fide; Orchids, A Colombian Treasure Vol 1 Ortiz & Uribe 2014 drawing/photo fide;
--------------------------------------------------------------------------------------------------------------------------