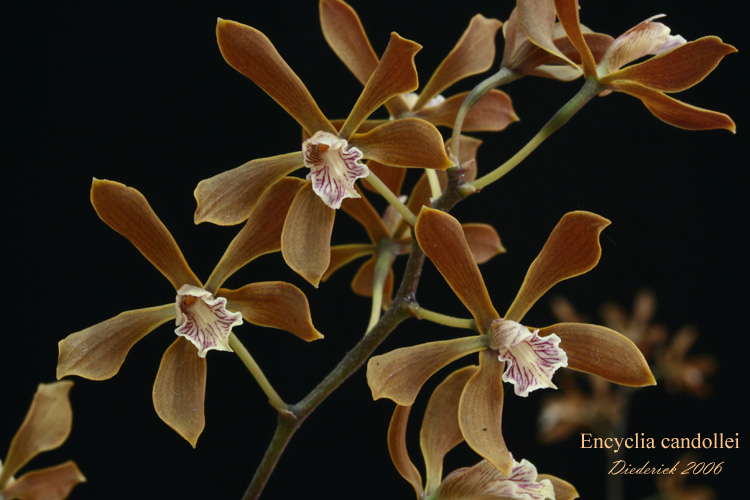 Encyclia candollei (Lindl.) Schltr. 1914
Photo by © Diederick Antoni



LATER

and

Common Name Candole's Encyclia [Swiss Botanist Family 1800's]
Flower Size 1" [2.2 cm]
Vera Cruz MX., 1433m Elev., At top of Huatusco Barranca, epiphytic on Oaks.
Found in Belize, Guatemala and Mexico as a medium sized, cool growing epiphyte usually on oaks at elevations of 1000 to 1500 meters with clustered, ovoid-conical to globose pseudobulbs enveloped basally by several scarious, soon evanescent sheaths and carrying 1 to 3, coriaceous, elliptic-ligulate to narrowly lanceolate, acute or obtuse, basally clasping leaves that blooms in the later spring and summer on a terminal, to 36" [to 90 cm] long, loosely many flowered panicle arising on a mature pseudobulb with several short branches and carrying 2 to 8, weakly fragrant flowers held way above the leaves.
Very similar to and often cited as synomonous with E flabellata but this one differs in the 3 lobed lip, the late flowering and the higher, colder, more humid locations in Oaxaca, Puebla, San Luis Potosi, and Tamaulipas of Mexico.
Synonyms Encyclia laxa Schltr. 1918; *Epidendrum candollei Lindl. 1839; Epidendrum cepiforme Hook. 1839; Epidendrum laxum Schlechter 1918
References W3 Tropicos, Kew Monocot list , IPNI ; Die Orchideen Schlechter 1915; Atlas des Orchidees Cultivees Constantin 1920 as Epidendrum candollei drawing ok; The Genus Epidendrum Ames 1936 as Epidendrum candollei; Encyclopedia of Cultivated Orchids Hawkes 1965 as Epidendrum candollei; Orchid Digest Vol 34 #4 1970 as Epidendrum cepiforme drawing/photo fide; Orchid Digest Vol 34 #3 1970 as Epidendrum cepiforme drawing fide; Orchid Digest Vol 34 #4 1970 as Epiderndrum candollei drawing/photo fide; The Genus Encyclia in Mexico Dressler & Pollard 1974 photo/drawing fide; AOS Bulletin Vol 48 No 5 1979; Orquídea (Mexico City), n.s., 7[3]: 1979; Flora Novo-Galaciana Vol 16 McVaugh 1985 as Excluded species; Orchids of Guatemala and Belize Ames and Correll 1985 as Epidendrum candollei; Manual Of Orchids Stewart 1995; Cattleyas and Their Relatives Vol V Withner 1998 photo fide; Cattleyas and Their Relatives Vol VI Withner 2000 as E laxa dubious species; Orchid Genera and Species in Guatemala Archila, Szlachchetko, Chiron, Lipinska, Mystkowska and Bertolini 2018
--------------------------------------------------------------------------------------