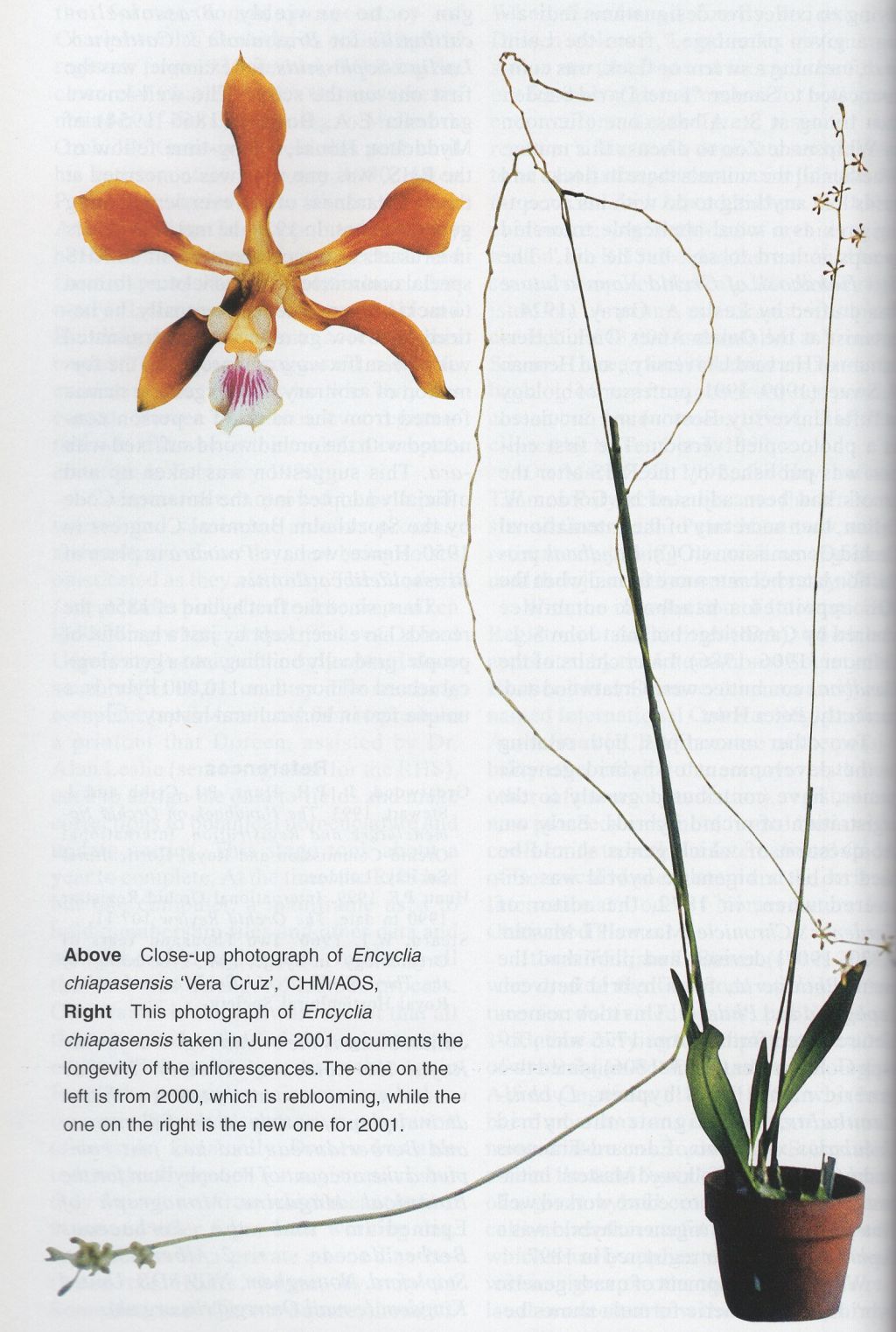 Encyclia chiapasensis Withner & D.G. Hunt 1994
Photos by © David Hunt.
Photos by © Patricia Harding.



THROUGH

Common Name The Chiapas Encyclia [A state in Mexico]
Flower Size 1.2" [3 cm]
Found in southern Mexico at elevations around 950 meters as a successive blooming, warm growing Encyclia that blooms in the spring through winter on a short to long, successively several flowered, to 65" [150 cm] laxly paniculate inflorescence that can rebloom again out of the end of the branches and main stem and can continue to do so for a few years. No other Encyclia can do this, so leave old inflorescence be until they are thouroughly dried out.
This species was discovered in Chiapas by George Norris, Species orchid Enthusiast and former nurseryman/orchid importer currently living in Texas. According to personal communications with him, most likely this species is extinct in the wild as the area that he collected the plant is now totally deforested farmland. His original collection of the species in the 1980's was only 4 plants and he introduced them to the American Orchid Community. If you have one, please self it and get someone to flask it so it has a chance to exist in the future.
References W3 Tropicos, Kew Monocot list , IPNI ; *Orchid Digest Vol 58 No 1 1994 photo fide; Orchid Digest Vol 60 #3 1996 drawing fide; Cattleyas and Their Relatives Vol 5 Withner 1998 photo fide; AOS Bulletin Vol 71 No 6 2002 photo fide; Orchid Genera and Species in Guatemala Archila, Szlachchetko, Chiron, Lipinska, Mystkowska and Bertolini 2018
--------------------------------------------------------------------------------------------------------------------------