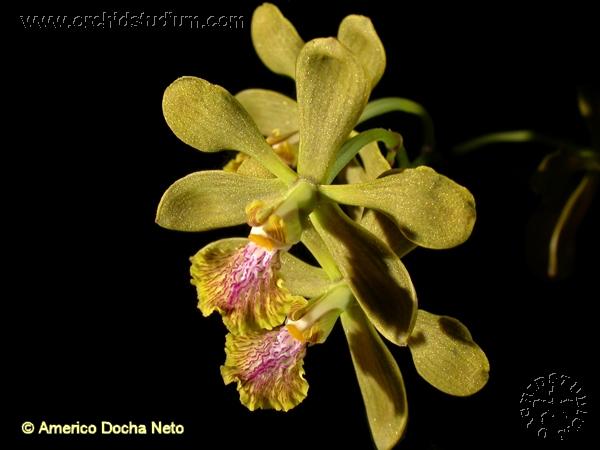 Encyclia euosma (Rchb. f.) Porto & Brade 1935 Photo by © Dalton Holland Baptista © and Orchidstudium
Photo by © Jay Pfahl



to

LATE


Common Name The Good Smelling Encyclia
Flower Size 2" [5 cm]
Found in Sao Paulo, Minas Gerais, Rio de Janiero and Espirito Santo states of Brazil in the Atlantic rainforest at elevations of 500 to 1200 meters as a medium sized, warm to cool growing epiphyte with conic pseudobulbs enveloped by deciduous, imbricating sheaths and carrying 1 to 2 apical, erect, coriaceous, smooth, oblong-lanceolate leaves that blooms in the late spring and summer on a terminal, erect, 12" [30 cm] long, racemose, rarely laterally paniculate, to 12 flowered inflorescence with lanceolate, stem-clasping bracts and carrying well spaced, fragrant flowers.
The plant in the in situ photo was found in a cloud forest at elevations around 300 meters near Salesopolis Brazil in dense cloud forest.
Some sources say E flabelifera is synomonous with this determination others say E ionosma and still others cite all three as valid so I have kept them separate for now.
Synonyms Encyclia flabellifera Hoehne & Schltr.1926; *Epidendrum euosmum Rchb.f. 1876;
References W3 Tropicos, Kew Monocot list , IPNI ; Orchidaceae Brasilenses Pabst & Dungs 1975 drawing good; Icones Orchidacearum Brasilenses Vol I Plate 058 Castro & Campacci 2000 drawing good; Coletanea de Orquideas Brasileiras 1 Encyclias Campacci 2003 photo fide; Orchidees Du Bresil As Orchideas da Serra Do Castello Vol 3 Chiron & Bolsanello 2013 drawing/photo fide; Orchids of Tropical America Meisel 2014 photo plant only;
--------------------------------------------------------------------------------------------------------------------------