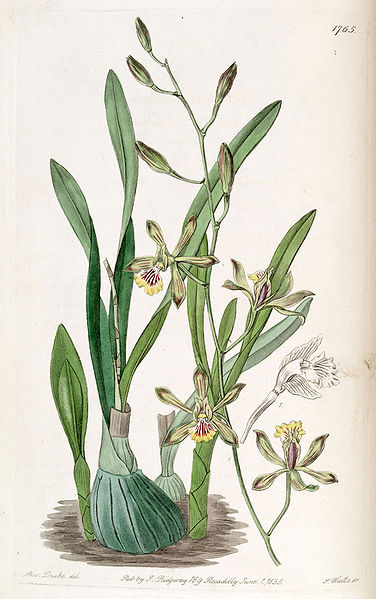 Encyclia x gracilis (Lindl.) Schltr 1915 Drawing by Edwards vol 21 pl 1765 1836.




Common Name The Graceful Encyclia
Flower Size
Found in the Bahamas and the Turks and Caicos at low elevations as a medium sized, hot to warm growing lithophyte or terrestrial with 3 to 4 leaves that blooms in the summer on an erect, 3" and more [1 meter] long, paniculate inflorescence with many sweetly fragrant flowers.
This species has now been confirmed as a natural hybrid between E. correllii and E. fehlingii.
Synonyms Encyclia × lucayana Sauleda & R.M.Adams 1981; *Epidendrum x gracile Lindl. 1836; Epidendrum x helleri Fenzl ex Hemsl. 1883; Doxosma x gracilis Raf. 1836
References W3 Tropicos, Kew Monocot list , IPNI ; Symbolae Antillanae Vol VI Orchidaceae Urban 1909 as Epidendrum gracile; Die Orchideen Schlechter 1915; Encyclopedia of Cultivated Orchids Hawkes 1965 as Epidendrum gracile; AOS Bulletin Vol 35 No 6 1966 photo as Epidendrum gracile; Cattleyas and Their Relatives Withner Vol 4 1996 photo fide; Orchid Flora of the Greater Antilles Ackerman 2014 as an excluded species
--------------------------------------------------------------------------------------------------------------------------