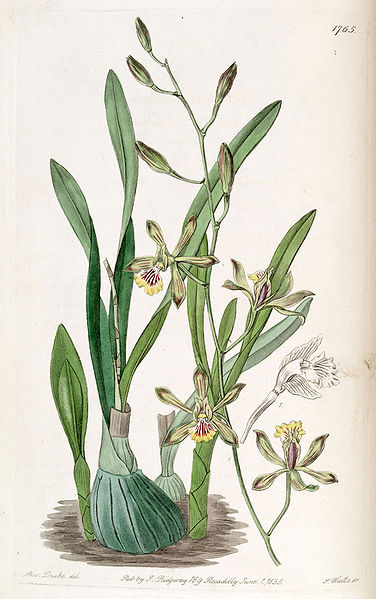 Encyclia gracilis (Lindl.) Schltr 1915 Photo courtesy of Andy's Orchids Copyright © 2002 All rights reserved.




Common Name The Graceful Encyclia
Flower Size
Found in the Bahamas and the Turks and Caicos at low elevations as a medium sized, hot to warm growing lithophyte or terrestrial with 3 to 4 leaves that blooms in the summer on an erect, 3" and more [1 meter] long, paniculate inflorescence with many sweetly fragrant flowers.
Synonyms *Epidendrum gracile Lindl. 1836; Epidendrum helleri Fenzl ex Hemsl. 1883; Doxosma gracilis Raf. 1836
References W3 Tropicos, Kew Monocot list , IPNI ; Symbolae Antillanae Vol VI Orchidaceae Urban 1909 as Epidendrum gracile; Die Orchideen Schlechter 1915; Encyclopedia of Cultivated Orchids Hawkes 1965 as Epidendrum gracile; AOS Bulletin Vol 35 No 6 1966 photo as Epidendrum gracile; Cattleyas and Their Relatives Withner Vol 4 1996 photo fide
--------------------------------------------------------------------------------------------------------------------------