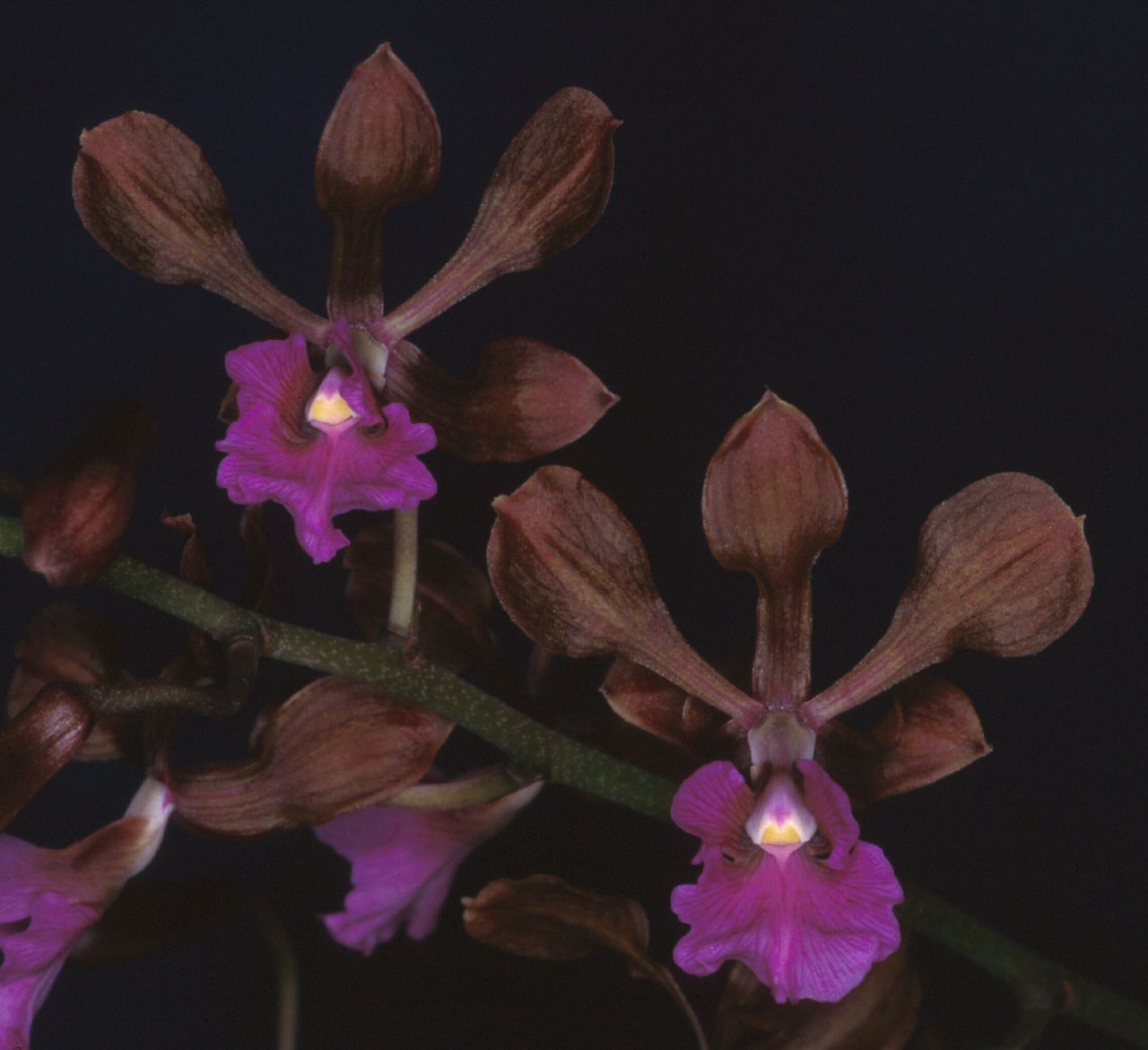 Encyclia hanburyi (Lindl.) Schltr. 1914
Photo by © Lourens Grobler.
Photo by © Andy's Orchids Copyright © 2002 All rights reserved.
Photo by © Patricia Harding.



LATE


to EARLY

Common Name Hanbury's Encyclia [English Orchid Enthusisast early 1900's]
Flower Size 2" [5 cm]
Found in Mexico and Guatemala in well drained clay soil amid dry oak and pine forests on trees or occasionally rocks at elevations of 1200 to 1800 meters as a medium sized, cool growing, terrestrial species with clustered, ovoid-conical pseudobulbs carrying 1 or 2, elliptic-lanceolate or elliptic oblong, obtuse leaves that flowers in the late winter through early summer on an apical, erect, to 3'4" [100 cm] long, racemose or branched, many [35] flowered inflorescence.
Synonyms Epidendrum atropurpureum var. roseum (Bateman) Rchb. f. 1854; Epidendrum hanburyanum B.S.Williams 1862; *Epidendrum hanburii Lindl. 1844
References W3 Tropicos, Kew Monocot list , IPNI ; Die Orchideen Schlechter 1915; The Genus Epidendrum Ames 1936; AOS Bulletin Vol 31 No 3 1962 as Epidendrum hanburgii; Orchid Digest Vol 34 #9 1970 as Epidendrum hanburyi drawing fide; The Genus Encyclia in Mexico Dressler & Pollard 1974 photo fide; Orquídea (Mexico City), n.s., 7[3]: 1979 drawing/photo fide; An Introdution to the Orchids of Mexico Wiard 1987 photo fide; A Guide to Orchids of the World Hodgson, Paine and Anderson 1991 photo fide; Manual of Cultivated Orchid Species Bechtel, Cribb, & Launert 1992; Manual Of Orchids Stewart 1995 drawing ok; Cattleyas and Their Relatives Vol 5 Withner 1998 photo fide; Guatemala Y Sus Orquideas Behar & Tinschert 1998 photo fide; Botanicas Orchids Laurel Glen 2002 photo fide; Icones Orchidacearum 5 & 6 Orchids Of Mexico Parts 2 & 3 Plate 559 Hagsater, Soto 2002 drawing fide; Flora's Orchids Nash & La Croix 2005 photo fide; Orchids of Mexico Hagsater, Soto, Salazar, Jimenez, Lopez & Dressler 2005 photo fide; Guia de Orquideas de Chiapas Carlos Rommel Beutelspacher Baigts 2013 photo fide; Orchid Genera and Species in Guatemala Archila, Szlachchetko, Chiron, Lipinska, Mystkowska and Bertolini 2018
--------------------------------------------------------------------------------------------------------------------------