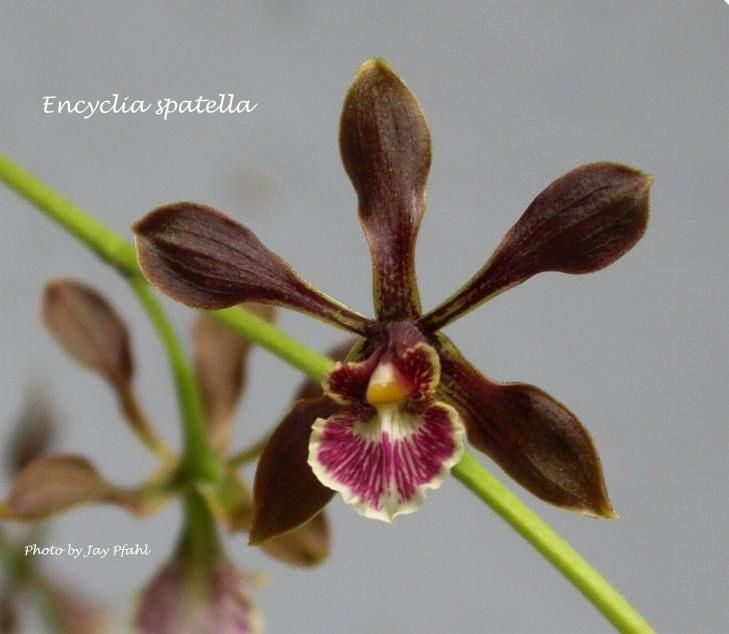 Encyclia spatella (Rchb. f.) Schltr. 1924 - in situ in Jalisco Mexico 6/01
Another Flower same area in Jalisco Photo by © Jay Pfahl

to



Common Name The Spatulate-Petaled Encyclia
Flower Size 1 1/2" [3.75 cm]
Endemic to Jalisco, Michoacan and Morelos states of Mexico where it occurs at 750 to 1500 meters in elevation as a medium sized, warm to cool growing epiphyte [lithophytes found in the same areas are attributed to E huerta] in oak forests or lava flows near tropical forests with conical to oblong-pyriform pseudobulbs carrying 2, apical, coriaceous, strap-shaped, acute leaves that blooms in the summer on an apical, branched, to 4' [120 cm] long, fractiflex, few to many flowered inflorescence.
Jalisco MX., 610m elev., 40 klm S.E. of Puerto Vallarta, epiphytic on oaks.
This species which is always an epiphyte, Encyclia huerta [always a lithophyte], Encyclia meliosma and Encyclia aenicta are all very close in most characteristics and are certainly related, Dressler & Pollard separate them essentially by, for Encyclia spatella the lip being acuminate [ending in a point] the length of the column 5.5 to 7mm, for E meliosma the lip being obtuse, retuse or mucronate and the column measuring between 7 to 10.5 mm . Encyclia aenicta is more often a terrestrial than an epiphyte and has less flair to the lip.
Synonyms *Epidendrum spatella Rchb. f. 1856
References W3 Tropicos, Kew Monocot list , IPNI ; Bonplandia Rchb.f 1856 as Epidendrum spatellum; *Repert. Sp. Nov. Regni. Veg. Beih. 27:137 Colombia Schlechter 1924 not; The Genus Encyclia in Mexico photo 65 Dressler & Pollard 1974 photo fide; Flora Novo-Galaciana Vol 16 McVaugh 1985 drawing fide; The Cattleyas and Their Relatives vol IV pg 126 pl 64 Withner 1998; Cattleyas and Their Relatives Vol 5 Withner 1998 photo fide; Orquideas del Estado de Morelos ORQUÍDEA (MÉX.) VOLUMEN 16 NÚMERO ÚNICO enero 2002 drawing/photo not = E huertae; Botanicas Orchids Laurel Glen 2002 photo fide; Icones Orchidacearum 5 & 6 Orchids Of Mexico Parts 2 & 3 Plate 567 Hagsater, Soto 2002 drawing fide; Orchids of Mexico Hagsater, Soto, Salazar, Jimenez, Lopez & Dressler 2005
--------------------------------------------------------------------------------------------------------------------------