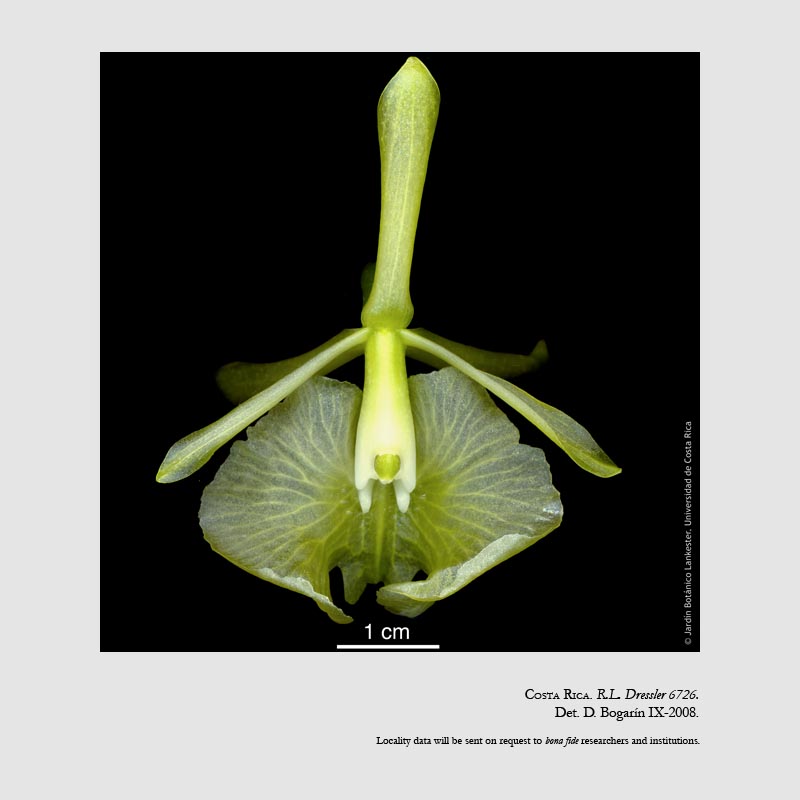 Epidendrum barbeyanum Kraenzl. 1895 SECTION Difforme
Photo © by Dressler and Epidendra website
Photo by © Allen Black
Drawing by © Hágsater and The AMO Herbario Website




LATE

Common Name Barbey-Boissier's Epidendrum [Swiss Orchid Collector late 1800's]
Flower Size 2" [5 cm]
Found in Nicaragua, Costa Rica, Panama and Venezuela in seasonally dry forests as a small sized, warm to cool growing epiphyte at elevations around 500 to 1850 meters with a short stem carrying several [6 to 7], alternate, conduplicate below and basally clasping, oblong-elliptic, apically unequally bilobed leaves that blooms in the spring on a short, single flowered, terminal inflorescence arising on a mature growth and carrying 5 to 10, simultaneous, nocturnally fragrant flowers held in an apical umbel.
Very similar to E difforme but differs in a smaller plant with large yellow green flowers and a lip that is twice as wide as E difforme and has lateral lobes that are much longer apically than the bilobed midlobe.
"Epidendrum barbeyanum is part of SECTION Difforme characterized by the caespitose, sympodial plants, fleshy, pale green to glaucous leaves, apical inflorescence, sessile, rarely with a short peduncle, one-flowered to many-flowered, and then corymbose, without spathaceous bracts, fleshy, green to yellowish-green rarely white flowers. The species can be recognized by its laterally compressed stems, big flowers, flabelliform, undulate lateral lobes of the lip, midlobe much smaller than the lateral lobes, separated from them by deep siniiˇ forming two, divergent, triangular to subrectangular, acute to rounded lobes, c1inandrium-hood reduced, entire. It differs from Epidendrum althausenii AD.Hawkes, an Amazonian species, which, has a subquadrate lip, semi-ovate lateral lobes, without deep sinii, an emarginate midlobe, and a prominent, dentate-fimbriate c1inandrium-hood. Epidendrum cremersii Hágsater &. L.Sánchez from French Guiana, has trapezodal, 3-lobed lip, with ovate lateral lobes, surpassing the very small midlobe, and a prominent, erose c1inandrium-hood. The species has been confused with Epidendrum latilabrum Lindl. from Brazil, but its lip is four times broader than long, and curved downwards on each side, with suborbicular to subrectangular, entire lateral robes, without a deep apical sinus, and an evident, elongate-fimbriate c1inandrium-hood. The new species Epidendrum vulgoamparoanum Hágsater & L.Sánchez has elliptic to ovate leaves, a widely obovate, obscurely 3-lobed lip, with many thickened veins; the midlobe obscurely bilobed, and a prominent, erose-fimbriate c1inandrium-hood."
Synonyms Epidendrum amparoanum Schlechter 1923; Neolehmannia barbeyana (Kraenzl.) Garay & Dunst. 1976
References W3 Tropicos, Kew Monocot list , IPNI ; Repert. Sp. Nov. Regni. Veg. Beih. 19: 34. Costa Rica Schlechter 1923 as E amparoanum; Repert. Sp. Nov. Regni. Veg. Beih. 19: 209. Costa Rica Schlechter 1923 as E amparoanum; The Genus Epidendrum Ames 1936; Ceiba Vol 5 No 1 L O Williams 1956; Venezuelan Orchids Illustrated Vol 2 Dunsterville & Garay 1961 mention only as Neolehmannia barbeyana; Orchids of Venezuela An Illustrated Field Guide Vol 2 Dunsterville & Garay 1979 as Neolehmannia barbeyana drawing not = E althauseni; Icones Planetarum Tropicarum plate 1052 Dodson 1984 as Neolehmannia barbeyana drawing fide; Field Guide to the Orchids of Costa Rica and Panama Dressler 1993 photo fide; Icones Orchidacearum 3 Plate 327 Hagsater 1999 see recognition section; Manual de las Plantas de Costa Rica Vol 3 Hammel, Grayum, Herrera and Zamora 2003; Icones Orchidacearum 7 Plate 796 Hagsater 2004 see recognition section as E amparoanum; Icones Orchidacearum 7 Plate 800 Hagsater 2004 see recognition section; Flora's Orchids Nash & La Croix 2005 photo fide;Vanishing Beauty, Native Costa Rican Orchids Vol 1 Pupulin 2005 photo fide; Icones Orchidacearum 8 Plate 802 Hagsater & Sanchez 2006 see recognition section; Icones Orchidacearum 8 Plate 811 Hagsater 2006 drawing fide; Icones Orchidacearum 8 Plate 898 Hagsater 2006 drawing fide; Orchids of Costa Rica Vol 1 Morales 2009 photo fide;
All these references are for E amparoanum: *Repert. Sp. Nov. Regni. Veg. Beih. 19: 34. Costa Rica Schlechter 1923; Repert. Sp. Nov. Regni. Veg. Beih. 19: 209. Costa Rica Schlechter 1923; Field Guide to the Orchids of Costa Rica and Panama Dressler 1993; Icones Orchidacearum 7 Plate 800 Hagsater 2004 see recognition section; Vanishing Beauty, Native Costa Rican Orchids Vol 1 Pupulin 2005 photo fide; Icones Orchidacearum 8 Plate 898 Hagsater 2006 see recognition section and note;
--------------------------------------------------------------------------------------------------------------------------