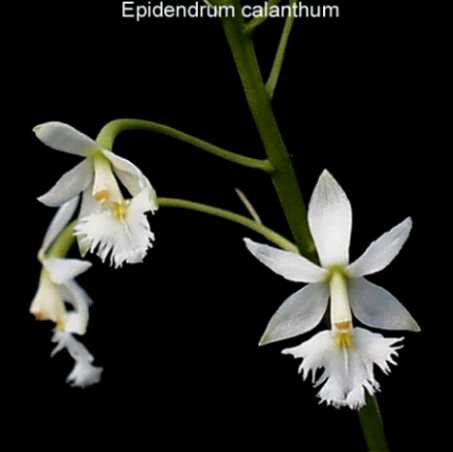 Epidendrum calanthum Rchb. f. & Warsz. 1854 GROUP Secundum SUBGROUP Secundum
Photo by © Dale and Deni Borders
Photo by © Oak Hill Gardens and Their Website
Photo by © Glen Ladnier
Photo by Andy's Orchids Copyright © 2002 All rights reserved.


to

LATE

to

Common Name The Beautiful Blooming Epidendrum
Flower Size to 1" [2.5 cm]
Found in Colombia, Venezuela, Peru, Bolivia and Ecuador in tropical montane forests from elevations of 220 to 2200 meters asa medium to large sized, hot to cold growing, reedstem terrestrial or epiphyte with lightly fractiflex stems enveloped basally by a few, scarious leafless sheaths and carrying above several, elliptic, acute, conduplicate towards the base leaves that blooms in the late spring and summer on a terminal, 8" [20 cm] long, few flowered, subumbellate inflorescence arising on a mature stem with elliptic, conduplicate leaves.
This species is often found in conjunction with ants and may benefit from their presence.
Synonyms Epidendrum caucae Schltr. 1920; Epidendrum chrysostomum Rchb. f. 1856; Epidendrum decipiens Lindl. 1853; Epidendrum filomenoi Schltr. 1921; Epidendrum huanucoense Schltr. 1921; Epidendrum ibaguense var. confluens (Lindl.) C. Schweinf. 1944; Epidendrum paytense Rchb. f. 1855; Epidendrum schomburgkii var. confluens Lindl. 1853
References W3 Tropicos, Kew Monocot list , IPNI ; *Bonplandia Rchb.f 1854; Bonplandia Rchb.f 1854 as E decipiens; Bonplandia Rchb.f 1855 as E decipiens; Bonplandia Rchb.f 1855 as E paytense; Repert. Spec. Nov. Regni Veg. Beih. 7: 127 Schlechter 1920 as E caucae; Repert. Spec. Nov. Regni Veg. Beih. 7: 245 Schlechter 1920 as E caucae; Repert. Spec. Nov. Regni Veg. Beih. 7: 246 Schlechter 1920 AS e decepiens; Repert. Spec. Nov. Regni Veg. Beih. 9: 83 Schlechter 1921 as E filomenoi; Repert. Spec. Nov. Regni Veg. Beih. 9: 86 Schlechter 1921 as E huancoense; Repert. Spec. Nov. Regni Veg. Beih. Figuren -Atlas 57: 171 Schlechter 1929 as E caucae drawing fide; Repert. Spec. Nov. Regni Veg. Beih. Figuren-Atlas 57: 461 Schlechter 1929 as E filomenoi drawing fide; Repert. Spec. Nov. Regni Veg. Beih. Figuren-Atlas 57: 465 Schlechter 1929 as E huanucoense drawing fide; Flore Descriptive des Antilles Francaises H. Stehle 1939 drawing fide; Orchids of Peru Vol 2 Fieldiana Schweinfurth 1959 as Epidendrum ibaguense var confluens; Flora de Venezuela Foldats Volumen XV Part 3 1970 as Epidendrum ibaguense var confluens; Fieldiana Biology, Vol 33, 1st Supple. to the Orchids of Peru Schweinfurth 1970 as E ibaguense var confluens; Orquideologia Vol 12 3/4 1977/8 as E decipiens/E schomburgkia var confluens; Die Orchideen 3 Auflage Bd 1 Sonderabdruck aus Schlechter Lieferung 9 513 - 576 Brieger, Maatsch and Senghas 1977 drawing ok; Die Orchideen 3 Auflage Bd 1 Sonderabdruck aus Schlechter Lieferung 9 513 - 576 Brieger, Maatsch and Senghas 1977 as E paytense drawing ok; Die Orchideen 3 Auflage Bd 1 Sonderabdruck aus Schlechter Lieferung 9 513 - 576 Brieger, Maatsch and Senghas 1977 as E deciepens drawing ok; Orquideologia Vol 12 No 2/3 1977/8 photo plant only; Orquideologia Vol 14 No 1 1979 as E schomburgkia var confluens; Orchids from The Coast Of Ecuador Arosemana, Jurado, Estrada and Konanz 1988 as E sp 067 photo fide; Icones Planetarum Tropicarum Series II Orchids of Bolivia plate 0325 Dodson & Vasquez 1989 drawing fide; Native Colombian Orchids Vol 2 COS 1991 photo fide; The Illustrated Encyclopedia of Orchids Pridgeon 1992 photo fide; Icones Orchidacearum Peruviarum Plate 040 Bennett & Christenson 1993 drawing fide; Icones Orchidacearum 2 Plate 178 Hagsater & Dodson 1993 see distribution section; Manual Of Orchids Stewart 1995; Native Ecuadorian Orchids Vol 2 Dodson 2001 photo fide; Orquideas Nativas del Tachira Cesar Fernandez 2003 photo fide; Flora of the Venezuelan Guayana Vol 7 Steyermark, Berry, Yatskievych and Holst 2003 drawing ok; AOS Bulletin Vol 73 No 8 2004 as Epidendrum deciepens; Orchids of Bolivia Vol 2 Laelinae Vasquez and Ibisch 2004drawing/photo ; Icones Orchidacearum Vol 11 Plate 1150 Hagsater & Sanchez 2008 see recognition section; Icones Orchidacearum Vol 11 Plate 1171 Hagsater & Sanchez 2008see recognition section; Orchid Species of Peru Zelenko Bermudez 2009 photo fide; Orchid Digest Vol 74 #3 2010 photo fide; Orquideas del Peru Freuler 2010 photo fide; Orchids of Tropical America Meisel 2014 photo fide; Orquideas, Tesoro de Colombia Vol 2 Ortiz & Uribe 2017 drawing/photo fide; Orquideas, Tesoro de Colombia Vol 2 Ortiz & Uribe 2017 as E decepiens drawing good; AOS Bulletin Vol 88 # 1 2019 photo fide; Icones Orchidacearum 17(1) Plate 1717 Hagsater & Jimenez 2019 see recognintion section
--------------------------------------------------------------------------------------------------------------------------