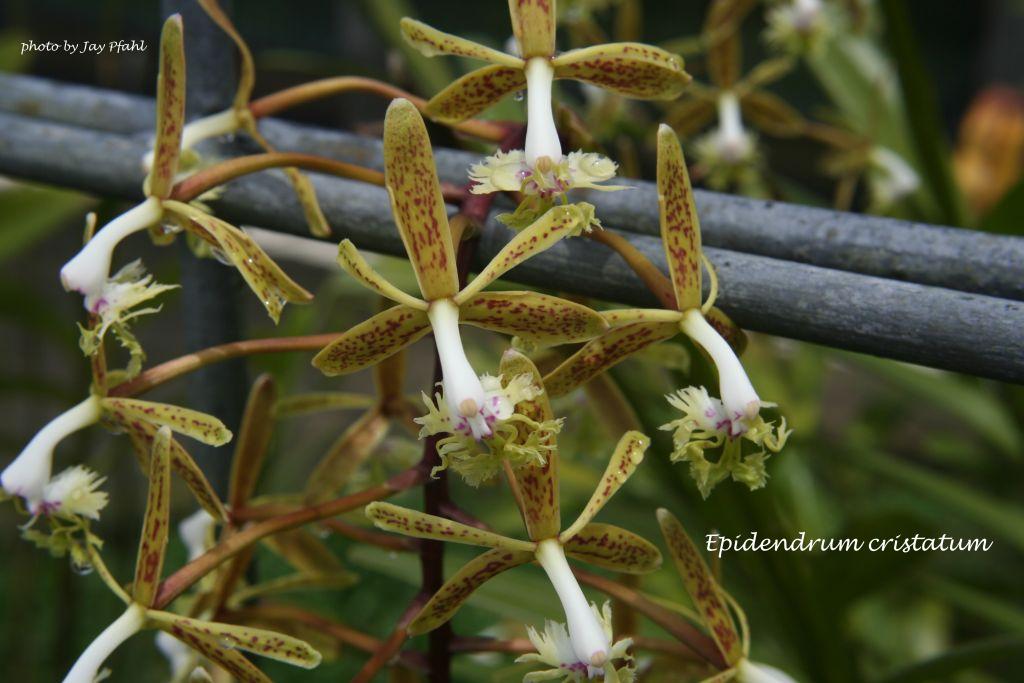 Epidendrum cristatum Ruiz and Pavon 1798 GROUP Cristatum SUBGROUP CristatumType for group
Plant Photos by © Jay Pfahl
Another Flower Photo by © Jean Claude George
Odd Color Form Photo by © Patricia Harding.



to

LATE



Common Name The Comb Epidendrum
Flower Size to 2" [to 5 cm]
A large sized, hot to cool growing terrrestrial or epiphytic reedstem species of Mexico, Guatemala, Belize, Honduras, Nicaragua, Costa Rica, Panama, Colombia, Ecuador, Peru, Bolivia, Brazil, Surinam, Guyana, Venezuela and Trinidad that grows on trees in dense tropical forests, open pinelands, and as a terrestrial on rocky brush covered slopes below 2000 meters in altitude. This species has no pseudobulbs, but 3' [90 cm] long, thin stems enveloped basally by tubular, scarious sheaths with alternate, coriaceous, flexible, elliptic-lanceolate leaves that blooms in the late winter, spring and summer on to 1 to several, terminal, arcuate-pendulous, to 2' [60 cm] long, racemose inflorescence arising on a mature cane that is subtended by 6 to 7 elongate, triangular-conduplicate, distichous, imbricating, yellow green bracts with many fragrant flowers that open simultaneously .
This species needs regular year round water and fertilizer and should be grown in a deep pot to accomodate the large root system.
"The species is recognized by the tall plants, to 96" [2.4 meters] high, the narrowly elliptic-lanceolate leaves, long, nutant, racemose inflorescence 10 to 16" [25 to 40 cm], the sepals and petals yellow to pale green with reddish spots, the apex of the column and the lip white and pale green, occasionally somewhat tinged pink, the 3-lobed lip with the apical margin of the lateral lobes erose to erose-laciniate, the midlobe obcuneate with the apex bilobed the lobes rectangular, divaricate, with the apical margin slightly dentate. Epidendrum criniferum Rchb.f. has shorter plants, fewer flowers, the margins of the lateral lobes of the 3-lobed lip are deeply fimbriate-laciniate, and the linear midlobe occasionally with a pair of retrorse cilia at the apex." Hagsater etal 2008
Synonyms Epidendrum alexandri Schltr. 1922; Epidendrum bathyschistum Schltr. 1919; Epidendrum calliferum Lem. 1853; Epidendrum hexadactylum Barb. Rodr. 1877; Epidendrum longovarium Barb. Rodr. 1877; Epidendrum millei Schltr. 1917; Epidendrum raniferum var hexadactylum [Barb. Rod.]Cogn. 1898; Epidendrum raniferum var. lofgrenii Cogn. 1898; Epidendrum raniferum var luteum Lindley 1853; Epidendrum raniferum var lutescens Lindl. ex Broadw. 1926; Epidendrum raniferum var obtusilobum Cogn. 1898; Epidendrum rantierium Lindl. ex Gojon Sanchez 1930; Epidendrum tigrinum Sessé & Moç. 1894; Epidendrum validum Schltr. 1921
References W3 Tropicos, Kew Monocot list , IPNI ; Repert. Spec. Nov. Regni Veg. Beih. 6: 36 Schlechter 1919 as E bathyschistum; Repert. Spec. Nov. Regni Veg. Beih. 9: 95 Peru Schlechter 1921 as E validum; Repert. Spec. Nov. Regni Veg. Beih. Figuren-Atlas 57: 17 Schlechter 1929 as E bathyschistum drawing fide; Repert. Spec. Nov. Regni Veg. Beih. Figuren-Atlas 57: 479 Schlechter 1929 as E validum drawing fide; Ceiba Vol 5 No 1 L O Williams 1956; Orchids of Peru Vol 2 Fieldiana Schweinfurth 1959; Native Orchids of Trinidad Schultes 1960; Venezuelan Orchids Vol 3 Dunsterville & Garay 1965 drawing fide; Encyclopedia of Cultivated Orchids Hawkes 1965; AOS Bulletin Vol 36 #9 1967; Flora de Venezuela Volumen XV Part 3 Foldats 1970 drawing fide; Orchidaceae Brasilense Band 1 Pabst & Dungs 1975 drawing fide; Die Orchideen 3 Auflage Bd 1 Sonderabdruck aus Schlechter Lieferung 9 513 - 576 Brieger, Maatsch and Senghas 1977 photo fide; Orchids of Venezuela, An Illustrated Field Guide Vol 1 Dunsterville & Garay 1979 drawing fide; Icones Planetarum Tropicarum plate 077 Dodson 1980 drawing fide; Icones Planetarum Tropicarum Plate 732 Hamer 1982 see observations; The Manual Of Cultivated Orchid Species Bechtel, Cribb & Launert 1992 drawing fide; Icones Orchidacearum Peruviarum Plate 044 Bennett & Christenson 1993 drawing fide; The Orchids of Surinam Werkhoven 1986 photo fide; Native Colombian Orchids Vol 5 COS 1994 photo fide; Manual Of Orchids Stewart 1995; Icones Orchidacearum 3 Plate 391 Hagsater & Sanchez 1999 see recognition section; Orchids of Venezuela [An illustrated field guide] Vol. 1 Ramiro and Carnevali 2000 drawing fide; Native Ecuadorian Orchids Vol 2 Dodson 2001 Drawing/photo fide; Flora of the Venezuelan Guayana Vol 7 Steyermark, Berry, Yatskievych and Holst 2003 drawing fide; Orchids of Bolivia Vol 2 Laelinae Vasquez and Ibisch 2004; Orquideas Da Chapada Diamantina Brito & Cribb 2005 photo fide; Icones Orchidacearum 11 Plate 1114 Hagsater 2008 see recognition section; Icones Orchidacearum Vol 11 Plate 1115 Hagsater & Sanchez 2008 drawing fide; Orquideología Vol 26 #2 2009 photo fide; Orchid Species of Peru Zelenko Bermudez 2009 photo fide; Las Orquideas del Peru Izerskyy & Bezverhov 2011 photo fide; Orchidees du Bresil As Orquideas da Serra Do Castello Vol 3 Chiron & Bolsanello 2013 Drawing/photo fide; Guia de Orquideas de Chiapas Carlos Rommel Beutelspacher Baigts 2013 photo fide; Icones Orchidacearum 14 Plate 1485 Hagsater & Sanchez 2013 see recognition section; Orchids of the Department of Valle De Cauca Colombia Vol 2 Kolanowska, Hagsater etal. 2014 drawing/photo fide; Orquideas, Tesoro de Colombia Vol 2 Ortiz & Uribe 2017 drawwing/photo fide;
--------------------------------------------------------------------------------------------------------------------------