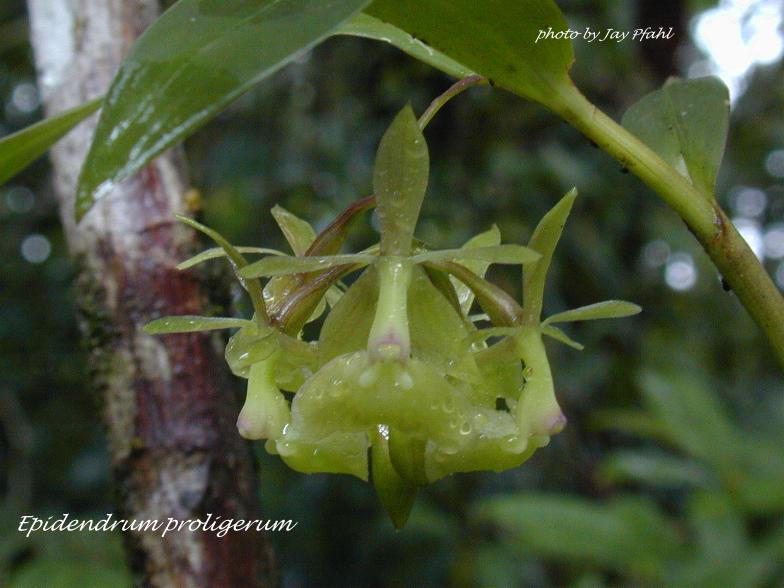 Epidendrum proligerum Barb. Rodr. 1877 GROUP Arbuscula SUBGROUP Incomptum
Photo by © Jay Pfahl



Common Name or Meaning The Rich Fruit Bearing Epidendrum
Flower Size 1 1/4" [3 cm]
Found in southeastern Brazil at elevations of 1400 to 1800 meters as a small sized, cool growing epiphyte or occasional terrestrial with a slender cane enveloped completely by brown, scarious, old sheaths and carrying above, 2 to a few narrowly linear, conduplicate, acute leaves that blooms in the summer on a pendant, terminal, short, to 15 flowered inflorescence.
CAUTION!!! This plant was found in a cloud forest at elevations around 300 meters near Salesopolis Brazil in dense cloud forest ad so does not fit within the elevations provided by the few references that I have available to me.
Epidendrum proligerum is part of GROUP Arbuscula SUBGROUP Incomptum characterized by the successive lateral growths produced from the middle of the previous growth, few leaves aggregate towards the apex of the stems, a short apical inflorescence with fleshy greenish to violet-green flowers with short ovaries, the lip entire to 3-lobed. The species Epidendrum janeirense Porto & Brade 1940 and E ecostatum are said to be a synonym of this species but pending better references I have kept them separate.
Synonyms Amphiglottis corymbosa Britton 1924; Epidendrum burgeri Schltr.1925; Epidendrum corymbosum Lindl. 1853; Epidendrum ecostatum Pabst 1956; Epidendrum moirianum A.D.Hawkes 1957
References W3 Tropicos, Kew Monocot list , IPNI ; Repert. Spec. Nov. Regni Veg. Beih. 6: 68 1919 as E corymbosum Lindl.; *Repert. Spec. Nov. Regni Veg. Beih. 35: 70 Schlechter 1925 as E burgeri; Die Orchideen 3 Auflage Bd 1 Sonderabdruck aus Schlechter Lieferung 9 513 - 576 Brieger, Maatsch and Senghas 1977 photo fide; Orchidaceae Brasilense Band 1 Pabst & Dungs 1975 drawing fide; Orchids of the High Mountain Atlantic Rainforest in SE Brazil Warren & Miller 1994; Orquideas Da Chapada Diamantina Brito & Cribb 2005 drawing/photo fide; The Organ Mountain Range Its History and its Orchids Miller, Warren, Miller & Seehawer 2008 drawing/photo fide; Orchidees Du Bresil As Orchideas da Serra Do Castello Vol 3 Chiron & Bolsanello 2013 drawing/photo fide; Icones Orchidacearum 15 [1] Plate 1506 Hagsater & Sanchez 2015 see recognition section; * A new whitish flowered Epidendrum (Laeliinae-Orchidaceae) from the Atlantic Forest of southeastern Brazil EDLLEY PESSOA, MARCELO RODRIGUES MIRANDA, AND MARCCUS ALVES 2015 See comparison section of E niveum Icones Orchidacearum 16[1] Plate 1631 Hagsater & Santiago 2018 as E ochrochlorum See recognition section;
--------------------------------------------------------------------------------------------------------------------------