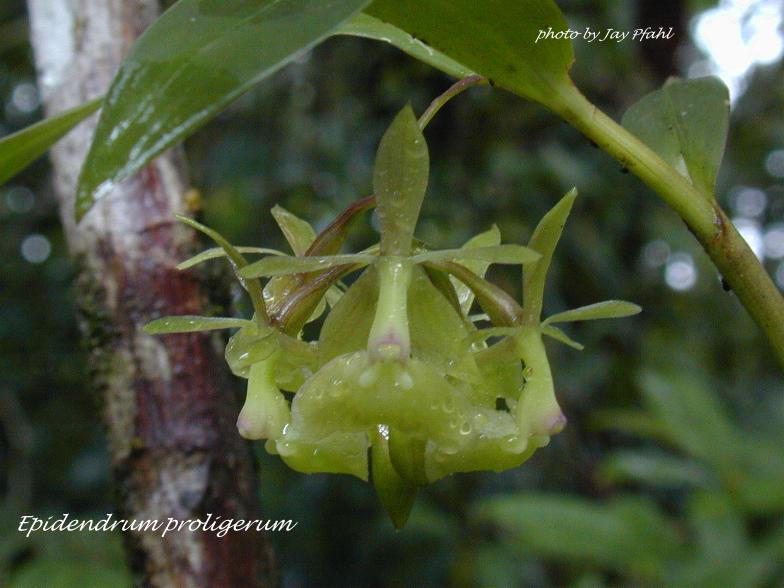 Epidendrum proligerum Barb. Rodr. 1877 GROUP Arbuscula SUBGROUP Incomptum Photo by © Jay Pfahl



Common Name or Meaning The Rich Fruit Bearing Epidendrum
Flower Size 1 1/4" [3 cm]
Found in southeastern Brazil at elevations of 1400 to 1800 meters as a small sized, cool growing epiphyte or occasional terrestrial with a slender cane enveloped completely by brown, scarious, old sheaths and carrying above, a 2 to a few narrowly linear, conduplicate, acute leaves that blooms on a pendant, terminal, short, to 15 flowered inflorescence arising in the fall in Brazil.
This plant was found in a cloud forest at elevations around 300 meters near Salesopolis Brazil in dense cloud forest.
The Species Epidendrum janeirense Porto & Brade 1940 is said to be a synonym of this sp[ecies but pending better rerferences I have kept them separate.
Synonyms Amphiglottis corymbosa Britton 1924; Epidendrum burgeri Schltr.1925; Epidendrum corymbosum Lindl. 1853; Epidendrum ecostatum Pabst 1956; Epidendrum moirianum A.D.Hawkes 1957
References W3 Tropicos, Kew Monocot list , IPNI ; Flora de Venezuela Vol XV Tercera Parte Foldats 1970 as E ecostatum; Orchids of the High Mountain Atlantic Rainforest in SE Brazil Warren & Miller 1994 as Epidendrum ecostatum; Orchids of the High Mountain Atlantic Rainforest in SE Brazil Warren & Miller 1994; Orquideas Da Chapada Diamantina Brito & Cribb 2005; Orchidees Du Bresil As Orchideas da Serra Do Castello Vol 3 Chiron & Bolsanello 2013 drawing/photo fide
--------------------------------------------------------------------------------------------------------------------------