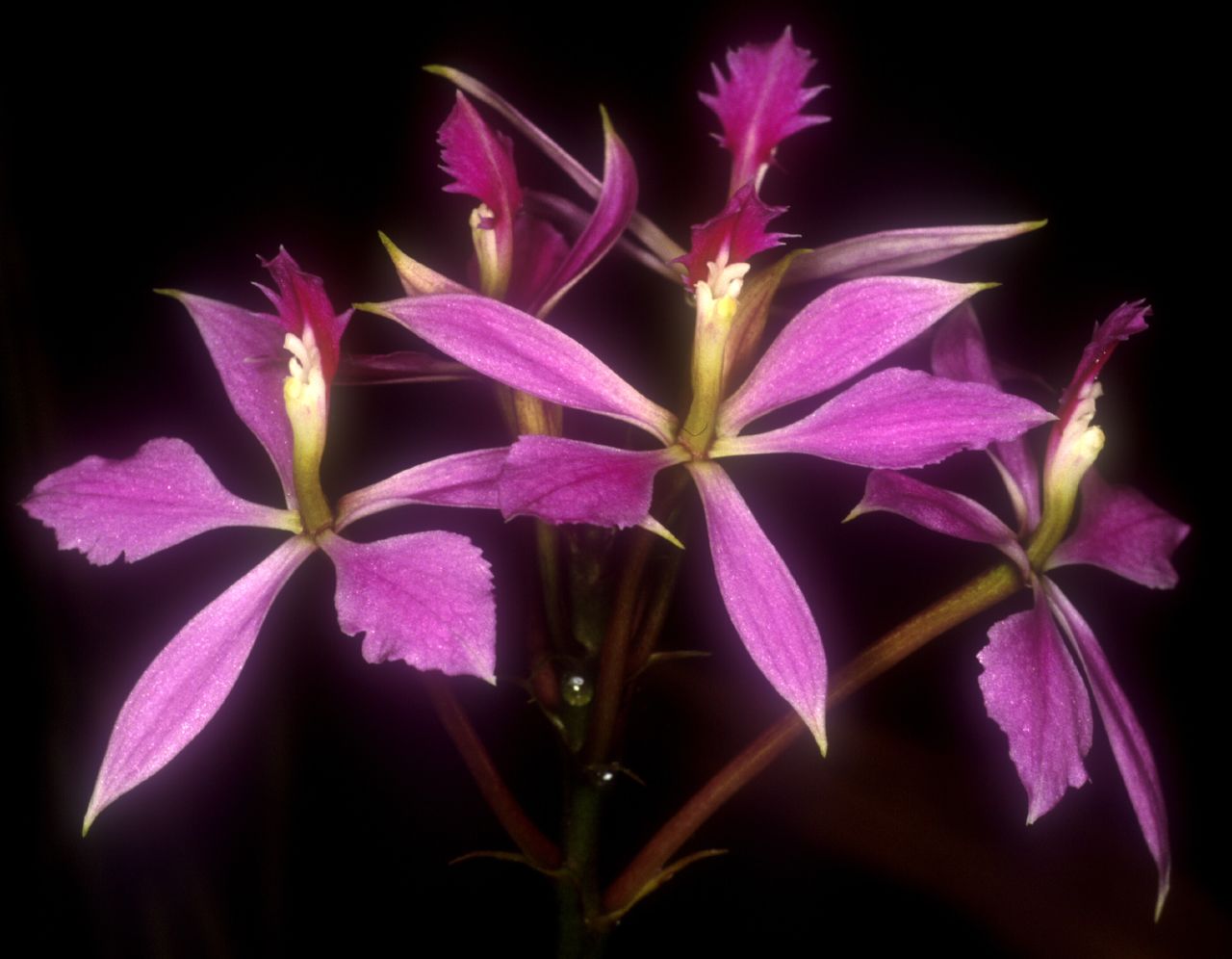 Epidendrum flexuosum G. Mey. 1818 GROUP Secundum SUBGROUP Calanthum Photo by © Lourens Grobler.
Another Flower angle Photo by © Jay Pfahl







Common Name The Bent Raceme Epidendrum
Flower Size to about 1" [to 2.5 cm]
Found from Mexico, Guatemala, Belize, Honduras, Nicaragua, Costa Rica, Panama, Trinidad & Tobago, Surinam, Fr Guiana, Guyana, Venezuela, Colombia, Ecuador, Peru, Bolivia and Brazil in low altitude, wet tropical forests as a large sized, hot to warm growing reed stem epiphyte at an elevations of sea level to 1000 meters with erect, slender or stout, slightly compressed stems carrying erect-spreading, oblong-ligulate to linear-lanceolate, coriaceous, light green leaves that blooms at any time of the year on a simple or branched, 10" [to 25 cm] long, densely many flowered inflorescence with showy, long-lasting, non-resupinate flowers that open in succession over a long period of time.
Synonyms Epidendrum buenavistae Kraenzl. 1908; Epidendrum imatophyllum Lindl. 1831 mispell; Epidendrum imantophyllum Lindl. 1831; Epidendrum imetrophyllum Paxton 1837; Epidendrum lorifolium Schltr. 1922; Epidendrum palpigerum Rchb. f. 1879
References W3 Tropicos, Kew Monocot list as Epidendrum imantophyllum IPNI ; Flora de Venezuela Foldats Volumen XV Part 3 1970 as E imatophyllumdrawing good; Orquideologia Vol 12 3/4 1977/8 photo; Orquideologia Vol 14 No 1 1979; Orchids of Venezuela ; An Illustrated Field Guide Vol 1 Dunsterville & Garay 1979 drawing not = E flexuosum; Icones Planetarum Tropicarum Plate 082 Dodson 1980 as E imatophyllum drawing fide; Icones Plantarum Tropicarum Plate 719 Hamer 1982 as E imatophyllum drwaing fide; The Orchids of Surinam Werkhoven 1986 photo fide; AOS Bulletin Vol 56 No 9 1987 Photo; Selbyana Vol 10 Orchids of Central America Hamer 1988 as E imatophyllum drawing fide; Icones Planetarum Tropicarum Plate 063 Dodson & Bennett 1989 as E imatophyllum drawing fide; Icones Orchidacearum 2 Plate 193 Hagsater, Sanchez 1993 see recognition section; Icones Plantarum Tropicarum Plate 1525 Mora & Atwood 1993 as E imatophyllum drawing fide; AOS Bulletin Vol 73 No 8 2004; Orquideas de la Serrania del Baudo Misas Urreta 2006 drawing/photo fide; Las Orquideas del Peru Izerskyy & Bezverhov 2011 photo hmm Repert. Sp. Nov. Regni. Veg. Beih. 17: 35. Panama Schlechter 1922 E lorifolium; The Genus Epidendrum Ames 1936 as E imatophyllum; The Orchids of Panama L.O. Williams & P Allen 1946 as E imatophyllum; AOS Bulletin Vol 27 No 6 1958 as E imatophyllum; Orchids of Peru Vol 2 Fieldiana Schweinfurth 1959 as E imatophyllum; Native Orchids of Trinidad Schultes 1960 as E imatophyllum; Encyclopedia of Cultivated Orchids Hawkes 1965 as E imatophyllum; Venezuelan Orchids Vol 4 Dunsterville & Garay 1966 as E imatophyllum mispell drawing ok; Flora de Venezuela Foldats Volumen XV Part 3 1970 as E imatophyllum mispell drawing good; Orquideologia Vol 12 3/4 1977/8 as E imatophyllum photo; Orquideologia Vol 14 No 1 1979 as E imatophyllum; Orchids of Venezuela [An illustrated field guide] Vol. 1 Dunsterville and Garay 1979 as E imatophyllum drawing ok; Icones Planetarum Tropicarum plate 082 Dodson 1980 as E imatophyllum; Icones Planetarum Tropicarum plate 719 Dodson 1982 as E imatophyllum; Icones Planetarum Tropicarum Series II Orchids of Peru Plate 102 Dodson & Bennett 1989 as E imatophyllum; Icones Planetarum Tropicarum plate 1525 Atwood 1993 as E imatophyllum; Orchids of Venezuela [An illustrated field guide] Vol. 1 Ramiro and Carnevali 2000 drawing ok; Orquideas Nativas del Tachira Cesar Fernandez 2003 photo fide; Flora of the Venezuelan Guayana Vol 7 Steyermark, Berry, Yatskievych and Holst 2003; AOS Bulletin Vol 73 No 8 2004 as E imatophyllum; Orchids of Bolivia Vol 2 Laelinae Vasquez and Ibisch 2004; Vanishing Beauty, Native Costa Rican Orchids Vol 1 Pupulin 2005 photo fide; Icones Orchidacearum Part 8 Plate 848 Hagsater 2006 see recognition section; Orquideas de la Serrania del Baudo Misas Urreta 2006 as E imatophyllum drawing/photo fide; Icones Orchidacearum 11 Plate 1125 Hagsater & Sanchez 2008 drawing fide; Orchids of Costa Rica Vol 3 Morales 2009 photo fide; Las Orquideas del Peru Izerskyy & Bezverhov 2011 as E imatophyllum photo hmm; Guia de Orquideas de Chiapas Carlos Rommel Beutelspacher Baigts 2013 photo fide; Orchids of the Department of Valle De Cauca Colombia Vol 2 Kolanowska, Hagsater etal. 2014 drawing/photo fide
--------------------------------------------------------------------------------------------------------------------------