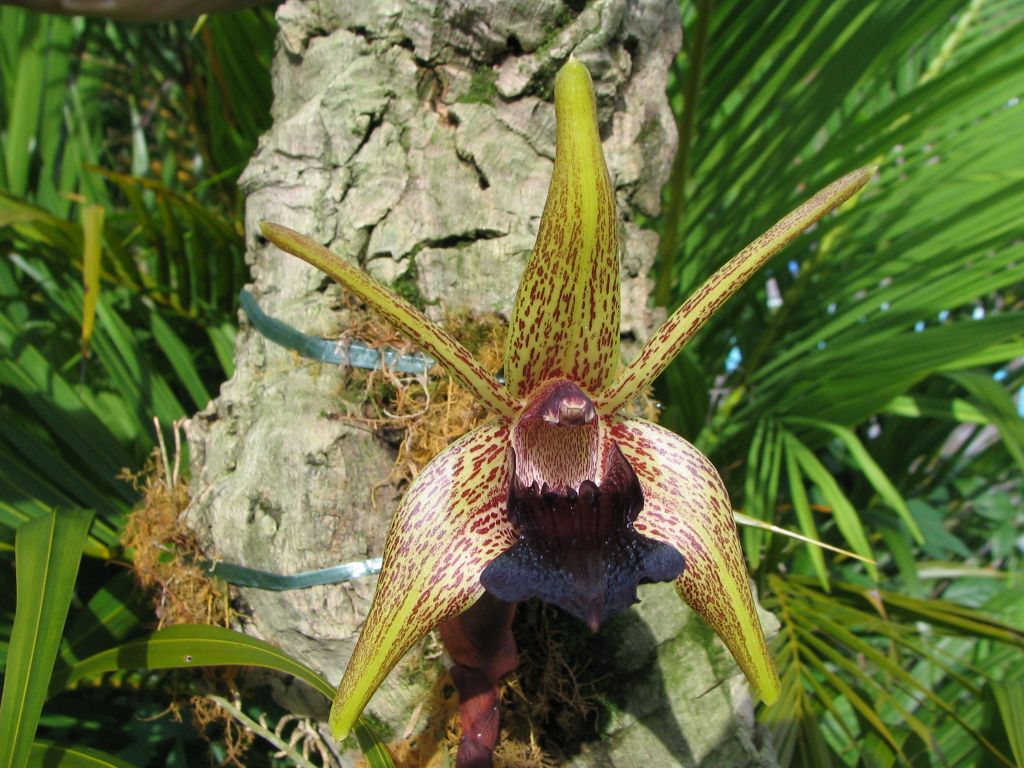 Epigeneium amplum (Lindl.) Summerh. 1957 SECTION Katherinea
Photo by © Olivier Reilhes.






Common Name The Large Epigeneium - In Thailand - Krachieng - Sithieng - In China Kuan Ye Hou Chun Lan
Flower Size to 3" [to 7.5 cm]
Found in China, Assam India, eastern Himalayas, Nepal, Bhutan, Sikkim, Myanmar, Vietnam and Thailand in semi-deciduous and evergreen forests or on mossy limestone rocks at elevations of 500 to 2100 meters as a small sized, warm to cold growing epiphyte or lithophyte with very stout, obliquely ellipsoidal, sulcate pseudobulbs with 2 broadly elliptic-oblong, obtuse, notched at the apex, sessile or shortly petiolate leaves that blooms on an apical, short, racemose, 1 to few flowered inflorescence subtended by a basal bract, with powerfully fragrant, heavy textured, longlasting flowers occuring in the fall and winter.
Synonyms Bulbophyllum amplum (Lindl.) Rchb.f 1861; Callista ampla (Lindl.) Kuntze 1891; Callista coelogyne (Rchb. f.) Kuntze 1891; *Dendrobium amplum Lindley ex Wall. 1830; Dendrobium coelogyne Rchb.f 1871; Epigeneium annamense (Guillaumin) Seidenf. 1980; Epigeneium coelogyne (Rchb. f.) Summerh. 1957; Katherinea ampla A.D. Hawkes 1956; Katherinea coelogyne (Rchb. f.) A.D. Hawkes 1956; Sarcopodium amplum (Lindl.) Lindl. & Paxton 1850; Sarcopodium annamense Guillaumin 1955; Sarcopodium coelogyne (Rchb. f.) Rolfe 1910
References W3 Tropicos, Kew Monocot list , IPNI ; Orchids of Burma Grant 1895/1995 as Dendrobium coelogyne; The Orchids of Sikkim-Himalaya Part 1 King & Pantling 1898 as Dendrobium amplum drawing fide; Orchidaceae Monandre-Dendrobiinae Fr. Kraenzlin 1910 as Sarcopodium amplum; Orchidaceae Monandre-Dendrobiinae Fr. Kraenzlin 1910 as Sarcopodium coelogyne; Die Orchideen Schlechter 1915 as Dendrobium coelogyne photo fide; Die Orchideen 2 Auflage Schlechter 1927 as Dendrobium coelogyne photo fide; The Orchids of Thailand Seidenfaden & Smitinand 1960 as E coelogyne; The Orchids of Thailand Seidenfaden & Smitinand 1965 corrections as E coelogyne; Encyclopedia of Cultivated Orchids Hawkes 1965 photo fide; Encyclopedia of Cultivated Orchids Hawkes 1965 as E coelogyne; Beautiful Indian Orchids and How to grow them Ghose 1968 as Dendrobium amplum; AOS Bulletin Vol 47 No 7 1978; Indian Orchids, Guide to Identification and Culture vol 2 Pradhan 1979 drawing fide; Dansk Botanisk Arkiv Bind 34, NR 1 Seidenfaden 1980 drawing fide; Dansk Botanisk Arkiv Bind 34, NR 1 Seidenfaden 1980 as E annamense drawing ok; Rudolf Schlechter Die Orchideen lieferung 11/12 633 - 752 Brieger 1981 as Katherinea ampla photo plant only; Die Orchideen lieferung 11/12 633 - 752 Brieger 1981 as Katherinea coelogyne; The Orchids of Arunchal Pradesh Hegde 1982; Orchids Travel By Air A Pictoral Safari Mulder, Mulder-Roelfsema and Schuiteman 1990 photo fide; Thai Orchid Species Rakpaibulsombat 1992 photo fide; The Manual Of Cultivated Orchid Species Bechtel, Cribb & Launert 1992 as E coelogyne photo fide; Identification of the Orchids [Orchidaceae Juss.] Vietnam Averyanov 1994; Identification of the Orchids [Orchidaceae Juss.] Vietnam Averyanov 1994 as E annamewnse; Orchid Species Culture Dendrobium Bakers 1996 as Dendrobium amplum; Native Orchids of China in Colour Singchi, Zhanhuo and Yibo 1999 photo fide; Lindleyana Vol 15 No 4 2000; A Field Guide to the Wild Orchids of Thailand Vaddhanaphuti 2001 photo fide; Beautiful Orchids of Nepal Rajbhandari & Bhattarai 2001; Rudolf Schlechter Die Orchideen Band 1C lieferung 42 - 43 pg 2626 - 2762 Brieger 2001 ; Rudolf Schlechter Die Orchideen Band 1C lieferung 42 - 43 pg 2626 - 2762 Brieger 2001 as E coelogyne photo fide; Orchids of Bhutan Pearce & Cribb 2002 photo fide; Wild Orchids in Myanamar Vol 2 Tanaka 2004; AOS Bulletin Vol 74 No 4 2005 photo fide; A field Guide to the Wild Orchids of Thailand Vaddhanaphuti 2005 photo fide; 100 Sikkim Himalayan Orchids Pradhan 2005 photo fide; The Dendrobiums H. P. Wood 2006 photo fide; Orchids of India A Glimpse Misra 2007; Native Orchids From Gaoligongshan Mountains, China Xiaohua, Xiaodong and Xiaochun 2009 photo fide; Flora of China Vol 25 Zhengyi, Raven & Deyuan 2009; Flora of China Vol 25 Illustrations Zhengyi, Raven & Deyuan 2010 drawing fide; The Wild Orchids in Yunnan Xu Xiang Ye & Liu 2010 photos fide; AOS Bulletin Vol 85 #1 2016 as Dendrobium amplum photo fide; Turczaninowia 19 (3): 5–58 L. V. Averyanov, Khang Sinh Nguyen etal 2016 ; Atlas of Native Orchids of China Vol 1 Jin Xiaohua, Li Jianwu and Ye Deping 2019 as Dendrobium amplum photo fide;
--------------------------------------------------------------------------------------------------------------------------