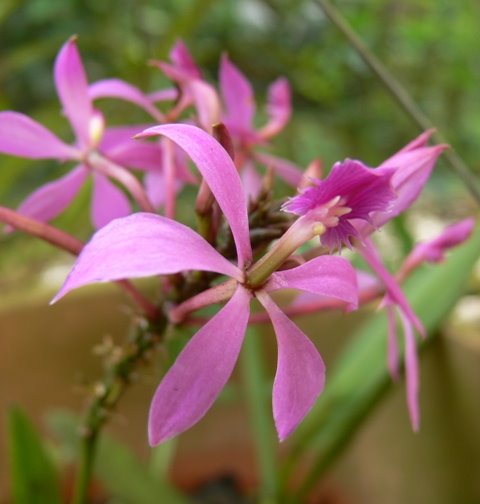 Epidendrum imantophyllum Lindl. 1831 GROUP Secundum SUBGROUP Calanthum


to

LATE

Common Name The Strap Shaped Leaf Epidendrum
Flower Size 1.6" [4 cm]
Found in Mexico, Costa Rica, Panama, Colombia, Venezuela, Guyana, Surinam, French Guiana, Trinidad & Tobago, Brazil, Paraguay and Peru at elevations of 100 to 600 meters as a giant sized, hot to warm growing epiphyte or terrestrial with a slender, flattened, somewhat weak stems enveloped by pergamenous sheaths and carrying ligulate to ligulate-lanceolate, acute to obtuse, coriaceous, conduplicate below into the base leaves that blooms in the spring on a simple to occasionally branched, more or less compact, racemose, to 8" [20 cm] long, successively, densely many flowered inflorescence.
They grow in very hot, dry sandy roadside banks in full sun. This species is often found in conjunction with ants and may benefit from their presence.
Very common to find spelled E imatophyllum but it is E imantophyllum.
Said by Kew to be a synonym of E flexuosum but I have left them separate for now.
Synonyms Epidendrum imatophyllum Lindl. 1831 mispell; Epidendrum imetrophyllum Paxton 1837;
References W3 Tropicos, Kew Monocot list , IPNI ; The Genus Epidendrum Ames 1936 as E imatophyllum; The Orchids of Panama L.O. Williams & P Allen 1946 as E imatophyllum; The Orchids of Panama L.O. Williams & P Allen 1946 as E imatophyllum; AOS Bulletin Vol 27 No 6 1958 as E imatophyllum; AOS Bulletin Vol 27 No 6 1958; Orchids of Peru Vol 2 Fieldiana Schweinfurth 1959; Orchids of Peru Vol 2 Fieldiana Schweinfurth 1959 as E imatophyllum; Native Orchids of Trinidad Schultes 1960 as E imatophyllum; Native Orchids of Trinidad Schultes 1960; Encyclopedia of Cultivated Orchids Hawkes 1965 as E imatophyllum; Encyclopedia of Cultivated Orchids Hawkes 1965; Flora de Venezuela Foldats Volumen XV Part 3 1970 as E imatophyllum drawing good; Orquideologia Vol 12 No 2/3 1977/8 photo ok; Orchids of Venezuela, An Illustrated Field Guide Vol 1 Dunsterville & Garay 1979 drawing not = E flexuosum; Orquideologia Vol 15 #1 Luer & Escobar 1981; Icones Plantarum Tropicarum Plate 719 Hamer 1982 as E imatophyllum drwaing fide; The Orchids of Surinam Werkhoven 1986 photo fide; AOS Bulletin Vol 56 No 9 1987 Photo fide; Selbyana Vol 10 Orchids of Central America Hamer 1988 as E imatophyllum drawing fide; Icones Planetarum Tropicarum Plate 063 Dodson & Bennett 1989 as E imatophyllum drawing fide; Icones Orchidacearum 2 Plate 193 Hagsater, Sanchez 1993 see recognition section; Manual Of Orchids Stewart 1995; AOS Bulletin Vol 73 No 8 2004; Orquideas de la Serrania del Baudo Misas Urreta 2006 as E imatophyllum drawing/photo not = E flexuosum; Digest Vol 73 #3 2009;
--------------------------------------------------------------------------------------------------------------------------